5 Best Food For French Bulldog With Skin Allergies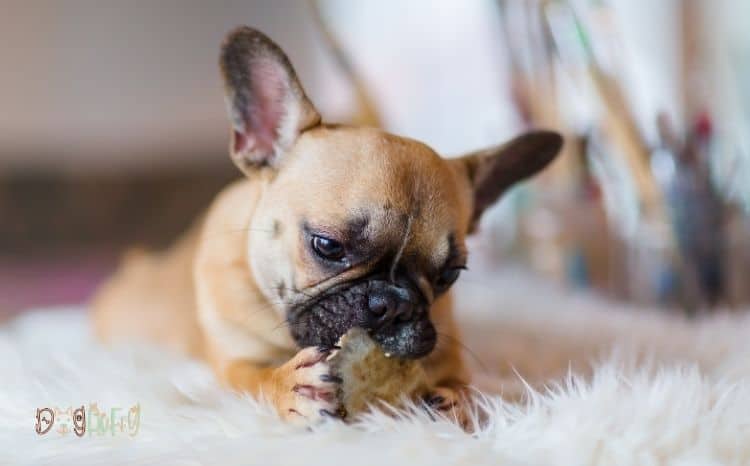 Do you know the best food for French bulldog with skin allergies? If your answer is a 'no' then, let me tell you. French bulldogs are very prone to skin allergies.
The best food for French bulldog with allergies must be something that has all the nutritious ingredients. French bulldogs are adorable dogs and love their family.
But while struggling with allergies, they can be very itchy and become aggressive.
French Bulldog Coat Characteristics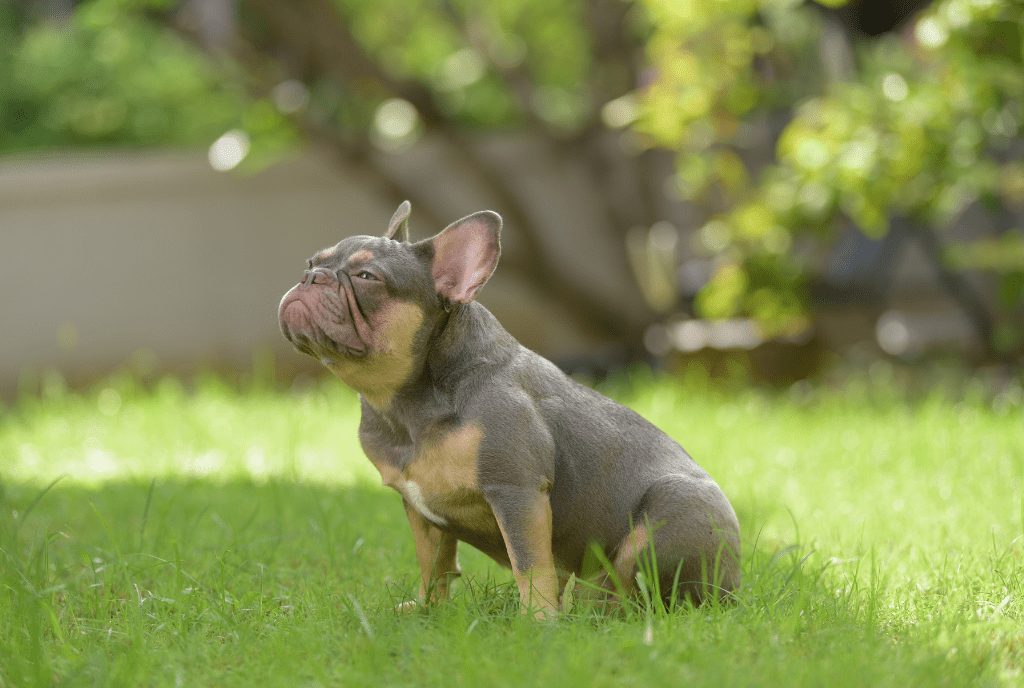 The French bulldogs have a short and smooth coat, with wrinkly soft and loose skin. They look adorably cute as their skin wrinkles up to head and shoulders.
The French bulldogs are easy to groom. You must take proper care of their coat, it is not that tough.
You can brush them about once a week. French bulldogs don't shed many furs, but brushing them gently can remove the dead or loose hairs.
The build and type of French bulldog's body make it easy for the owner to spot any skin allergies.
If your bulldog has allergies like lesions, hot spots, or flaky skin, it can be easily seen.
To avoid skin allergies, they must be fed with the best food for French bulldog with skin allergies.
French Bulldog Skin Allergies
French bulldogs have very sensitive skin. They must be kept clean and healthy at all costs.
French bulldogs can catch many skin allergies very quickly. French bulldogs have one of the highest genetic and environmental tendencies to develop canine atopic dermatitis (CAD).
 These allergies can develop by contact or environmental factors or can be genetic or may be food-based. Your Frenchie's life can become very tough and miserable than it should be.
When your French bulldog catches any food-based allergies, it takes a lot of time to diagnose which element is allergic. A lot of testing is needed, which consumes a lot of time.
You need to analyze your French bulldog's diet and set it so that the food causing allergy is removed if it is food-based.
This is why you should buy a premium and best food for French bulldog with skin allergies.
French Bulldog Allergy Locations
French bulldogs are susceptible to develop hives on their body, especially when they have food-based allergies.
They can develop dry and flaky skin in different patches of the body.
When it comes to hot spots, scabby lesions, and crusty sores, they can be found on legs, face, paws, sides, and hind end.
The best food for French bulldog with skin allergies can avoid some of these from occurring.
If you notice that your Frenchie is scratching, biting, or chewing any of the above areas extensively, then it is a hint that they may have allergies developing.
How Are Food And Skin Allergies Connected?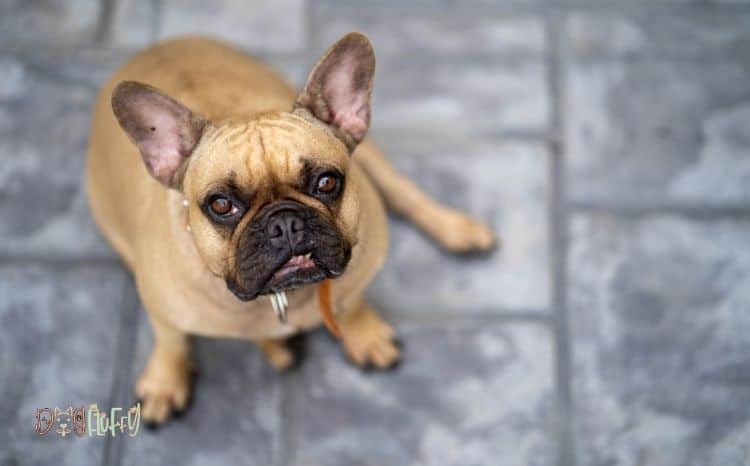 French bulldogs are likely to develop many food allergies and inflammatory reactions. These can create the risk of dermatitis, hives, crusting lesions, and pruritus.
If you look at it closely, the main reason for developing food allergies is the intolerance of one or more animal proteins. Meat and chicken the foremost reasons for skin allergies in French bulldog.
However, some French bulldogs are allergic to other foods such as eggs, milk, and corn. You should choose the best food for French bulldog with skin allergies after reading the ingredients only.
5 Best Food For French Bulldog With Skin Allergies
These are the 5 best food for French bulldogs with skin allergies that I have picked for you. Take a look.
We earn a commission if you click this link and make a purchase at no additional cost to you.
This product tops the best food for French bulldog with skin allergies as it has limited ingredients. It is available for all breed sizes, including French bulldogs.
It is an air-dried formula made by a traditional gentle air-drying procedure. This process also preserves your Frenchie's food without using artificial preservatives.
It is a limited ingredient diet made of 96% meat, NZ green mussels, and innards. It also contains green tripe and organic kelp.
This dog food doesn't have any legumes or peas, so it's not likely to develop allergies on your French bulldog. The most significant part about ZIWI Peak is it promotes a better coat and allergy relief too.
Your Frenchie will also have the benefit of its joint-friendly formula with additional Omega fatty acid, folic acid, taurine, and Vitamin D3.
Pros
100% single-sourced lamb
95% digestible
No corn, legumes, soy, or fillers
Limited ingredient diet
Cons
Becomes stale quickly if not stored properly
---
We earn a commission if you click this link and make a purchase at no additional cost to you.
This is another limited ingredient food for your Frenchie that I recommend is from Honest Kitchen.
This is a fish recipe that consists of only six ingredients: white fish, celery, coconut, spinach, pumpkin, and lots of chicken.
Overall, this dog food is suitable for young and adult dogs across all breeds. It is a grain-free formula that is dehydrated to retain the nutritional contents without any artificial ingredients.
You have to simply add warm water to this dog food, stir it, and your Frenchie can have a great meal.
It is naturally made, and it doesn't even have any preservatives, GMO, or fillers.
Additionally, this Honest Kitchen Fish Recipe has 34% protein, 0.15% taurine, and 14% fat. All the ingredients present in this dog food are premium quality and easily digestible.
This Honest Kitchen dog food also meets the AAFCO standards for complete and balanced meals. It is a healthy and natural option for French bulldogs with a sensitive stomach and skin.
Pros
It is a six-ingredient meal
No fillers or by-products are present
Meets all AAFCO Complete & Balanced food requirements
Have Human-grade ingredients
Cons
Mind the serving since it is a concentrate
---
We earn a commission if you click this link and make a purchase at no additional cost to you.
If your Frenchie is a picky eater who suffers from skin allergies simultaneously, the Orijen Six Fish might be the right option.
It is made with six different fishes: Atlantic herring, silver hake, mackerel, monkfish, flounder, and Acadian redfish.
All of these fishes make your dog's food very tasty and aromatic. Moreover, it is made from fresh and raw animal ingredients that too with a grain-free formula.
This dog food prevents any risk of skin or food allergies. Besides this, this dog food also has whole chickpeas, apples, rosehips, carrots, dried kelp, juniper berries, and more natural bits.
It is a perfect balance of fruits, fresh veggies, meat protein, and WholePrey ratios.
Orijen Six Fish Dog Food is prepared right in the Orijen kitchen that ensures the freshness and nourishment in every bite. It is produced for all life stages of your dog and all the dog breeds.
Pros
It is wheat-free
It is made up of six different fishes
It is packed with fresh fruits and veggies
Most importantly, it is a grain-free diet
Cons
It is very stinky (not a big issue, though)
---
We earn a commission if you click this link and make a purchase at no additional cost to you.
The French bulldogs with sensitive skin and stomach, this Purina Pro Plan Focus dog food might solve all the problems.
The primary ingredient in it is salmon rich in Omega fatty acids that help promote healthy skin and coat.
This dog food is a salmon and rice formula packed with minerals and vitamins to provide optimal nutrition. This dog food also has no corn, wheat, soy, or any artificial add-ons.
Instead, it is filled with fish oil, oatmeal, sunflower oil, and natural prebiotics to nourish your dog. All the ingredients are highly digestible, so you can be tension-free about intolerances.
Even the veterinarians recommend this Purina Pro Plan Focus dog food for canines with skin allergies.
It also helps to reduce skin itching, ear infections, and digestive problems too.
Pros
It is made of real salmon
This dog food is free of soy, wheat, and corn
Contains glucosamine for better joint health
Highly digestible dog food
Cons
---
We earn a commission if you click this link and make a purchase at no additional cost to you.
Hill's Science Diet Dry Dog Food can be the right choice for the French bulldogs who love to eat chicken. This dog food has a chicken and barley formula with egg, chicken liver, apples, brown rice, broccoli, carrots, and green peas.
Hill's Science Diet Dry Dog Food also has a small kibble that makes it easy for French Bulldogs to pick up and chew. It is a good source of prebiotic fibers that maintain a proper balance with the microbiome on your bulldog's gut.
It is easily digestible and provides optimal nutrition in each bite. Besides that, this dog food makes your dog's stool hard for easier pick-up.
In addition to this, this dog food has abundant Vitamins A, B, C, and E that boosts your dog's health. It also has Omega-6 fatty acids, taurine, folic acid, and biotin that makes your French bulldog healthy.
Hill's Science Diet Dry Dog Food has an excellent reputation as a vet-backed brand. This brand makes all-natural and proven formulas that nourish your dog from within. Their adult sensitive stomach and skin formula help reduce itching and gassiness of dogs.
Pros
It is enriched with prebiotic fiber
It makes their poop firmer
It has an all-natural formula
Highly digestible dog food
Reduces itching and gassiness in French bulldogs
Cons
It may not work great for picky eaters
Your Frenchie's Nutritional Needs
While it is true that French Bulldogs eat less than most dogs of their size (about 500 Kcal/day), it does not mean they don't need to eat at all!
Here are some basic guidelines on how much and what your Frenchie should be eating per day:
Between 1 and 3 years old, give your Frenchie between 2 and 4 cups of food a day.
After 4 years old, you can reduce the amount to 2 cups a day.
You should divide this into multiple meals rather than giving it all at once.
What Foods are French Bulldogs Allergic To?
French dogs can be susceptible to food and are often allergic to certain foods and medications used by them to prevent them. Many people with allergic reactions develop from foods containing dairy or meat like bread, eggs, and milk, including chickens, lambs, fish, eggs, grain, and soy. Not everyone in French culture suffers from the allergy, but there may be others! Please keep a close look at your Frenchie so they can learn more about this food. Those who have allergies may need to look for new foods. Corn may irritate dogs' skin and may scratch.
French Bulldog Food Allergies
If your Frenchie becomes allergic to certain foods, they may need to eat food rich in omega 3 and 6 fatty acids which can reduce the risk of allergies. Lysozyme is also an enzyme found in tears that protects against infections.
Please consult with your veterinarian before switching your dog's diet! It is important to make sure they receive all the nutrients they need.
Remember that French Bulldogs have a very short snout, which makes it difficult for them to eat quickly and breathe at the same time! Make sure you do not feed your Frenchie too fast or in a place without air circulation.
It may be helpful to raise your dog's bowl while feeding, so your Frenchie can eat without suffocating!
Conclusion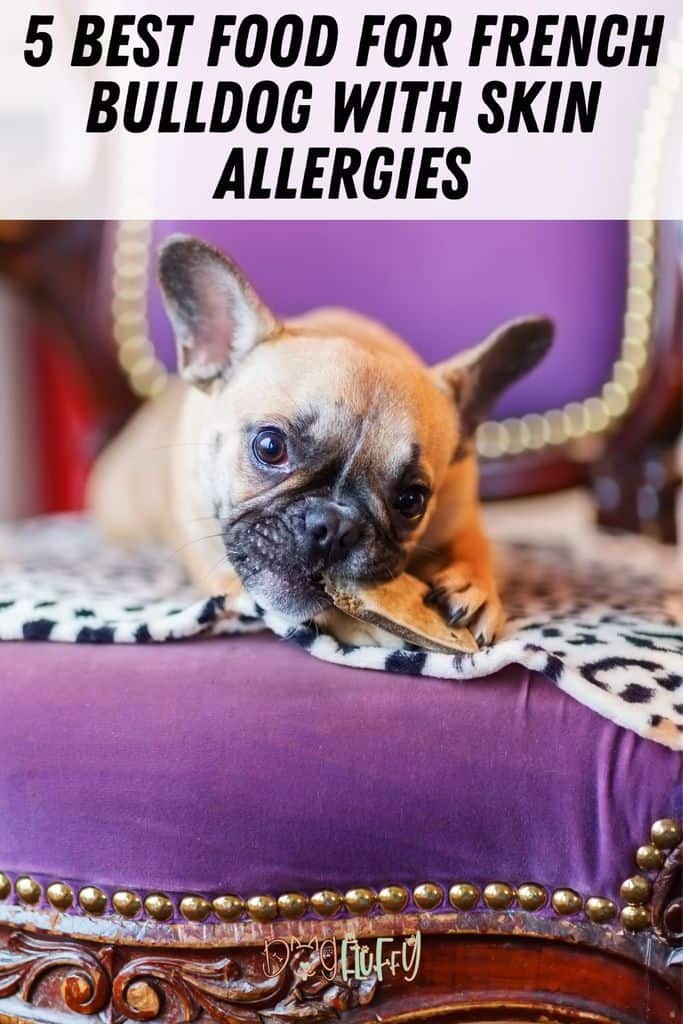 These were the 5 best food for French bulldog with skin allergies. You can buy them online easily from Amazon or any other site.
I hope these prove to be useful for your Frenchies. Take care!