If you have ever been driving with your French bulldog, you know what it feels like to have a dog running from one seat to another.
Sometimes the Frenchie lands up on your lap, this is not just difficult to drive, but it's utterly dangerous.
Editor's Choice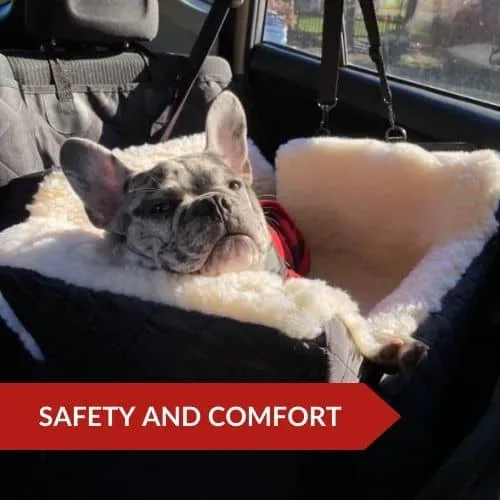 Snoozer Pet Car Seat
No more wandering the backseat or climbing up to the front while driving.
Best Value
Kurgo Dog Booster Seat
Water resistant & easy to install, safe and comfortable for your French bulldog.
We earn a commission if you click this link and make a purchase at no additional cost to you.
Imagine riding a car with your dog's head out of the window from the back seat, nightmare, right?
There are no accurate statistics available on the number of accidents that have taken place with dogs in the car.
But you can imagine the numbers according to the National Automobile Association, almost 80% of people travel with their dog in the back seat.
It's proven by the foundation of traffic safety that most drivers who are distracted while driving are more at risk of an accident.
Risk Of Not Using Car Seats For French Bulldogs
In an accident, your French bulldog can play a part in small projectiles.
An average bulldog of 28 pounds in a car running at the speed of 50mph can exert 1518 pounds of force; this force is enough to fly your Frenchie high, hitting the passengers as well.
So it's not the bulldog that's at risk but also the passengers sitting in that car.
The collision force can be fatal and damage your bulldog's brain, heart, lungs, and kidneys.
Why Do You Need Car Seats For French Bulldogs?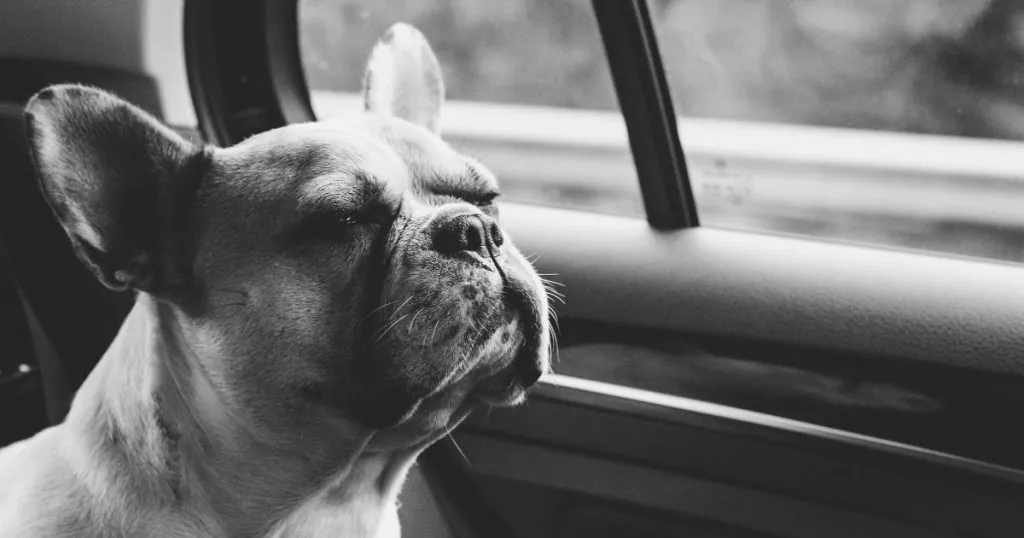 Car seats for French bulldogs ​not only minimize injuries but also help with the following:
Visibility​
Dogs are inquisitive about where they are going; they want to see it themselves.
This is why they jump here and there to have a better value outside, and again that's dangerous.
This is why it is recommended to have a high dog seat at the back, where your bulldog can sit calmly and have a clear view.
Motion Sickness and Anxiety​
Most dogs suffer from motion sickness. They even panic when the car is moving at high speed.
This is why it's highly recommended to have a dog seat, so the dog stays in a stationary position.
Fewer movements make them feel they are at home and comfortable.
Peace of Mind​
During car rides, your dog can get excited and starts playing within the car, this can distract the driver, and you know what can happen next?
A ​car seat for your French bulldog ​can give them a sense of security and safety.
Protect Your Car Seat in Case of A Mess
There are chances of a bunch of your French bulldogs getting motion sickness.
This is why it's better to invest in a dog seat, so the whole car interior doesn't get messy.
How To Pick The Right Car Seats For French Bulldogs?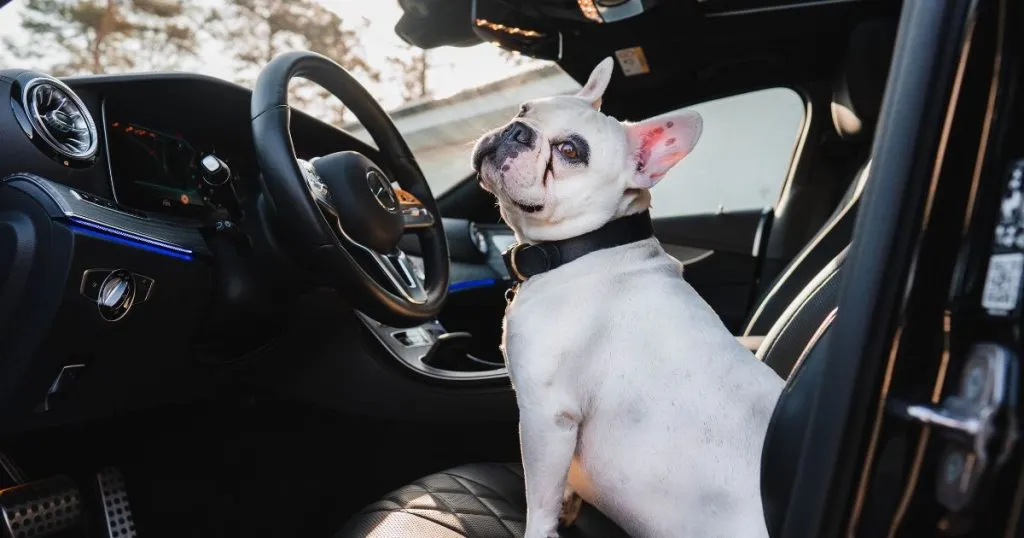 The majority of the dog car seats and other safety gear are not tested for a crash.
They act as a thick layer of protection in case of an accident, but they aren't 100% secure.
So don't expect a lot from such car seats; your Frenchie might not be safe in such a car seat.
The question: what to then? How to look for a secure and safe dog seat? Well, it's easy!
Go for the seats that are crash-tested. Many brands are available in the market where you can find these seats.
Easy to wrap up and set up the seat.
Robust attachment system with the back seat of your car.
Fits in the back seat as well as the front seat.
Adjustable belt to fasten your bulldog securely.
Comfortable traveling for long distances.
Spacious to fit in, sit or sleep properly.
Bear your dog's weight.
The quality used should be chemical-free and machine washable.
Make sure your bulldog isn't allergic to the seat's material.
Some Tips While Using A Dog Car Seat
Always use a dog seat with a dog harness, and make sure the harness is of good quality.
Make sure your bulldog doesn't chew the harness.
Couple the dog seat belt with a harness; don't ever put or tighten anything around your dog's neck or collar.
I hope these tips will be helpful as nothing is more important than life.
How To Put A Seatbelt On Your Bulldog And Where The Dog Seat Should Be Kept
As much as you love your biological baby, you also love your French bulldog, don't you? Isn't he like your second baby?
So like you will never allow your baby to sit next to you in the front seat, do the same with your French bulldog.
Always put the dog seat at the back, and never allow your dog to come and sit next to you while you are driving.
The ideal place to put the ​car seats for ​french bulldogs ​is at the back.
Make sure the seat is properly and tightly attached to your car seat.
The best way is to tie your dog seat with a good quality dog harness, and don't forget to put on a seat belt.
Why Not Tie A Seat Belt Directly On Your French Bulldog?
Putting a seat belt around the bulldog's neck can choke him to death or damage or break his neck.
Just imagine the amount of force exerted in a typical car accident.
This is why it's highly suggested to put a dog seat belt and harness, which is only designed for it.
The forces placed on these two safety gears are disturbed equally, so it doesn't harm the dog.
It is better to hook the seatbelt to the harness, so it doesn't choke the neck of the dog directly.
Safety Considerations
Once your French bulldog is seated and harnessed in his seat, the problem doesn't end here. You need to check and consider some points before you start the car.
First is to check how well the seat's clips are tucked from the rear and front both; if these clips are loosened, then your seat might fall in midway.
The second thing to consider is how perfectly the seat will restrain your French bulldog.
The best booster seat will have a good and adjustable harness to restrain the safety of your bulldog.
You also need to check whether the dog seat you have chosen fits well in your car seat or not. It's better to look for the sizes before buying.
If you have a small four-seater car, it's recommended not to buy a big dog seat, as there will be no space left for the passengers at the back.
Don't forget to count your family members while buying a dog seat.
Which Top 6 Car Seats For French Bulldogs?
Below are some of the best car seats for French bulldogs; they are chosen for their safety gear, durability, quality, comfort, and affordability.
We earn a commission if you click this link and make a purchase at no additional cost to you.
The K&H bucket booster is one of the most comfortable car seat options.
It is very cozy and gives proper comfort with its 3-inch cushion.
The best part about these ​car seats for French bulldogs is that they are machine washable.
It comes in different sizes; the small size is suitable for little French bulldog puppies that haven't grown to reach adult size.
Or it can be ideal for adult females that are small in size compared to the adult male French bulldog.
It's easy to wrap and fold the car seat. It is a car booster seat that gives an elevated view from the back.
It comes with adjustable security leashes. K&H is the manufacturer of this dog seat; they are known for their durability.
They are one of the leading pet accessories brands, which gives a year warranty on all dog seats.
The K&H Bucket Booster seat easily fits with the back seat of the car with adjustable straps. It also has dual security seat belts.
We earn a commission if you click this link and make a purchase at no additional cost to you.
The Snoozer Lookout Dog Car Seat is perfect for your French bulldog to enjoy a car ride on.
It works as a booster seat and is high enough for your bulldog to see outside.
The coolest feature of this ​car seats for French bulldogs ​is its Sherpa lining fabric; this fabric stays warm in winter and cool in summer, sound comfy no?
It's in the form of foam with an imitated wool interior, which creates a homey and cozy bedtime feeling for the bulldog.
The Snoozer Lookout Dog Car seat is perfect for French bulldogs that get excited during car rides; it will keep them calm and comfortable because of its unique features.
It measures 19 in height, 22 in width, and 17 in dimensions, and is suitable for an average French bulldog to fit in.
The dog should weigh between 20 to 28 pounds. It comes in different color ranges to match your car's interior and connects with your car's seat easily.
It is machine washable, but it might be a problem to wash the dog seat's inner side as it's too large for a machine wash.
We earn a commission if you click this link and make a purchase at no additional cost to you.
If all your French bulldog wants is to see outside from the window while on a car ride, then the Kurgo -Skybox Booster Seat is your best bet.
It's perfectly snug in the bucket-shaped dog car seat, which will give your French bulldog a clear view through the window, and can enjoy the view without disturbing the driver.
The booster seat is 16 x 12 x 8 (W x D x H) and is optimal for bulldogs that weigh around 30 pounds.
The Kurgo Skybox Booster Seat is made up of a metal structure that is strong and durable.
The dog's harness can be attached easily to ensure the safety and security of the dog.
It can fit both the front and back seats, but it's not recommended to put the dog seat in front.
It has a waterproof exterior, so in case of a mess due to motion sickness, the seat is not compromised.
It is finished with ripstop material. The Kurgo Skybox Booster seat has built-inside pockets to keep treats for your bulldog.
It is a small storage capacity, which is a good idea to save some space in the car for your dog's food.
We earn a commission if you click this link and make a purchase at no additional cost to you.
If you are looking for some pocket-friendly options for a dog seat, nothing is better than the Solvit Booster seat.
It is just a basic and straightforward dog seat with one belt only, nothing fancy.
Solvit Booster might not be completely secure compared to other dog seats, but fits perfectly within the budget and does the job.
To fit this seat, you have to do some hard work, hang the dog seat's straps with your car's headrest seat.
It doesn't clip up with your car seat like other dog seats; you manually put it.
Even though it's a bit of a hassle, what's wrong with some workout if you want something reasonable?
The seat cover is machine washable and comes with only one seat belt.
The downside is it may collapse on speed breakers as it's not clipped with the seat. It's just wrapped around it.
So it's suitable for short rides to the market, but not for long drives. Its interior is made up of quilted material and microsuede.
We earn a commission if you click this link and make a purchase at no additional cost to you.
If you want quick pick-up and wrap French bulldog storage, then Genorth Deluxe is for you.
It also has storage capacity within its seat; you can keep your dog food there.
It's a small quickie bulldog seat, easy to handle. It can quickly be folded and opened when needed.

A dog harness can be attached to the seat easily.
It's not as comfortable as other dog seats, but you can put a cushion on it to make it comfortable.
The seat is ideal for people who are in a rush and have no time to attach the back seat. It's ready to go.

The not-so-attractive part is it is compact and doesn't give your bulldog an elevated view.
So this point can be a problem if your dog is super hyperactive and wants to enjoy the view so you can skip this option. It is comfortable.

However, it doesn't have a comfortable cushion; it comes with a soft and warm fleece blanket for free (please make sure your dog is not allergic to fleece).
It is machine washable and has dual seat belts for an extra layer of security.
We earn a commission if you click this link and make a purchase at no additional cost to you.
Donobi Booster seat is perfect for long drives with your French bulldog as it is designed to ensure comfort and safety.
The booster seat is secure and won't let your fluffy slide and fall here and there. It gives a clear view of the outside from the window, so your baby French bulldog enjoys the drive with you.
The dog seat cover is scratch-proof; even if your dog scratches it, it won't tear apart.

It is a striped dog seat that is zipless and can be washed with a wet cloth instead of a machine wash.
Suitable only for small-size bulldogs, so it's better to measure your dog before ordering it.
Before You Go
Safety cannot be compromised, especially when it comes to living things.
As much as you love your kids, you should love your pets as well.
Car Seats For French Bulldogs ​are not a luxury; it's a must-have to ensure your dog's safety.
The lists of available dog seats are a mixture of affordable and expensive dog seats, but all are good and recommended as per your needs.
Before buying car seats for French bulldogs, please read the above instructions; it might help you to pick the right one for you.
Related Articles: