While bulldogs are small, they have wide and thick necks. So you have to look for collars for bulldogs that have wider circumference yet are not too high.
There are plenty of dog collars available in the market, but you cannot just randomly choose the first product that comes to your mind.
To ensure that your puppy is comfortable wearing the collar, you have to choose the best.
Research is a huge part of selecting the right product, and this is where I come in.
In this detailed article, I have reviewed some of the best dog collars for bulldogs. Read on to find out which one will work the best for your pup.
Following are some of the best collars for bulldogs that you can consider for your bulldog:
Best Collars For Bulldogs Lists
This is one of the best collars for bulldogs due to the durability and strength of the leather.
While being healthy, the brand has not compromised on comfort. The soft inner padding will provide maximum comfort to your dog.
It will ensure that the dog's neck does not get too chaffed due to friction, mostly when you attack a leash when taking them out for a walk.
Moreover, the solid lacquered brass hardware also adds to the durability of the product.
There is a D-ring on the top of the collar to secure the leash. You will also find a separate rind placed next to the buckle where you can attach dog tags.
The collar features sealed edges that reduce the wear and tear.
The good thing is that you will find this collar in different colors and sizes, so you can choose the one that best compliments your fluffy companion. Although there is a size chart guide, they are not that reliable.
So I recommend that you measure the Collar and then order two different sizes to decide which one suits them best.
Features of this product
Handmade and hand-stitched leather collar.
Mini brass ring for dog tags that won't rust.
Sealed-edge, supple full-grain leather is added with premium sheepskin leather for optimum comfort to avoid irritation or chafing.
Available in different sizes and color variants.
The product offers a lifetime warranty.
If you are looking for a comfortable and durable collar, then this product by Moonpet is the one to consider.
It is manufactured using thick leather, which appears simple but is quite strong.
It is made of 100% genuine leather, which is soft and flexible. The softly padded collar protects the neck from irritation and rubbing.
It is perfect for walking, running, and training your dog. The durable design also encompasses a brass D-ring to attach the leash.
The brass ring is made using quality material, so you will not have to worry about rusting.
Along with the durability, the brand has all taken care of the aesthetic appeal.
The soft collar comes in different collar variants, black and various shades of browns. And it is also available in different size options, so it can easily get a comfortable size.
Features of the product
Made using 100% genuine leather with soft inner padding.
Heavy-duty brass D ring for ID tags or leash attachments.
Available in different sizes.
Available in various color variants.
The collar is designed using top-grade nylon material that seamlessly conforms to your pooch's neck to provide maximum comfort.
The hardware is made of stainless steel and aluminum.
The use of quality material implies that the collar won't fray or break easily.
Moreover, the product comes with colorfast dye, which means that the color won't transfer to your dog's fur when it gets wet.
It comes with different sizes and 20 vibrant color options.
There are plenty of options for both male and female bulldogs, from brown, black, copper golds to green, blue, and pink.
It is available between the size of 16 inches and 22 inches, and there is also a size chart guide for your reference.
Features of the product
Made using silky soft nylon for maximum comfort.
Comes with colorfast dye.
Stainless steel and aluminum hardware.
The product is available in different sizes and color options.
This is a quality dog collar, which comes with water, odor, and dirt resistance. So wearing this, your bulldog comfortably can roll, romp and swim.
It will absorb the bacteria or odor so you will not have to deal with a stinky dog collar. This muck collar is made using safe and durable material.
It is PVC free and comes with soft yet durable webbing, dog collar bottle opener leash, and bucks closure.
It is offered in four sizes, including small, medium, large, and one size.
The product comes in a wide range of color and design patterns, including Atlantic Blue Prepster Stripe, Color Splash, Atomic Drop, Easy Rider.
Gray Prepster Stripe, etc. Kurgo Store offers a lifetime warranty with this dog collar.
So in case you experience any issue, you can quickly get a refund or get a replacement without bearing any cost.
Features of the product
The collar is odor, dirt, and water resistance.
The dog collar is PVC material with an opener leash, buckle closure, and dog tag.
It comes with different size options.
The company offers a lifetime warranty with the product.
Adorn your pooch with this US Flag seatbelt buckle dog collar and create a unique style statement.
Instead of a standard clasp, this collar comes with a miniature seat belt buckle.
With a simple click of the center button, you can release the clasp and take out the Collar.
It is manufactured using high-density polyester, and durable steel is used for buckle components.
It is available in multiple sizes to offer the best fit based on your dog's needs.
Features of the product
It features a seat belt buckle.
The product is manufactured using high-density polyester.
The buckle is made using durable steel.
It comes with different sizes.
This is another one among the great collars for bulldogs that uses high-quality 100% genuine leather.
It is embedded with metal spikes, and the inner side is softly-padded. The dog collar comes with a D-ring in order to facilitate leash attachment.
It can easily withstand pulling and tugging from your pup while taking it on the walk.
The product features five durable metal eyelets to adjust the dog collar. The thread on this dog collar is sewn to provide longevity and strength.
This high alloy rivet leather dog collar can be an eye-catching accessory for your pup.
The metal spikes on the Collar provide protection from other dogs as well.
Features of this product
This type of collars for bulldogs is perfect for growing pups who need a more gentle grip.
It is designed from soft nylon, which is extremely flexible. The dog collar comes in four sizes.
Puppies, particularly those at the early stage of training, do not need a larger collar's bulky and strength.
The soft collar is perfect for keeping your little pup safe while teaching the leash behaviors.
This reflective dog collar comes in 13 vibrant colors featuring a reflective strip to offer ambient light at low-lit conditions and night.
Features of the product
It comes with 9 to 14 inches adjustable dog collar design.
The collar feature threads are designed to offer reflective ambient light in low light conditions.
The product is manufactured using rip-stop nylon.
It comes with 12 color options.
If your pooch keeps dragging you down the road wherever you go for a walk, then this is the ideal way for this situation.
This gentle dog collar is a useful training tool for your bulldog as it works to reduce excessive tugging, pulling, and barking.
The company offers the product in five different sizes, as well as in eight different colors.
You will also get a training video, which wishlist you understand the best way to use this product.
This is specially designed for aggressive or fearful dogs and does cause any chafing or rubbing and uses a two-loop design, enabling maximum control.
Features of this product
It is a product designed by a trainer and recommended by the vet.
It comes with a padded neoprene nose loop to avoid choking for coughing.
The dog collar comes in different sizes options.
It also offers eight different color options.
If you are looking for a chain dog collar, then we strongly recommend this product.
It is manufactured using strong stainless steel material, and you will not have to worry about dust or tarnish.
It is recommended to use while training your dog, so you cannot use it as a regular collar.
When you select the right size, the dog collar will fit snuggly, and you will not have to worry about it slipping off.
With eight size options, you will have no problem finding the comfortable size for your dog.
Features of this product
It is recommended for professional training.
The Collar is made of 304 stainless steel.
It offered eight size options.
This ¾ adjustable Collar is ideal for every dog, including bulldogs. Additionally, it comes with a lifetime warranty against wear. And every size is adjustable up to 10 inches.
This is perfect for dogs who do tend to shed weight during summers. This dog collar features in more than 15 different styles.
Features of this product
It is adjustable between 9 and 14 inches.
The product comes with 15 designer patterns.
It comes with matches with harnesses and leashes.
The Collar comes with wear protection.
Factors to Consider When Buying Dog Collars For Bulldogs
Following are some of the essential caveats when purchasing a dog collar for your bulldog:
1. The Size of the Dog Collar
Before you start your hunt for dog collars, it is imperative to be aware of our dog's size. You can do the same using a measuring tape or a shoestring. Take a measuring tape and wrap it around the dog's neck between collar bone and ears.
Add two inches to this measurement, and this is the size you should be looking for. After putting the dog collar, you should be able to comfortably fit two-finger underneath the collar and dog's body.
The collar should be tight enough so that it won't slip but loose enough so that it won't strangle or choke the dog.
2. The Material of the Collar
Dog collar is designed using various materials, and it is essential to know the implication of each of them. The aesthetics, durability, and comfort depend on the material from which the collar is made.
Nylon is among the most commonly used materials, and it is non-irritating, lightweight, and durable. The benefit of using nylon material is that they are comfortable and flexible.
Furthermore, if you are looking for an eco-friendly material, then hemp dog collars are the ideal choice.
Leather is by far the most classy material that you can choose for your dog collar. This material is durable and can offer high resistance to wear. But leather is the most expensive material as well.
3. The Reason of Your Purchase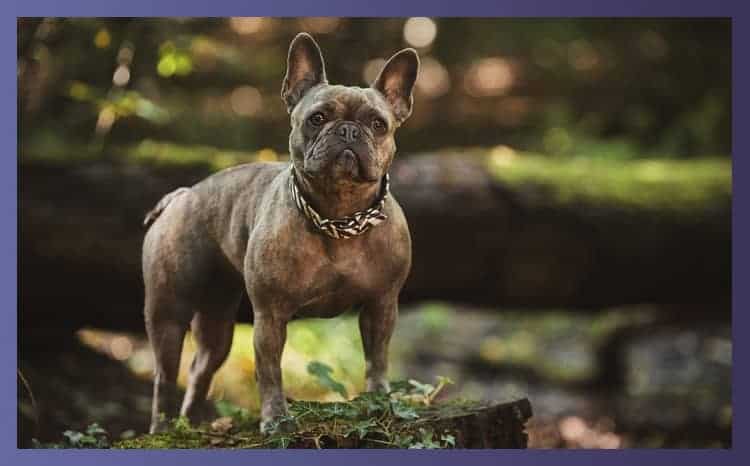 If your bulldog is old and well-trained, then you can select a light collar that is made using leather or nylon. These materials are also a good option if you want a dog collar just to include a dog tag. But if your dog is yet to be leash trained, then you should go for the ones that are specially designed for this purpose.
These are designed to provide you with more control over their behavior while out on the walk. Lastly, people buy collars for bulldogs because they work as a cute accessory. If that is your purpose, you will have no dearth of options. For instance, you can buy a collar with premium LED light embedded in it, giving you an adorable new look.
4. Types of Collars for Bulldogs
Below are the common types of dog collars that you will come across –
Metal Prong Collars
While it may look harsh on the outside, this dog collar is recommended by many trainers. These are mainly used on stubborn dogs who keep pulling on the leash. Prong collars are also known as pinch collars, and they are used for correction while training your dog.
Chain Slop Collars
These collars for bulldogs are designed for training purposes. When you are teaching your dog how to walk on a leash, it facilitates correction with a tug on the leash. This is resulting in it slightly close around the neck of the dog. Typically these are not recommended much as they are prone to cause damage to your dog. But if you are using it, learn how to use it properly.
Standard Collars
There are a variety of dog collars for everyday use. You can get them with quick-release clasps or metal buckles. Additionally, they are available in different sizes, styles, and color options. If you own a strong dog, it is better to opt for a buckle collar as a quick release lacks sturdiness. Also, rolled leather collars for bulldogs offer more durability, and there is less risk of hair loss.
Head Collars
Head or halter collars act as a harness for the head and aim to help dogs train to walk on the leash. When the dog pulls on this leash, the halters will force the head to turn. This unnatural act will make them correct their behavior. If you use it properly, head collars can successfully stop your dog from pulling.
Smart Collars
These are rather high-tech collars that include various features. For example, GPS to track the location, functionality to monitor behavioral changes, assistance in dog training. These are compatible with apps and often come with water resistance and wi-fi coverage.
Conclusion
But even when your dog is well-behaved, there are times when unexpected things happened.
For instance, maybe your little pup saw something exciting on the other side of the road and started running in that direction in the middle of the road. You do not want it to run into the traffic. And when you have your dog on the leash while being outside, you can avoid such situations.
With the above product review, I hope you have found the right dog collar for your bulldog.