Sharing is caring!
Here is the list of top-rated cute ID tags for dogs that your canine friend is going to love and prove to be useful:
PetDwelling Smart Pet ID
Aizza Beata Funny Pet ID
Dynotag Web Enabled Super Pet ID
Aizza Beata Funny Pet ID
Jinglrr Personalized ID Tags
GoTags Slide-On Personalized ID Tag
Pupteck Cute Wooden ID Tags
GoTags Personalized Pet Tags
Family Kitchen Funny Pet ID Tag
Udobuy Funny Pet Tag
Dogs love their outdoor walks; mine just gets a little overboard and loves to mount up my blood pressure by running away from me. I don't scold him for doing this; it's his way of having fun.
But, what I can do best is think about his safety. Dogs are naughty, and they love running outdoors. As a caretaker, it's you who should think about their safety in the first place.
They might not remember their way back to the home. That's where the trouble begins, and the worst-case scenario is that they can get lost.
Cute ID tags for dogs will be a great help. These are personalized tags on which you can get your dog's name written along with your address and contact number.
So, when they get lost, anyone who spots them can bring them back to you. Not simply for safety, it's an alluring styling gear for your bulldog.
I have designed a cute ID tag for my bulldog, and I thought I should spread the word and be aware more about the usability and chicness of these dog accessories.
So, here I am with a list of the best cute ID tags for dogs that you are going to love and find great for your dog's safety. Without wasting much time, let's begin…
Top Rated Cute ID Tags For Dogs
Fluffy Pick
We earn a commission if you click this link and make a purchase at no additional cost to you.
It is the best ID tag that you can think of for your dog. It is ideal in terms of safety and adorability. The tag is made with the non-toxic zinc alloy with a coating of epoxy to give a three-dimensional look.
The best part of this tag that makes it smart is the QR code that links it to your dog's free online profile.
The tag has two faces; in the front, you can find an embellished paw figure with a heart in the middle, and at the back, there is a QR code.
All the free members are eligible to make a pet profile with photo, contact info, video, medical and vet information, member interaction with the nearest PetDwelling member, and 24/7 customer support. Isn't that all you need for your dog's safety?
There's nothing complex you need to do. Just buy the tag and scan the code or enter the URL in your browser to activate the code and make the profile there.
If you decide to become a premium member, you will get the additional feature of Email Alert and Live Geo Location of your dog. If you care for your dog's safety, you cannot miss this product.
Highlights
Smart dog ID with QR code leading to pet profile
Made with non-toxic zinc alloy and epoxy coating
Email alerts and location info for the premium members
Cute paw figure at the front giving an adorable look
Fluffy Pick
We earn a commission if you click this link and make a purchase at no additional cost to you.
It is an ideal stainless-steel pet ID tag that comes with a funny quote on the front "Not All Who Wander Are Lost, But I Am." This pet ID tag will let your dog stand out in the crowd.
You can find this funny quote engraved at the front, and at the back, you can add the address or contact information for people who spot your dog.
The pet ID is made with high-quality stainless steel with zero rusting risks, color-changing, or even tarnish. What more you could ask from a pet ID tag.
As the material is sturdy and durable, this ID tag will last for a long time. The tag's size is 1.18×1.31 inches and comes with a little ring that helps in attaching it to the collar.
It is not just an adorable little personalized ID tag for your dog; it's a big investment that you can make for your dog's safety and save you from the troubles of losing them.
The manufacturers provide a 100% guarantee on the product and claim that you can directly contact them if you find anything wrong with it. That's such a great step forward in enhancing customer experience.
Highlights
A funny quote at the front to catch the attention
Engraved personal details at the back for safety
Made with sturdy and durable stainless steel
No risk of rusting or tarnish
Fluffy Pick
We earn a commission if you click this link and make a purchase at no additional cost to you.
QR code enabled pet IDs are in trend right now, and this one is my personal favorite. Dynotag has done a really good job of making these cute ID tags for dogs by adding a web-enabled connection.
It is a stainless-steel tag with noise eliminating protective polymers on the sides. At the front, there is a funky quote saying "Have Your People Call My People," and at the back, you can find a QR code along with owner activation code.
The QR code leads to the owner's information, and you will immediately be notified via mail when someone scans the QR code.
There's no particular app for this; it is a web-enabled technology, and you can use it through your web browser.
You will get the features of email alerts, automatic view notification, view log, visitor logbook, and much more. The tag is easy to set up; you just need to scan the code to lead you to dynotag.com.
Here you have to create a free account and activate the tag. You will receive an email after the activation that will contain the password and activation code. It is a simple yet purposeful investment for your dog that will go a long way.
Highlights
QR code enabled pet ID for extra safety
Features like email alerts, visitors logbook, and customer support
Made with stainless steel and noise eliminating protective polymers on sides
The material is tough and maintenance-free.
When it comes to making funny pet ID tags, Aizza Beata is pulling up its best work. This funny and cute ID tag comes with a quote at the front: "Shit, I'm Lost Call My Mom She's Ugly Crying."
Now, who would not want to return a dog with this adorable ID tag safely. Not just the funny quote, it comes with an engraved address and contact number space at the back where you can enter the essential details.
It's a helpful ID tag that will come handy when your dog is lost. The tag is made with stainless steel and attached with a 20mm keyring that will correctly hook into the collar.
The tag's small and lightweight design makes it super comfortable for your pooch to carry it on the collar. It is also known for its sturdy and durable stainless-steel material.
The steel is non-tarnishing, and the color will never fade away even if you use it in deep water. You can also give it as a gift to other dog owners who still haven't thought about their dog's safety.
Those who have used this product have some great reviews about it. The funny and easy-to-read quote at the front is the major highlight of this ID tag.
Highlights
Funny quote at the front
Engraved personal information at the back
Stainless steel material with non-tarnishing coating
20mm wide key ring attachment
Jinglrr is making these cute ID tags for dogs that are equally adorable and purposeful. This bone-shaped ID tag will look extremely appealing on your dog's collar.
It comes with a metallic front name badging and an information tag at the back. It is a product with highly durable and long-lasting stainless steel that has a metallic gradient look to it.
The tag is fully customizable; you can either add your dog's name or a quote at the front and use the backside for information. The manufacturer claims that the text on the tag will never scratch or rub off.
Not only in bone shape, but these tags also come in diamond, circle, square, and heart shapes. So, you can choose from a myriad of metallic colors and shapes from this particular variant.
The sturdy stainless-steel material and the strong key ring make it highly durable and safe for your dog. The easy-to-read font is also helpful in getting attention to the tag.
This particular product from Jinglrr has a separate fan following for its unique metallic style and significance. You won't regret spending your money on this ID tag. It is also a perfect gift for other dog owners; they are going to love it.
Highlights
Sturdy and durable stainless steel
Metallic gradient look
Easy-to-read font for attention
Different shapes and colors available
It is one of the unique personalized tags on my list. Unlike the key ring attached ID tags, this one is a slide on that you can attach to the collar. Made with sturdy stainless steel, this slide-on tag comes in different sizes.
There is no back portion in this tag, only a front side, which includes your dog's name and your contact details. It is best for the nylon collars as it easily settles on them.
You must note that this slide-on won't be ideal for the adjustable collars that come with plastic snaps. So, this one is particularly ideal for the ones with nylon straps. The size variant makes this perfect for all-sized bulldogs.
The large size is 2" long and 1.2" wide, the medium size is 1.7" long and 0.9" wide, the smallest size is 1.6" long and 0.6" wide. You can customize this according to your preference.
The stainless steel thickness makes this tag sturdy and durable that you can use for a long time. People who used the product have positive reviews about this ID badge.
There are two color variants in this product, i.e., black and silver. It is a purposeful and attractive ID tag that will help your dog come back home safely.
Highlights
Slide-on ID tag for your canine
Perfect for nylon strap collar
Made with sturdy and durable stainless steel
Three size variants available
When talking about cute ID tags for dogs, I'm doubtful anything can surpass this awe-worthy product from Pupteck. It is an adorable wooden ID tag that comes in different colors and shapes.
The handwritten font on the tag gives it a more cute appearance. It is a minimalistic ID tag that comes with a front badging of the dog's name and the contact number of the owner.
However, you can also choose to add the information at the back as well; it totally depends on your preference. Personally, I liked the minimalistic version of this tag.
It is a no noise exquisite pendant-like tag with premium wood. The product is a pack of six different alluring tags in shapes including cat face, five-pointed star, rhombus, paw, sunflower, and a house.
Each tag comes with a metallic keyring to firmly hook onto the collar. Having six different ID tags at this price is something you should dive into.
These tags are available in different sizes according to your dog's size. The lightweight build makes these tags easy to hang on your dog's collar. The wooden outlook also adds up to the stylish and cute appearance of the tag. It is something that will make your dog look even cuter when he's out.
Highlights
Pack of six pet ID tags
Wooden built giving a cute outlook
Available in different shapes, sizes, and colors
GoTags have been introducing customized and adorable pet ID tags for canine owners for a long time. This particular is the best deal you can have.
It is a pack of 12 pet ID tags that comes in different color and shape variants. These tags are two-sided options with engravings on both sides.
You can accommodate four lines in the front of the tag and four at the backside.
The information you choose to add on the ID totally depends on you. At the front, you can add the name of your dog, and at the back, you can give out all the information.
The tag is available in different shapes that give an attractive outlook to this package. The shapes generally include bone, star, flower, bow, heart, rectangle, and round.
There are different sizes as well, so you can choose your dog's ideal shape and size.
The ordering process is also quite simple; you just need to select the right size and enter the details you want to write on the tag. The buyers who have purchased this product are extremely happy with the quality.
It is made of sturdy and durable stainless steel painted with different colors.
Highlights
Colorful pet ID tags
Comes in different shapes and sizes
Engraved letters on both the front and backside
Made with sturdy stainless steel
Fluffy Pick
We earn a commission if you click this link and make a purchase at no additional cost to you.
I particularly like the brands that add funny quotes to these cute ID tags for dogs. This one from the Family Kitchen has written "I Know I'm Cute, But You Can't Have Me" on its front, and at the back, you can add the contact details. It is a catchy and funny quote to grab attention.
This particular ID tag is compact and lightweight made in stainless steel. The font also looks stylish, and the cute feather and arrow hanging gives an alluring look to the product altogether. It does not have a keyring.
Instead, it comes with a versatile clip-on that you can attach anywhere on the collar. Trust me; it is a perfect gift for dog parents. I have gifted it to my friend, who has recently bought a bulldog, and she fell in love with this tag instantly.
The stainless steel is the corrosion resistance and does not bring any allergies to your dog. The color will never fade away, and the font will remain intact.
The product comes with a free gift bag that you can use for storing it later. The tag is 1.18mm that is the perfect length for any adorable pooch.
The dog owners who have used this product have stated that it a durable tag that they have been using for years now.
Highlights
Funny quote at the front
Stainless steel corrosion resistance build
Cute hanging arrows and feather
East clip-on buckle
Fluffy Pick
We earn a commission if you click this link and make a purchase at no additional cost to you.
Talking about funny quotes on the ID tags? This one really got me into laughing fits. The front face of this shiny tag reads, "I Got Lost Prowling For Bitches, Have Your People Call My People."
It is a real eye catchy pet tag that has a hilarious quote on the front. At the rear side, you can add the important details you need.
The best part of this product is the shiny stainless-steel disc that has a polished look. Unlike the keyring, it comes with a split ring, which makes it even easier to tuck onto the collar.
The 1.25" disc is just enough to add all the vital information. The font is easy to read, and you will find no difficulty in handling this. It has got the perfect value for money, and its durability is worth the appreciation.
This Udobuy product is a perfect gift for your naught dog who has the habit of running away every now and then.
The reviews of this product are also quite satisfactory, and there is nothing in particular that will have to complain about this product. If you use it right, this product can last for years.
The stainless steel is not vulnerable to corrosion or everyday abrasion, so that you can use it without any fear. It comes at a pocket-friendly price that you can even give it to others and help their dogs get a safe ID.
Highlights
Hilarious quote on the front
Shiny stainless-steel disc
Split ring for easy attachment
Easy to handle and durable
Reasons Your Dog Needs a Pet ID Tag
These tags are more than a necessity now. I would recommend that every dog parent must have one of these ID tags attached to their dog's collar.
According to the ASPCA study, pet IT tags have become an essential pet accessory for extra safety. If you have not found the right inspiration to buy one of these, here are a few reasons that will give you a little thrust.
What You Will Do If Your Dog Gets Lost?
Of course, there is no perfect contingency plan for this. You have to be either careful or be prepared for the worst. It is important to remain prepared and bring the best safety measure for your pooch.
Unlike humans, they might not be able to work out things on their own and find a way back to you.
According to the study, one in every three pets get lost at least once in their life, and 90% out of them are never able to make it back home.
Dog IDs make sure that wherever your dog goes, there are one hundred percent chances that someone will bring your pet back home.
Pet tags make it easier for other people to recognize your dog and bring him/her back to you by following the address or contacting you directly.
Safeguard Your Dog From Uncertain Happenings
What happens when a natural disaster strikes and you could not find your dog? What if your house catches fire and your dog has to run to save his life?
God forbid something like this happens; still, it is essential to think about the uncertainty. There are many uncertain events that can put your pet dog in a dangerous situation.
It is highly important to take safety measures beforehand to keep everything under control. Pet ID tags are the safety measure that ensures there is always hope to get back your dog.
These days, the IDs also have QR codes that make it easier to track the location. You can have one of these tags to get your dog back.
It is important to prepare your dog ahead of time, so you know they are safe when anything happens.
More Likely To Get Help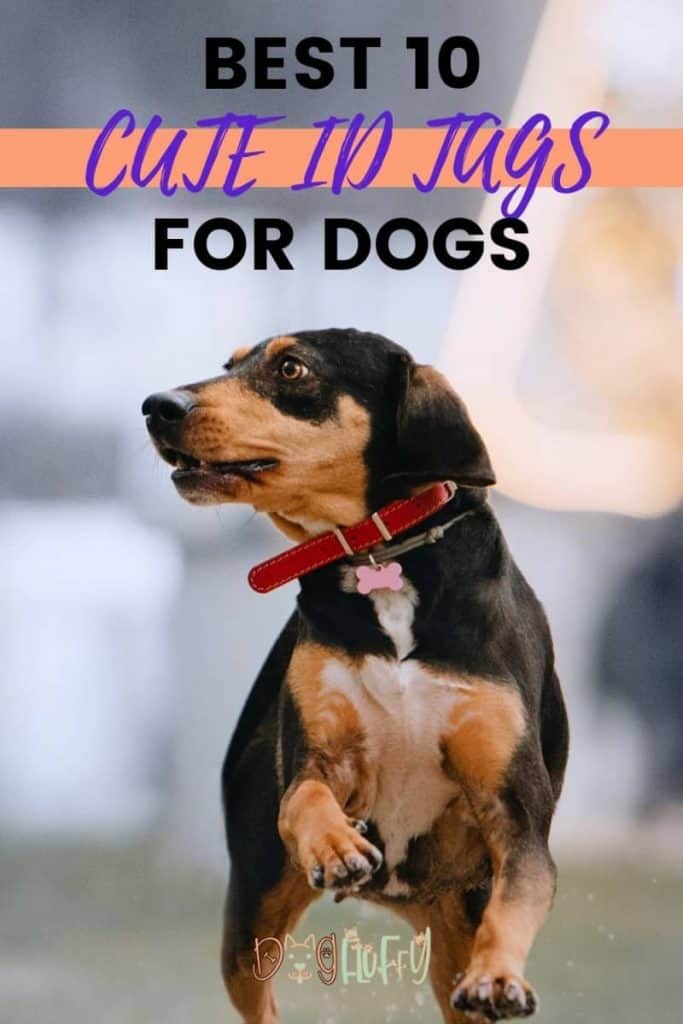 It is true that dogs get lost by themselves, and they cannot find their way back home.
This is a natural occurrence in our neighborhood. But, the dogs who have these ID tags on their collars are more likely to get help instantly. People can get your contact details and address to bring them back.
The traditional process of reporting a missing and searching process for days can be time-consuming and bring no results. These IDs are a great alternative to ensure that your dog gets help immediately.
It is the faster way to bring your pup back home, and you would not want to miss that opportunity.
A Cute Addition To Their Accessories
Apart from the safety perspective, if you want to give your dog a more personalized look, going for a pet ID tag is the smartest option.
Today, these tags are available in different colors and sizes that make them even more attractive to the human eyes. Not to forget my personal favorites, the funny quotes.
There are different types of cute pet ID tags for dogs you can choose from and make their appearance even more attractive.
These IDs are easily attachable to the collar, and you do not have to buy any other accessories to accommodate them.
These are the perfect reasons why your dog needs a tag today. Keep their utmost safety in mind while you are making a purchase.
The Bottom Line
Your dog's safety is in your hands. It is true that you cannot stop them from being naughty and play some mischiefs every now and then, but you surely take measures for their protection.
These cute ID tags for dogs is one of the best solutions you can do to ensure their safety. When your dog has a tag that mentions all the contact details, people who see that tag can bring them back home.
The adorable pets' tags are just brownie points to make your dogs even more lovable.
I keep buying tags that I find attractive and adorable regularly, and I love keeping my bulldog always ready. Here in this article, I have reviewed the top 10 ID tags in the market that are also my favorites.
So, you can go check them out and order one for your pooch today and become a responsible and loving parent.
🐕 Articles you may like
Sharing is caring!