Sharing is caring!
With the help of an escape prevention harness, you can now let your small dog run freely in your yard without worrying about slipping through the fences' small spaces.
The harnesses are designed to fit your dog comfortably and comprise a pole, preventing any attempted escapes.
I have seen many dog owners slipping this device on their dogs, much like any standard harness.
However, it consists of a rigid long cross-bar, which spans well even beyond the pet's width. It prevents the little ones from slipping right out between the fence railings.
These harnesses are pretty light in weight. So, it will not inhibit the movements of your dog or puppy. It even allows passage through the majority of the standard pet doors.
Most of these harnesses are manufactured using woven nylon. So, the pets won't find it irritating to wear the harnesses around their necks.
To top it all, these harnesses have adjustable straps for a snug fit. You have to specify the size of the harness based on your dog.
The Best Escape Prevention Harness For Your Bulldog Is: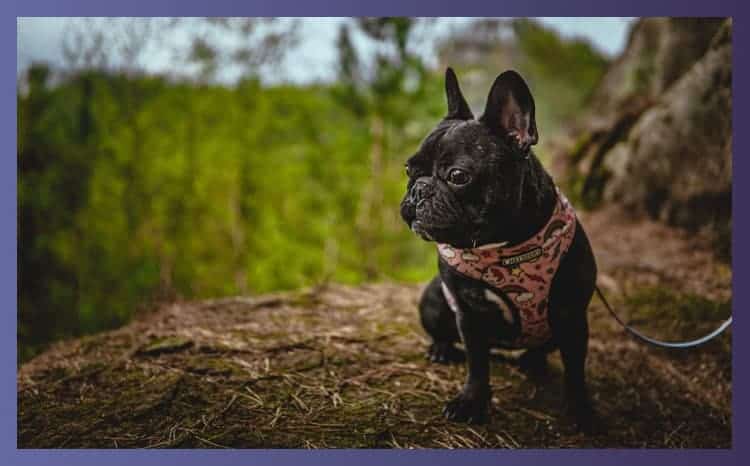 What Are The Top Escape Prevention Harness Examples Available?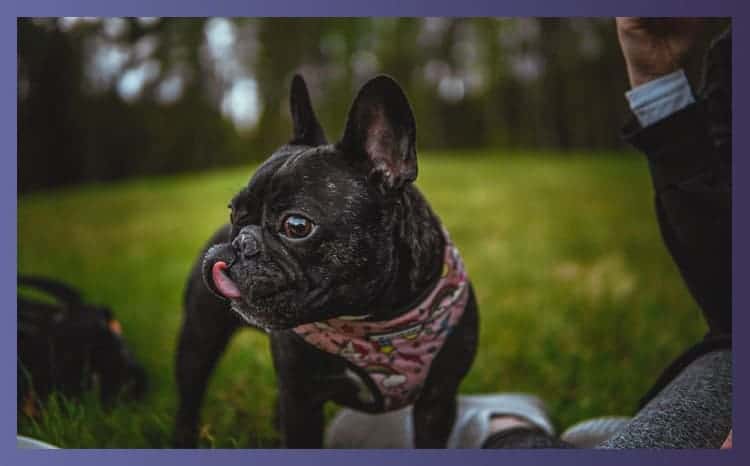 Currently, the market has multiple options when it comes to escape prevention harness. Now which one you should choose depends on your requirements and even the size of the dog.
I think it is better to measure the dog's size first and check out the harnesses' features before making a final call.
I have listed below some of the best escape prevention harness for your furry little friend.
Best 7 Escape Prevention Harnesses For Your Bulldog
Fluffy PIck
We earn a commission if you click this link and make a purchase at no additional cost to you.
With adjustable shoulder and chest straps, this product is easy for your dog's proper fit, and it prevents escape.
The harness is comfortable with nylon straps, super padded sleeves.
It will avoid rubbing off the sensitive parts of your dog's limbs.
A durable fabric, namely Neoprene, is used while crafting this padded harness for your dog.
Moreover, the harness is breathable and waterproof as well. It comprises a newly improved sturdy top D ring, side buckles.
Reflective straps and quick release to make the items pretty tough.
There is a sturdy and safe handle for offering complete control of your puppy or dog. These harnesses are perfect for assisting physically challenged pets into cars, as well.
Moreover, this non-pulling and non-choking harness, and come with a training handle.
So, it won't harm your pet's sensitive trachea or throat and will help him to breathe properly.
Fluffy PIck
We earn a commission if you click this link and make a purchase at no additional cost to you.
Known for its super secured mechanism, this dog escape harness is now available in multiple sizes.
It is designed anatomically for your dogs, who are always out for some adventure.
This particular escape prevention harness is suitable for the service dog handlers, amputee puppies, working dogs, and more.
There are padded shoulders available along with the reinforced handle.
So, it is safely designed to keep your dogs out of obstacles when needed. Another exciting factor is the customized fit.
There are five convenient adjustment points available for ultimate motion.
Moreover, you will receive 2 study leash connection points, a webbing loop, and aluminum V rings as some of the best characteristics involved.
This harness is pretty light in weight and builds to last for a long time.
Known for its rugged design, this dog escape harness is resilient and made to be used any time of the year.
It has a safety loop and reflective trim as some of the added features.
If you don't want to invest a lot of money on an escape prevention harness for your dog and want something within your affordable budget, I recommend giving ICEFANG a try.
Available in multiple sizes and colors, only top-notch quality nylon used for making this harness. It has buckle closure for a snug fit.
For extra protection, there are two metal buckles on the shoulder position of the dog.
Moreover, the item is perfectly sewn to make it last for a long time.
You can easily connect the "no pull front clip" to redirect your dog's motion forward. With just a few efforts from your side, you can control the puller and start training your dog to walk beside you.
It comprises a separate harness, used to lift your dog while getting in or out of the car.
There are individual hooks available and sewn on both sides of the harness.
It will help your dog to carry gear in training, adventure hiking, and so much more.
Fluffy PIck
We earn a commission if you click this link and make a purchase at no additional cost to you.
This dog harness designed to gently tighten around the barrel without strangling around your dog's neck.
Here, you have to utilize your furry little friend's pressure against the leash, which will encourage the dog to slow down their walking pace.
Make sure to use this harness as a walking tool only and not to tie the dog.
Remember that this item isn't chew-proof. So, keep an eye on your dog while putting the harness on.
In case the dog ever tries to escape from the harness, the leash will start to tighten up its grip. I would suggest you check out the directions first before using this harness on your bulldog.
The best part about this escape prevention harness is that you can adjust it according to your dog's body type and size.
You need to align the movable black stops with the dog's front leg, and that helps to fit anybody just perfectly. Even the length of this leash will vary based on the dog's size.
Fluffy PIck
We earn a commission if you click this link and make a purchase at no additional cost to you.
With five different adjustment points, this harness will allow the owner to create a customizable snug for his dog.
It helps the dog to have full motion without any disturbances.
There isn't any metal material used for manufacturing this escape prevention harness.
So, you can rest assured that nothing will fall off the dog's back. This snug and tight fit will offer stability.
This harness comes with a plastic handle. You can raise the handle while working with larger dogs.
It is an excellent substitute for a collar so that you can carry your dog around when needed.
The surface of this harness manufactured using premium quality polyester.
So, the product is pretty light in weight. It is also durable, washable, and non-toxic.
Underneath the surface region, this harness has a skin-friendly and breathable mesh material.
It is quite soft to touch and will prove comfortable for the dogs to wear for long hours.
The edges of this sturdy fabric are pretty soft.
It is also stated to be reflective, which will help your dog walk safely during the night's wee hours.
Fluffy PIck
We earn a commission if you click this link and make a purchase at no additional cost to you.
If your dog escapes quite frequently, then this escape prevention harness from Gooby is the finest choice for you.
This harness works magically by reducing the space around the back. It makes the entire situation pretty hard for the little puppies to back away and then escape while out for a walk.
It consists of a unique V shape. The primary purpose is to reduce neck pressure.
The entire harness spreads evenly across the chest for a safer experience.
The top-notch quality neoprene material used for manufacturing this harness, which makes it relatively comfortable to wear for long hours.
The fabric remains light in weight and pretty soft.
As the weight gets distributed throughout the entire backside of your dog's body, so your furry little friend won't feel choked after you put this harness on him.
The well-crafted design makes it hard for the puppy to escape from this grip.
Fluffy PIck
We earn a commission if you click this link and make a purchase at no additional cost to you.
Another interesting item from the house of Didog, this escape prevention harness is made using a smooth and soft material, known for its high-end comfort level.
It is one of the finest examples of a padded harness for your furry friend.
This product is mainly designed for pampered pooches.
It consists of soft fleece pads, located behind the back straps and neck. It helps the dogs to feel comfortable while walking.
The entire finish of this escape prevention harness is light in weight. So, it helps your pup to move around freely and have full movements while staying safe and snug with its reflective strips.
It helps to light your pup's path during night time.
The Final Say
With so many options under the escape prevention harness, making the right choice seems a pretty tough call at first.
Well, you don't need to worry when you have these outstanding seven options by your side.
You can freely research your selections as well. Just try to focus on the harness features and materials first before finalizing on any particular product.
Online stores have special discounts on top-graded harnesses. So, watch out for those money-saving tactics as well.
Recap on best escape prevention harness for bulldog
📢 Articles you may like
Sharing is caring!