Reading Time: 11 Minutes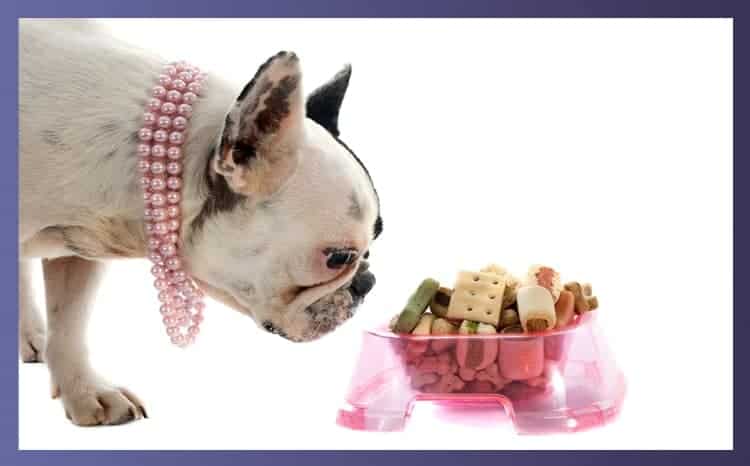 This post may have affiliate links, which means I may receive commissions if you choose to purchase through links I provide (at no extra cost to you). As an Amazon Associate I earn from qualifying purchases. Please read my disclaimer
for additional details.
What Are Good Treats For Bulldogs?
Here is the answer to what are good treats for bulldogs:
Pet Naturals of Vermont Superfood Treats for Dogs
American Journey Oven-Baked Grain-Free Dog Treats
Organix Castor and Pollux Chicken Flavored Dog Treats
DreamBone Mini Sticks
4Legz Organic Crunchy Non-Gmo Dog Treats
Diamond Naturals Salmon Snack
Green Butterfly Brands Organic Dog Treats
Grandma Lucy's Pumpkin Oven Baked Dog Snacks
Nutro Natural Choice Crunchy Treats
Pup-Peroni Dog Treats
Bulldogs are food-driven breeds, and if you are a parent to one, you must have realized it by now.
When it comes to searching for what are good treats for bulldogs, consider choosing products that do not have the high-calorie content.
Investing in a good dog treat is imperative to facilitate training to young puppies and to encourage good eating habits.
I share some of the best dog treats that you can give to your bulldogs in this comprehensive guide.
Best 10 – What are Good Treats for Bulldogs
This is one of the foods that you can choose to keep your bulldogs healthy and active.
Pet Naturals
is a responsible brand that uses organic and human-grade ingredients, and you do not have to worry about any fillers.
You get treats that are boasted with flavors that your dog will happily munch on.
This is basically superfood with super healthy ingredients that include spinach, apple, kale, and oatmeal.
The treat
comes with three flavors: homestyle chicken, crispy bacon, and peanut butter. Each treat is only seven calories.
This is the perfect treat
to reward your pup for its good behavior.
Features of this product include:
It comes in three delicious flavors.
The treats are backed with vital nutrients that complement a meat-based diet.
It combines organic ingredients such as blueberries, kale, apple, spinach, oatmeal, and sweet potatoes.
There are no artificial ingredients in it.
This is one of the delicious answers to what are good treats
for bulldogs?
These are crunchy treats that are equally tasty and healthy for your price.
What is better about this product is that they are reasonably priced as well.
Dogs are omnivores species, and they need both meat and vegetables. And this product is the best combination of both; it includes lamb, pumpkins, carrots, and sweet potatoes.
Additionally, it comes with dog-approved apples and blueberries.
The product does not contain any grains or fillers, including wheat, corn, or soy.
Features of this product:
It is a protein-rich dog treats with real meat.
This is a grain-free product with no fillers like wheat, soy, and corn.
It contains tons of veggies, including pumpkins, carrots, potatoes, apples, and blueberries.
It comes in portable packets.
These dog treats
are certainly going to be your Bulldog's favorite as they use natural formula and are boasted with organic ingredients as well as flavor. It is flavored with chicken treats.
The first ingredient of this product
is free-range, organic chicken, making it an ideal cruelty-free treat.
The company assures that no growth hormones and antibiotics are used in the product. And there is no artificial coloring, preservatives and flavoring included.
However, these cookies are recommended to be eaten as a supplement, not a primary meal of your dog. And you can include it in the diet of any growth stage of your puppy.
Features of the product:
It is made from free-range, organic chicken.
There are no added preservatives, growth hormones, antibiotics.
There are no chemical pesticides or synthetic fertilizers used in the product.
It is cooked in an organically certified kitchen.
Next time when you wonder what are good treats for bulldogs?, consider DreamBone Mini Sticks
.
When you are training your dog, you tend to go through dog treats very quickly, which can prove to be quite expensive.
This is the reason why I have mentioned DreamBone
on my list.
Along with being impressively cost-effective, they can be easily chopped into smaller pieces to suit the training purposes.
These come in the shape of churro sticks, so you can easily cut them into bite-size pieces and ensure one packet to last you for a good time.
These delicious dog treats are made using chicken, veggies, and with the touch cinnamon flavoring (a quantity which is safe for dogs).
This is the perfect product
to over treats your pup.
Features of this product:
The product does not contain any grains or fillers, including gluten, soy, wheat, chicken byproducts.
It is made with real chicken and vegetables.
This is a low-fat chew that aids in maintaining healthy teeth and gums.
It is an easy-to-digest dog treat.
This is one all-natural treat
that will leave them wanting more.
These organic treats are baked, instead of fried, thereby increasing the healthy quotient.
Moreover, they are made with all-natural, human-grade, fresh, plant-based ingredients.
And, if your dog has a protein-enriched diet, these dog treats are a great way to supplement the diet with other nutrition sources found in it.
The product
comes in a variety of delicious flavors, including molasses ginger soup, organic sweet potato, Chehalis mint, carob chips, organic pumpkin, and carob chips.
There is no artificial flavoring added to the food.
Features of the product:
These Non-GMO treats are made with 100% natural ingredients.
It is baked rather than fried.
There is no wheat, salt, corn chemicals, artificial preservatives, and animal byproducts.
It comes in various flavors.
Feeding pup's salmon is an excellent way to add nutrients to their diet. And when you search for what are good treats
for bulldogs?
This snack by Ava's will certainly come in the result. These are all-natural and high-quality treats that need to be stored in the refrigerate to retain the freshness. Although they are a bit expensive, they are boasted with omega-3 fatty acids.
This is the perfect product
to strengthen the immune system of your Bulldog and keep its coat lush and shiny.
Features of the product:
It is a high-quality protein encompassing zero grains and wild-caught salmon.
These products boast minerals and vitamins, antioxidants, and hypoallergenic ingredients.
There is no wheat, corn, or filler.
The product contains no artificial colors, flavors, and additional preservatives.
Some bulldogs are allergic to grains, and if your pooch constantly shows sensitivity to treats with grains, then he might be one of them.
So if you are searching for what are good treats
for bulldogs with no grains, then this is the perfect product for you.
These treats
are made using natural, grass-fed, farm-raised cattle.
And these do not include any artificial dyes or flavoring. The treat
is low in calories and fat, making them ideal for dogs on a diet.
Additionally, a percentage of profit acquired by Green Butterfly
goes towards training guide dogs to help veterans. So when you invest in this treat, you will support the cause.
Features of this product:
This dog treat is manufactured using 100% organic ingredients.
It does not contain any color, artificial flavors, fillers, and preservatives.
It is wheat-free, gluten-free, and grain-free.
This is a training treat packed with protein.
If you are searching for What are some of the good treats for Bulldog, then this pumpkin baked dog treat
is the one to consider.
These snacks
are made by a reckoned family-owned company located in Southern California.
These bear-shaped dog snacks are entirely GMO-free and USDA organic.
Moreover, organic pumpkin is the key ingredient that will help in improving the digestion.
While pumpkin is the main ingredient, you still have to watch your dog's weight.
These dog treats are not just for dogs; they are made human-friendly as well.
Features of this product:
It is an organic oven-baked dog snack.
The product is certified by Kosher.
It is a 100% vegan product.
English bulldogs are often prone to stomach issues, especially gastritis and bloating.
So if your pup suffers from a sensitive stomach, then this is a treat worth considering.
These dog treats
are a delicious blend of whole brown rice and chicken, and also contain other mild ingredients like oatmeal and pumpkin puree.
There are no artificial flavors added to this ingredient.
These treats
come in bite-sized cookies that are perfect for training. It is one of the foumas dog snacks
in the market.
Features of the product:
This is an all-natural dog treat.
It is gluten-free and does not contain artificial flavoring.
It contains chicken, brown rice, pumpkin puree, and oatmeal.
This crunchy treat contains apples and bananas.
They are delicious dog treats that come in different flavors, including lean bacon, beef, and more.
The product is 90% fat-free, so you will love the meaty flavor, and you wouldn't have to worry about its weight.
These treats are quite popular among bulldogs who are training.
Even the small stick can go a long way.
Moreover, you get to control how much of the stick you give to the pup.
Features of the product:
It comes with 25 ounces of lean beef flavor.
The dog treat is 90% fat-free
These are easy to break into little pieces.
Factors to Consider When Buying Dog Treats for Your Bulldog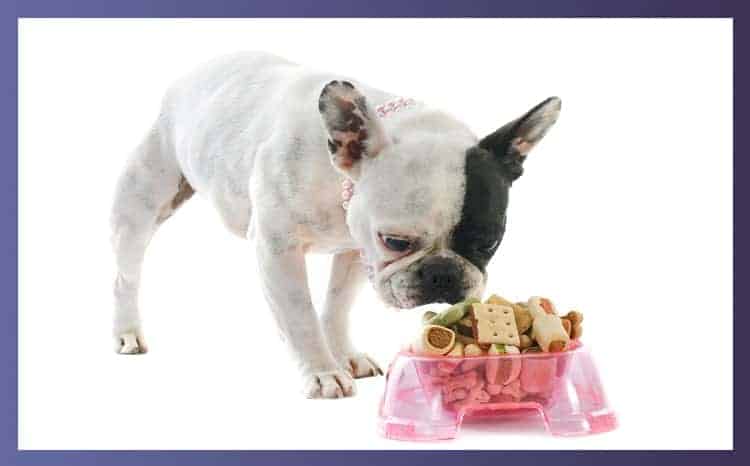 Following are some of the factors that you should consider when buying treats for your dog:
Consider the ingredients used in manufacturing the dog treats. The first and second ingredients are the most important. Therefore, determine whether or not they are healthy for your pup.
Dogs like Bulldog often face weight issues. Therefore this factor becomes important. So when looking at dog treats, look at the calorie content that they hold.
Opt for dog treats that are manufactured within the USA. As dog treats made in the country go through a higher level of supervision than other countries.
Moreover, check out the market reputation of the brand producing the treats.
Some treats may have ingredients that your pet is allergic to. This is another reason to check all the ingredients in the snacks.
In fact, some natural ingredients can also cause allergic reactions.
Important Nutrients That You Should Look Out For In a Dog's Treat
When checking the ingredients on the dog treat, make sure it comes with the following nutrients:
Contrary to what many believe, carbohydrates are healthy for dogs. These offer the necessary fuel that your dog needs to function properly.
Carbohydrates are basically a great source of energy for your Bulldog. Additionally, they are often packed with antioxidants, minerals, and vitamins.
Although proteins can be derived from plant-based food, the dog needs this nutrient from both plants and animals. These are important building blocks for the overall health of a bulldog.
Proteins help in the development of nails, muscles, bones, and fur.
They stimulate the production of hormones, neurotransmitters, and antibodies in the body and provide energy.
You should consider adding different types of the vitamin in your dog's diet. These are important to strengthen the immune system of your Bulldog.
Vitamin works as antioxidants and helps with blood clotting. Consider including vitamin A, C, E, K, and Folate.
You should include a healthy amount of fat in your dog's diet. This promotes healthy skin as well as a coat.
Fat offers the necessary energy for your pup to function all day long.
Earlier people used to focus only on calcium, but recent studies have shed light on the importance of minerals for the overall health of the dog.
Minerals such as iron, magnesium, selenium, sodium, potassium, and zinc should be included in your dog's diet.
Each of these minerals offers unique benefits, thereby improving the overall health of your dog.
What Are the Dog Treats That You Should Avoid Giving To Your Bulldogs?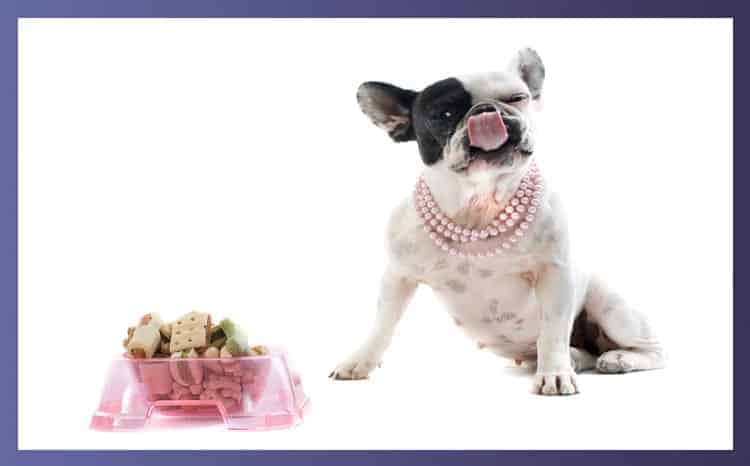 Following are some of the types of threats that you should avoid giving it to your Bulldog:
Animals parts that are not sold for the consumption of humans, such as ears, trachea, hides, hooves, femurs, rib bones, etc. are sold as dog treats.
These products are not generally cooked enough to kill all the bacteria.
When they are packed and shipped in these raw forms to the pet stores, it results in a high contamination rate, especially of Salmonella and E.Coli.
These are advertised as a treat that can strengthen the teeth of the dogs, but they can be harmful to the overall health of your pup.
They have a hard design to make god chew harder. This will create more friction and will scrape off the plaque.
And company claims, this overall process will whiten the teeth and improve breathing. Bulldog has jaw structure, which makes them lose their teeth fast, and greenies are products that can further quick this process.
They will continue to chew it, which can result in pain in their teeth.
You should never give rawhide to your Bulldog. It is boasted with empty calories that can make them gain weight.
Moreover, these treats have none to minimal nutrient content.
Additional Rawhide treats can also damage the teeth of your pup. And large chunks of these pieces tend to expand in the stomach resulting in constipation, pain, gas, choking hazard, etc.
What Are The Food That Bulldog Should Avoid?
Below are some of the food items that you should avoid giving your dog
These two items are very appealing to bulldogs. Although giving one or two may not do any harm, you should avoid them because they can be toxic for them.
While super-healthy ingredients, it is not good for bulldogs. It is enriched with calcium oxalate, which is a great ingredient for humans. But for bulldogs, it can cause kidney or bladder stones.
Bulldogs are lactose intolerant; therefore, milk can cause digestion issues. You should also avoid giving them ice cream.
How Many Times a Day Should You Feed a Bulldog?
The amount of time you should feed your pup depends on its age. An adult bulldog should not eat less than twice a day.
Giving one large meal can prove to be difficult to digest and can increase the risk of bloating.
Therefore you should try to divide the meal into two smaller portions.
Before your dog reaches adulthood, the following are the ways you should divide its meal –
Eight weeks – 3 month – 4 meals a day
Three months – 6 months – 3 meals a day
Six months – 1 year – 2 meals a day
How Many Calories Can a Bulldog Eat In A Day?
When it comes to feeding a bulldog, you should measure the nutrition in terms of calories.
On average, bulldogs should consider 25 to 30 calories per pound of their weight. This means that if your dog weighs 50 lb, then you should consume around 1250-1500 calories per day.
Dogs that have a higher energy level, needing three hours of daily experience, should consume three times more calories than the aforementioned number.
Final Thoughts on What are good Treats For Bulldogs
When you set the right diet for your Bulldog, it paves the way for its healthy life.
Diet, along with exercise, can keep your dog healthy and active for a long time period.
Dog treats are not a primary diet; instead, they are additional supplements that keep your pup feeling energetic.
It is important that you choose healthy treats that add to their health. And above, we have mentioned some of the best dog treats that you can find in the market.
Related Articles