Table of Contents
In the North American continent, crating has become an essential aspect of animal parenting, especially in cases where the said pets are dogs.
Dog crates have eventually found their way into the furniture list of most dog parents, with crate recommendations coming from friends, family, and even veterinarians.
A non-dog parent may struggle to find the need for such expensive furniture, given that the crates may appear to be mere sleeping bags.
However, a modern dog crate isn't just a place of rest for dogs; but it also serves as a haven for the animal.
Just the same way one finds comfort in the peace of their bedroom, research has shown that it is the same for dogs.
Hence, selecting the right dog pen is crucial to the well-being of your pet, with the crate serving as a training tool as well as a nice place to put your dog away when you have work to do.
This article explains the importance of choosing the perfect dog crate, emphasizing prioritizing comfort over style and price.
Also described are the modern trends in dog crate design and styling. Do have a good read.
The Trendy Evolution of Dog Crates
Today, there is an array of stylish, modernized, and comfy dog crates to choose from, with a number of them customized to suit all dog types.
Since the inception of crates in the early 20th century, there has been a continuous evolutionary trend starting from the familiar name-tagged plastic pans, otherwise called the contemporary dog crate, to wire cages to the slouchy foam pads. 
Recent times have seen the development of wooden dog pens constructed in the shape of tiny houses and also the popularization of furniture-friendly pet beds/mats.
Apart from these are other options of varying sizes, styles, and designs.
We earn a commission if you click this link and make a purchase at no additional cost to you.
All you have to do is choose what best suits your dog's needs and, perhaps, your home's décor.
Durable light materials that are easy to clean, maintain, and transport make dog crates.
Portable dog crates come in handy during moving or relocation, and a right-sized and easy-to-clean rate will reduce clutter and eliminate the imminent stress of crate cleaning.
A stylish dog crate often possesses appealing designs, which may be due to the need to secure a safe space where the dogs find comfort and peace.
Choosing The Right Dog Crate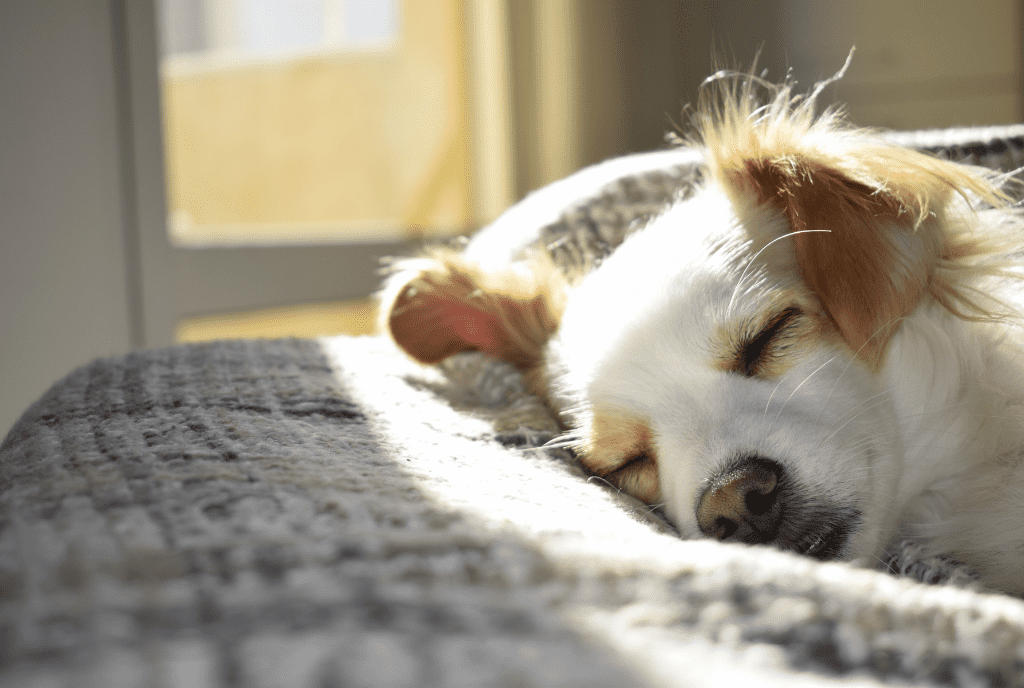 A dog crate is an ultimate haven for your canine companion, offering them room for relaxation.
Thus, it is pertinent that the supplies for your modern dog crate be carefully selected and fitted to ensure that the crate fulfills its primary purpose. 
Dog crates are synonymous with beds and sofas, the only difference being that the latter is for human use. In that sense, there are essential factors to be considered when choosing dog crates.
Most importantly, you should consider these factors if you want something that matches your house décor.
Below are a few things to keep in mind:
The Size
Size is probably the most paramount factor to consider when choosing a dog crate.
Dr. Alice Moon-Fanelli, a renowned animal behaviorist, noted that "the specifics about crates have variable answers depending on the breed and temperament of the individual dog." 
Hence, you can deduce that variables such as size ought to be an individual determining factor for choosing a particular kind of modern dog crate.
A good crate should be large enough to accommodate your dog's standing height and sleeping length. Never prioritize design or style oversize. 
If you wish to use the crate for longer, you may go further to investing in even larger crates – crates that are visibly larger than needed.
This step is for large breed dogs, which grow to great lengths. Experts recommend that it is worthwhile to invest in spacious crates to accommodate toys and dog treats.
Check out some great modern and contemporary dog crates here!
Style
"I hate my dog's crate, and it does not match my house décor at all. Sometimes, it looks like a dirty blob on a picture-perfect satin background." 
We earn a commission if you click this link and make a purchase at no additional cost to you.
It is prevalent to hear dog parents make such remarks due to the outlandish nature of their modern wood dog crate.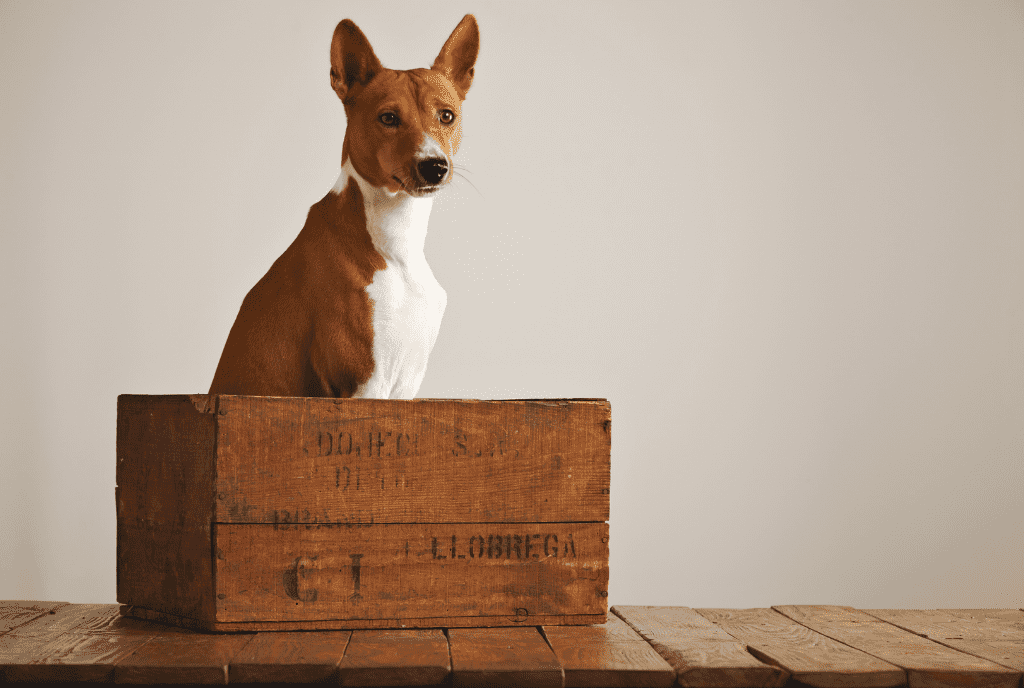 This scenario mainly occurs due to poor purchasing choices or in moving situations where the previous furniture fails to match the décor of the current property.
Take care to avoid such flimsy style mistakes. The above situation may not be entirely hopeless.
Read this article to find creative ways to incorporate your pet area into your décor.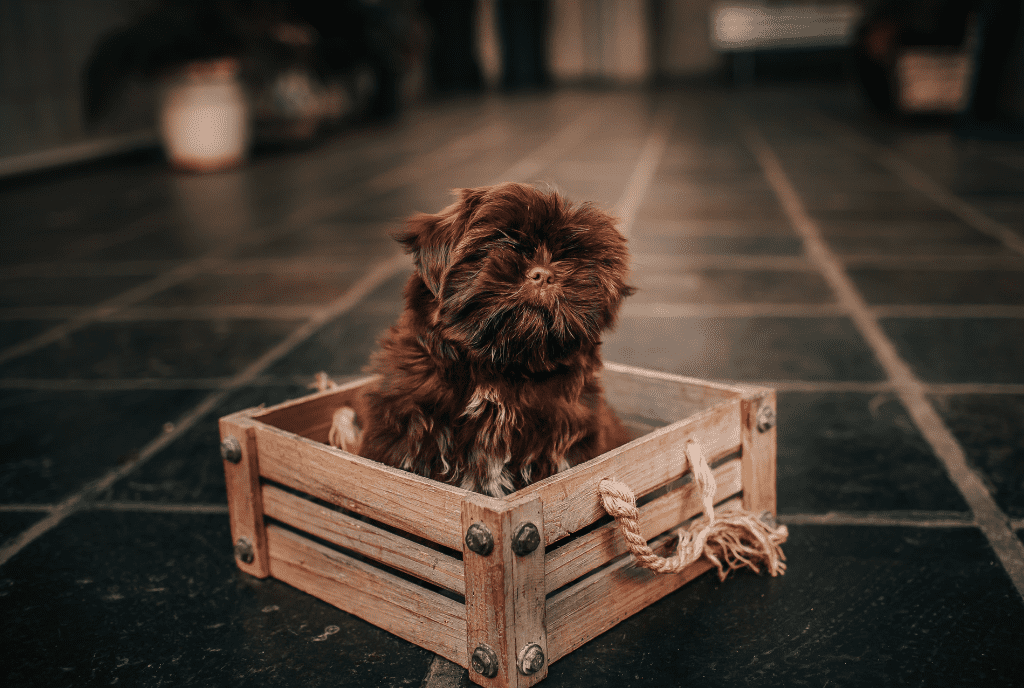 Comfort
Once size and style have been checked off the list, the next factor to consider is the comfortability of the crate.
The above involves the application of a few upgrades, such as the installation of blankets, beds, mats, and other comfy apparel.
Since it is common for dogs to chew and ingest their beddings, be tactful when selecting the bedding material.
If your dog is a shredder or an avid chewer, it will be wise to invest in beddings made of solid materials and lack plush.
In ensuring comfort, the size of the modern kennel also plays a significant role, as a tiny crate will be discomforting to a large dog.
Lower rates also require fewer blankets and comfy materials to ensure adequate moving space.
Remember that a comfortable and modern dog crate requires food and drink bowls. These additions help keep the dog preoccupied while they lounge in the compartments.
Aeration
You certainly do not want your dogs to suffocate in their crate; hence, the presence of windows and air slits should be a significant determining factor as to whether a crate is a good pick or not.
Do well to avoid crates that do not permit your pets to see out of them.
However, as some dogs are shy, boxes with blocked sections give them a sense of security.
Ease of Transport
Crates with handles are better for traveling or transporting pets when moving or visiting the vet's office. Nonetheless, this is usually used for small dogs and not for large ones.
Ready to Purchase a Comfy Crate for Your Dog?
As parents want the best for their kids, dog parents want the best for their dogs.
Purchasing quality and comfy crates is an excellent way to ensure that your pup receives excellent care.
If you are keen on acquiring one, kindly contact a reputable crate store today to get great deals.