Reading Time: 10 Minutes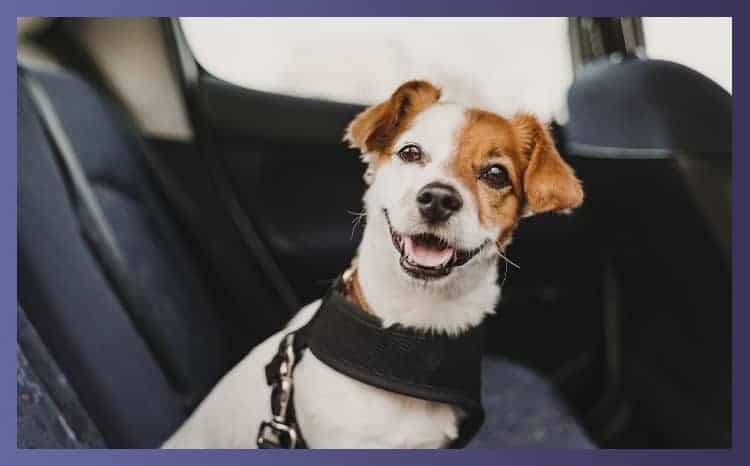 Looking For Zipline Harness For Dogs
Are you often on the move?
Are you looking for something that would keep your dog in place while he is on a vehicle? I have got just the perfect item for you.
A zipline harness for dogs is the one thing that you need when traveling with a dog. Its function is the same as that of a belt for a passenger!
I have covered everything that you need to know about Zipline harness for your dog in this guide.
Read below to find out all the answers to your questions!
Why Do You Need A Zipline Harness?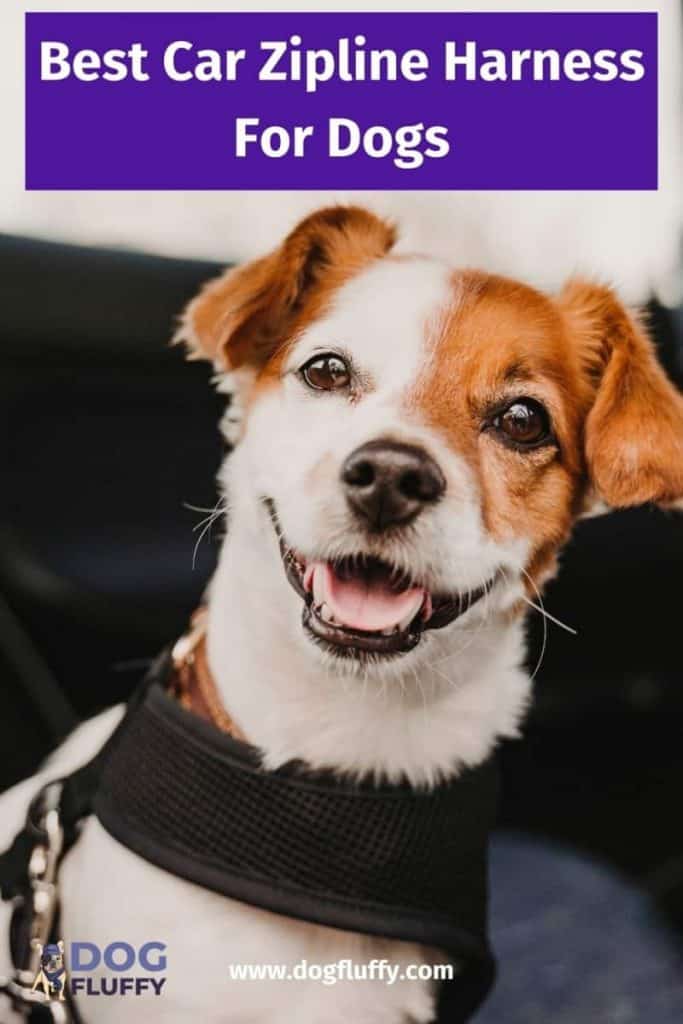 You will need a zipline harness for traveling safely with your dog. A zipline harness will not hold your dog in one place as it will allow a little movement so that your dog doesn't get tired of staying in one place.
Some dogs, such as bulldogs, get aggressive if they stay in one place for a long time.
The zipline will not allow your dog to come in the front seat and disturb the driver anyway.
A zipline harness is also useful for when you go to a park. You can tie your dog to a tree, and he can move around according to the length of the zipline.
You can also take your dog for a walk by holding the zipline to run away.
Dogs That Need Ziplines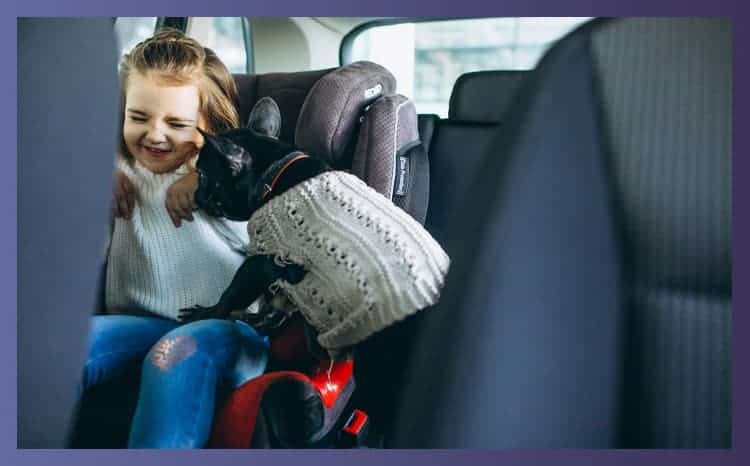 As human beings, all dogs are different too. Each dog has a unique personality, and based on this, your dog may or may not need a zipline.
Be sure to get a zipline for the following types of dogs:
A newly adopted dog. In the beginning, dogs are quite nervous and may feel out of place in a new environment. It is best for such dogs to use aerial ziplines, which can be used in parks to let your dog run around and be in his natural habitat.
If your dog loves to run, jump fences and try to run off every chance he gets, getting him a zipline will be beneficial for both you and your pet. Now your little runner can run around freely without any restraints.
Dogs that are full of energy.
Aggressive dogs that tend to get furious if they feel restrained.
What To Look For When Buying A Zipline Harness?
When purchasing a Zipline for your dog, you have to keep a few things in mind so that it lasts for a long time. Read below to find your answers:
Material – It is essential to get a zipline made up of a durable material and does not get affected by different weathers. The material of your zipline shouldn't rust easily. The zipline should also be strong enough to hold your dog and withstand the chewing done by it.
Size of your dog – Your dog's size determines whether the cable has to be thin or thick. If your dog is small, then don't get a thick zipline for him as he will get uncomfortable. On the other hand, if your dog is big, get a strong thick zipline to hold your dog.
Warranty – Get a zipline harness that has a more extended warranty. I advise this because the more extended the warranty, the more you will be assured that the zipline will last longer. This is because no company would give a long warranty and make a product that isn't durable
Installation accessories – Opt for a zipline that includes all the accessories so that you do not have to get them separately.
Safety – The primary purpose of a zipline is to ensure the safety of the dog. Ensure that the zipline is not too long so that your dog does not get tangled in it. Furthermore, the zipline should also be strong enough to hold your dog in place.
How To Attach Aerial Zipline Harness for Dogs?
Each Zipline comes with its own set of instructions. However, the basic principle is the same.
You have to attach the two hooks of the zipline to any two points that are well above the ground.
Then, you have to attach one end of the running cable to one of the hooks.
Use a clamp to make the connection sturdy. The line can be of various lengths depending on the size of your dog and the space available.
Next, thread in the pulley, which is the part where you attach the leash to. Link the other end of the running cable to the other hook.
Make sure to use a clamp to prevent the cable from accidentally slipping from the hook.
The final step is to attach one end of the leash to the pulley and the other end to the loop on the back of your dog's harness.
I recommend not using a collar as using one will increase the risk of accidental choking.
How To Attach A Zipline With Your Car?
Ziplines are of various types. Each one comes with its instruction guide.
Some ziplines can be attached to your car by attaching it between two seatbelts. Many also require that you have a ceiling handle in your vehicle.
The zipline will then get connected to the handle. Some ziplines are also vehicle specific.
Keep all these things in mind when buying a zipline harness for dogs.
The Best Zipline Harness For Dogs
There is no one best zipline harness. This is because each dog has its own needs.
One zipline that is good for a specific breed of dog might not be good for another breed.
So after spending a lot of time researching, I have compiled a list of the best zipline harnesses for your dogs. Continue to read to find out more!
This amazing zipliner is one of my all-time favorites. The package comes with one zipliner and a leash/tether combo with carabiner clips.
The Kurgo zipliner can attach to any two fixed points in your car, like the ceiling handles or seatbelts.
It has two hooks to perform this action. Kurgo has made these with special attention to detail by using rubber hooks to prevent scratches.
After attaching it, connect the leash to it and have safe and fun driving experience. Its rope can also double so that you can use it as a leash when entering or leaving the car.
The two Carabiner clips allow your dog to have some space to move around not to make them feel restricted and uneasy.
It will enable them to move back and forth and also allows sitting and standing movement.
So this zipline harness for dogs is highly recommended for dogs that love to move around and feel nervous and anxious when restrained.
The two Carabiner clips are attached to the leash at one end. The other end of the larger clip attaches to the zipline while the smaller clip's end attaches to the pet harness.
The length of this zipliner ranges from 15-22 inches.
You can use the tie-up that's stitched on the zipliner's side to adjust the size if it's too big for your car. It comes in two colors; black and orange.
The material of the zipliner is nylon, which is strong and long-lasting.
Best of all, this product comes with a LIFETIME WARRANTY!
A unique and comfortable zipliner that comes with a lifetime warranty! What more could you possibly ask for?
Most zipliner products don't include a pet harness, so make sure to get a separate one for your dog's safety.
One of my favorites is the Kurgo Dog Harness, which goes perfectly with all zipliners.
It comes with five different adjustment points to adapt to a variety of dog types. This means that the harness will fit your dog perfectly.
However, you will need to choose an appropriate neck size that can't be adjusted.
It also has a back leash attachment, which makes it ideal for walking your dog. But that's not it!
You can also use the D ring leash attachment to teach your dog not to pull.
It comes with its 10-inch tether for restraining your dog while driving.
The Kurgo Dog Harness has quick-release buckles, which make putting it on and taking it off hassle-free.
This product also comes with a lifetime warranty!
This is another excellent zipline that keeps your dog happy and content in the backseat while ensuring his safety.
It is effortless to install. You have to attach the two hooks to any two parts in your car.
Moreover, its made of nylon, so it is sure to last a very long period.
The PetSafe Happy Ride Dog Zipline comes with a free teether.
The zipline itself is 72 inches long, which means you can use it in big cars like SUVs and big trucks. You can also adjust the length so that it fits in your car perfectly.
This zipline is quite affordable and perfect for dog owners looking for cheap yet good quality and safe zipliners.
I recommend using the Petsafe Happy Ride Dog Zipline with the PetSafe Happy Ride Deluxe Car Harness.
This car harness is perfect for enjoying a smooth and safe road trip with your beloved dog. The Happy Ride Deluxe Car Harness is firm and durable.
It has also been crashing tested so you can be completely relaxed about your dog's safety when traveling.
This padded harness comes with a breathable mesh liner that provides the utmost comfort to your dog.
It also comes with a PetSafe Happy Ride Seat Belt Tether that can tolerate up to 2000 pounds of weight.
Moreover, the harness has a leash attachment for when you take your dog walking.
The PetSafe harness comes in three different sizes. Check out the size chart given below to know the best option that will fit your dog perfectly.
Vehicle Safety Zipline Harness For Dogs Sizing Chart
Chest Inches
(A)
Neck Inches
(B)
Approx.
Weight
Small
9 – 21
9 – 18
6 – 25 lbs.
Medium
12 – 24
12 – 24
20 – 55 lbs.
Large
15 – 33
15 – 27
45 – 85 lbs.
Ex. Large
18 – 40
18 – 32
60 – 120 lbs.
Source: Amazon.com
This product is specifically for trucks. This zipliner attaches to the cargo tie-down brackets that are present in the truck bed.
It is highly adjustable and fits perfectly into every truck. It comes with a detachable tether strap that can also act as a leash.
One of the best things about the Paws n Claws Zipliner is that its heavy-duty tubular webbing can restrain giant dogs that weigh as much as 200 pounds.
It does this while ensuring that your dog can still move around to prevent him from being uncomfortable.
You will need to purchase a dog collar or a dog harness as the Paws n Claws Truck Bed Dog Cross Tether doesn't come with one.
This zipline is perfect for letting your dog enjoy the great outdoors without having to worry about him running off and hurting himself.
This tie-out cable, made using high-quality vinyl coated aircraft cable, comes with a 10-foot pulley lead.
It is effortless to install the Four Paws Walk-About Overhead Tie-Down.
Follow the detailed instructions given in the instruction manual to make sure your zipline is steady and secure.
The cable is 100 feet long, so you can give your dog plenty of space to move about, run, and just let loose.
This zipline, made of high-quality vinyl coated aircraft cable, comes with swivel snaps.
The snaps prevent the leash from getting entangled. This is extremely important because tangled dogs end up quite cranky and upset.
The Boss Pet Zipline is highly durable and strong. It can withstand a tremendous amount of tension.
The product comes with a leash, so you don't need to invest in anything else once you get it.
It also has a Patented Direct-Connect system, which will connect the swivel snaps in a snap to the cable.
The Boss Pet Skyline Aerial Dog Run can support dogs that weigh as much as 60 kg. It is effortless to install.
Follow the instruction manual guide to assemble and attach the zipline quickly.
The Freedom Aerial Dog Run FADR-100SD, built using galvanized steel, comes with an additional protective covering made of plastic.
It is very strong and durable and can support dogs that weight from 15-29 pounds.
The running cable is essentially 100 feet long but can be cut short to adjust to your needs.
This zipline is very easy to install. The instruction manual is quite detailed and simple to understand.
Follow it to establish your zipline quickly. The FADR-100SD is the perfect Zipline for medium-sized dogs.
It provides sufficient support, doesn't rust or corrode, and gives your dog plenty of space to run around.
Final Conclusion on Car Zipline Harness For Dogs
These were all my recommendations for the best zipline harness for dogs available in the market.
My personal favorite is the Kurgo Direct to Seatbelt Tether for Dogs because it is durable and comes with all the accessories.
Getting a Zipline Harness for dogs for your dog is always worth it. you can pick the Zipline Harness for dogs you want from the above the best 8 Zipline Harness for dogs.
Which zipline harness for dogs attracted you, and why? Let me know!
Recap on best car zipline harness for dogs
📣Articles you may like