The author of the book Pets on the Couch, Dr. Nicholas Dodman, says that French bulldogs need an average of ten hours of sleep in a day.
Improper sleep can lead to mood swings and other health issues. It is essential to find the best dog bed that can help.
Just like lack of sleep can make us moody, lethargic, and irritated, your pooch feels the same way.
Puppies need to get an adequate amount of sleep to stay active. A good puppy bed will contribute to good sleep.
Where should French bulldog puppies sleep? That's a question many people ask me.
The only answer I give them is bulldogs won't find the couches or your bed comfortable for sleep due to their size.
So, you must invest your time and money in finding the best dog bed for French bulldog puppy.
Trust me, finding a dog bed is not easy when you don't know the right trick.
Thus, in this ultimate guide to buying the best bed for French bulldog puppy, I have narrowed down some of the best products that I have come across to help you find a suitable one.
Without wasting any minute, let's jump into the product list.
Top 12 Best Dog Bed for French Bulldog Puppy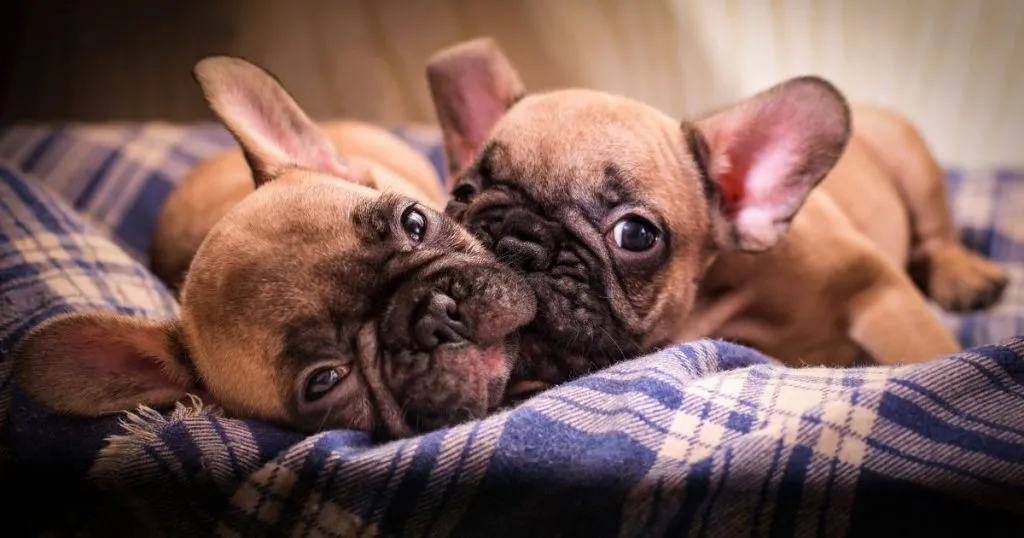 We earn a commission if you click this link and make a purchase at no additional cost to you.
As the name suggests, this product is something your pooch would love to curl up into.
This doughnut-shaped cozy bed is everything your puppy needs to get uninterrupted sleep.
It is a perfect buy for small to mid-sized puppies. Another major highlight of this dog bed is its durable and luxurious faux fur and nylon lining that provide complete comfort and support your dog's different sleeping positions.
If your dog likes to curl up in sleep, you should get him/her the Cozy Curler.
Key Highlights:
The faux fur will provide your pooch with the required comfort and better head and neck support for a peaceful sleep. 
The product is washer and dryer friendly, so you don't have to worry.
The Cozy Curler is a doughnut-shaped bed which is ideal for puppies who like to curl up.
The chic grey color fabric will also match up with your contemporary home décor.
We earn a commission if you click this link and make a purchase at no additional cost to you.
The product is as opulent as it sounds. Your pooch will fall asleep faster than you imagine in this dog bed.
It is made with human-grade mattress foam that makes it an ideal orthopedic option for your French bulldog.
This unique bed has several qualities, and it's ergonomic-built is something worth the appreciation.
It has poly-filled bolsters that will provide your pooch with a great place to rest his head and offer superior bone support.
If you are afraid of the tear and bites, this bed comes with an anti-tear cover that makes it perfect for everyday use.
Key Highlights:
Sleeping regularly on this bed will help in relieving your dog's arthritis and joint pain.
The anti-tear cover is meant for those notorious puppies who want to do more than just sleeping in their bed.
Your dog will get good head support and comfort with the poly-filled bolsters.
You can also remove the cover and wash the bed in the machine as well.
We earn a commission if you click this link and make a purchase at no additional cost to you.
If you want more than just a bed for your pooch, like a small castle of their own, this product is the right pick for you.
It gives your dog a private space to reside that looks like an adorable tent.
The tent is made with poly-foam lining and an ultra-plush pillow that is super soft and provides your puppy with a luxurious sleep.
The product is available in different colors that will blend with your home furniture. It is a durable product that is compatible with machine wash as well.
Key Highlights:
You will hardly find dog beds that are machine washable, so this product is certainly the best cleanliness and maintenance.
This tent is a perfect spot for your Frenchie to snuggle, play, and sleep.
The tent comes with an anti-skid base that will keep it in place.
The suede finish and attractive corduroy are available in different colors.
It is among the most affordable beds made for all your budgets.
We earn a commission if you click this link and make a purchase at no additional cost to you.
Doughnut shaped beds are all puppies' favorite at any point of the day. They are snuggly, safe, and super comfy.
This doughnut-shaped bed is something you can think about for proper comfort and support.
In this dog bed, your puppy will feel secure and all snuggled up. It has bolstered sides that will protect your puppy from falling off the bed.
The bed comes with a faux shag that makes it super light and comfy. All the materials used in the bed are pet safe and not harmful by any means.
Key Highlights:
Machine washable material for your ease.
The faux shag fur makes the bed super comfortable and cozy.
All the materials are pet safe, and hygienic.
If your puppy is in the teething stage, then this product is the perfect fit for them.
No products found.
To go beyond the comfy and cushiony beds, you can turn to this orthopedic foam bed that is orthopedically best dog bed for french bulldog puppy.
It is constructed using two layers of foam that are made in alignment with your dog's contours.
If your dog or puppy has arthritis issues or severe joint pain, this is the ideal bed you can give to them.
It will provide them with a restful nap whenever they need it.
Quite different from the regular beds, it has a rectangular built to accommodate your dog.
The foam used in the bed is CertiPUR-US certified.
Key Highlights:
We earn a commission if you click this link and make a purchase at no additional cost to you.
Orthopedic beds are always good for dogs as it promotes the right position and aligns the bones correctly.
The product is available in different sizes for all the sizes of dogs and puppies.
Trust me, the comfy shape and the perfect headrest is enough for your pooch to fall in love with this bed.
It will become the 'spot' for your French bulldog to snooze. The orthopedic memory foam helps in increasing mobility and improves joint health as well. It is a quality bed your dog can get.
Key Highlights:
Memory foam is highly comfortable for arthritic dogs.
The lining of waterproof material will give extra protection to the bed.
It comes with a removable and washable cover, which is machine friendly.
The outer bolster will offer a comfy surface for your dog to rest his/her head.
All the materials are safe and skin friendly for pets.
We earn a commission if you click this link and make a purchase at no additional cost to you.
Not every dog likes a customary bed that is meant only for sleeping, some pooches want to feel special, and this product is just for them.
Give your puppy an adorable place to reside with Norgail Pet Teepee.
It can steal your heart with its cuteness. It is a charming teepee that gives a dreamland feel. The teepee will also become an eye-catching spot in your home.
The cozy bed comes with a comfy cushion, lace lining, and pinewood stand that makes it best for some cuddle time. It is a unique product that is more than just a bed.
Key Highlights:
It is a unique and quirky dog bed that will embellish your home décor.
It is designed with mildew resistant and flame-retardant cotton canvas that extends its durability.
The bed is suitable for both indoor and outdoor use.
You can wash it in a machine with gentle mode.
We earn a commission if you click this link and make a purchase at no additional cost to you.
Imagine your pooch cuddled up in a pineapple bed? Isn't that adorable? I know, right.
This pineapple bed is the cutest thing you will find in the market. As the name suggests, YML Pineapple Bed is cheeky, cuddly, and utterly comfy. It will be a perfect place for your Frenchie to take a nap.
You can also take some cute snaps when he/she is sleeping. The bed is designed with the comfort of your dog in mind.
The entire bed is lined with a plush and soft cushion.
You can wash the bed by removing the cover; it can only be cleaned with hands as machine wash can ruin the softness.
Key Highlights:
The quirky and playful design can enhance the mood instantly.
All the materials are made with non-toxic polyester.
It is available in both small and medium sizes for your puppy.
You can remove the cushion and wash it with your hands.
We earn a commission if you click this link and make a purchase at no additional cost to you.
Memory foam dog beds are a healthy treat for your dogs. This particular bed is a stylish and yet sophisticated product that has a washable denim cover. It gives a vogue look to this bed.
When it comes to the orthopedic benefits, this bed provides better alignment, comfortable surface temperature, and pressure relief on the joints.
These are some of the superior features that you will not get in any of the dog beds available in the market.
You will also get an additional brown suede cover that you can use over the denim cover.
Without any doubts, this particular memory foam is a must-have if you have a Frenchie with you.
Key Highlights:
It is resistant to mildew, bacteria, dust mites, mold, etc.
The bed has an anti-skid bottom that keeps it intact.
It comes with a waterproof inner lining.
It has gel-infused memory foam which is just ideal for regulating temperatures.
The denim cover gives a stylish outlook altogether.
We earn a commission if you click this link and make a purchase at no additional cost to you.
K&H is a leading brand in pet products and has a wide range of products for your pooch.
This particular ortho bolsters sleeper bed is a real catch. It is the perfect combination of style and comfort, making it an ideal pick for the customers with French bulldogs.
The bolster will give a perfect resting spot for your pooch's head.
This sleeper bed brings a sense of security and comfort to your puppy by adding a little class to the overall product.
Key Highlights:
It comes with an orthopedic foam base and a polyester-filled fluffy pillow.
The bed has a zipper on either side, and the bolster makes this bed easy for machine wash.
The binding on the bolster gives a classic look to the bed altogether. You can easily add it to your interior decoration.
Available in small, medium, and large sizes.
We earn a commission if you click this link and make a purchase at no additional cost to you.
Get your pooch a perfect snuggling spot for your Frenchie with Aspen Pet Sofa Bed.
Whether it is to take a nap or a good night's sleep, this sofa bed is the right product for everything.
It has supporting sides that will help in preventing the unexpected falls. The ample sleep space and decorative touch to the sofa bed make it aesthetically appealing as well.
The surface is made from Sherpa fleece with suede bolster and gusset. For extra comfort, it has plush cushions.
The sofa bed is available in different colors, suiting your preference.
Key Highlights:
It is a comfy bed made with 100% recycled fiber and strengthened with plush cushions.
The supported sides will provide extra security to your pooch and help him/her relax better.
You can always keep the sofa bed clean with easy machine wash.
It comes in small to medium sizes.
We earn a commission if you click this link and make a purchase at no additional cost to you.
Give your pooch a luxurious treatment with this plush quilted sofa bed.
There's nothing better than an uninterrupted long night's sleep that this sofa bed can provide your Frenchie.
It is designed keeping in mind the uncompromised comfort, with a soft cushion and quilted surface for better sleep.
It is made with an orthopedic foam base that provides extra safety and ergonomic fit.
This weightless and luxurious sofa bed will relieve all the stress from the joints and become your pooch's cuddling pal.
You can also choose from different colors and size variants.
Key Highlights:
It has a pet-friendly design that provides three-sided protection to your bulldog.
For extreme comfort, the sleep surface is made with insulating sherpa fleece and the bolsters with chenille.
It has egg-crate orthopedic foam that ensures protection to the bones of your bulldog and facilitates proper weight-distribution.
You can wash the cover in the machine at gentle cleaning.
The product is available in four different sizes that you can choose from.
Types of Dog Beds Available In The Market
In order to find the best dog bed for a French bulldog puppy, it is important what is out there in the market.
Yes, you need to understand what are the different types of beds available in the market, so you can make the right decision.
Here I have listed the various styles of beds available:
Pillow Style
These are the affordable types of beds that are generally in square shape and have arms to provide proper head support.
It is a perfect solution for puppies, but if you have an adult dog, you must not go for a pillow style bed.
Pillow style ideally suits the Frenchie who loves to burrow as it provides the right cushiony effect with maximum support.
Orthopedic
These are the bed types that are getting highly popular lately due to their health benefits.
Orthopedic beds primarily help in relieving the hip and joint pain that can occur during sleep.
It takes up the pressure off your puppy's spine and provides him/her with a peaceful nap. These beds generally use memory foam that aligns with your dog's body.
Cave Style
Puppies and small dogs always need their private space; somewhere to bury their face and build their own world.
Cave style beds are just the right option for them. It comes with a bed and a tent that gives a roomy feel to their sleeping space.
Trust me, your pup will fall in love with the tent-styled beds.
Doughnut Beds and Bolsters
These are the commonly used beds for dogs of all sizes. Frenchies, especially require something to rest their back against when sleeping. These doughnut beds and bolsters give the right supportive surface, allowing them to curl up in the sleep.
If your bulldog loves to curl up during sleep, these beds might be the right pick.
They are super comfortable, secure, and skin-friendly. You would never have to worry about your dog's sleeping pattern if you have got a doughnut bed or bolster.
Cots
If you are taking your Frenchie outside or you both are traveling, his/her sleeping pattern will be disrupted. In such situations, a cot will come handy. It will help in cutting down the heat via circulating the air. Cots are quite elevated and come with a mesh bottom for complete breathability. You can carry them easily anywhere creating a safe and comfortable sleeping space for your dog.
What To Consider While Buying Dog Bed For French Bulldog Puppy?
There are many things that you need to keep in mind while selecting the best dog bed for French bulldog puppy.
You will be bogged by the abundance of options available in the market with each being better than the other. So how do you differentiate?
Here are a few factors that you must always remember when you are shopping for a dog bed.
#1 Size of Your Dog
The first thing you need to consider before scrolling through the online sites and dropping at the stores is the size of your dog.
On average, Frenchie weighs around 16-28 pounds depending upon their age.
Make sure to weigh them before searching, so that you can buy something that goes well with their weight.
For instance, a lightweight bed would be ideal for a pup.
#2 Sleeping Position
The sleeping position makes a great deal when you are searching for the best dog bed for French bulldog puppy.
You need to buy a bed that will support their sleeping position, instead of changing it altogether.
The change in sleeping position can also bring many changes in their behavior.
For instance, if your pup likes to curl up, you can think of buying a doughnut bed.
#3 Durability of The Product
When you are going through the features and specifications of the product, ensure that it is durable enough for your dog.
A bed should at least last a year or two depending upon your dog's growth. So, durability becomes a vital criterion to select a bed.
You can always trust the credible brands in the industry that a majority of customers trust.
#4 Health Condition
There's no doubt in asserting that dog beds are essential equipment for your beloved canine and you cannot compromise on it. When you are buying a bed, you must consider your dog's health condition to choose the best. If your dog has arthritis or joint pain issues, you can simply go for the orthopedic beds that are made with memory foam. 
#5 Washability
It is important to keep your dog's bed clean and tidy always in order to prevent the chances of infections.
A majority of dog beds today are machine washable, but you must not take any risk and read the features carefully and look at whether the bed is machine wash or hand wash.
It is important to note that Frenchie is quite messy than other breeds. So, you need to put up extra work in cleaning.
#6 Reviews From Other Customers
You are always to read the reviews coming from different customers. Word of mouth is highly influential.
When you visit an online store, always check the review section to know whether the product is reliable enough for your dog. Go for the product with maximum ratings and positive reviews.
You can also seek recommendations from dog lovers to decide on the right type of bed.
#7 Style of the Bed
There are different styles of beds available in the market, and you need to understand, which would best support them.
Those who like to curl up can go for bolsters, pooches with health issues must have orthopedic beds, and the ones who need their private space can turn to tent beds.
There is a bed for every pup out there. You just need to find the interests of your puppy.
#8 Your Budget
The most imperative step is to consider your budget before shopping. Different types of dog beds come at different levels of affordability. Make sure that you are clear about how much you need to invest and then look for options within that range. That being said, I would not recommend compromising on the quality of the product just to save some extra bucks. But, having a slight idea of your budget will help in streamlining the products.
Before You Go
Finding top-rated dog beds in the market and learning about the best ways to choose a bed is something that will help you in the long run.
Treating your pooch with care and comfort is your responsibility and giving them a good bed to sleep in is the first step you can do for them.
Over the years, I have extracted knowledge about caring for dogs and provide them with a suitable environment for living, and these pet products help in accomplishing that.
With this article, my intention was to educate you regarding the best dog bed for French bulldog puppy and show you the right path to get the right product.
Most importantly, do your independent research as well to discover products that you find are perfect.
If you have any questions or concerns regarding the products discussed or the buying guide, feel free to comment below in comment section.
FAQs
What size dog bed should I get for my French Bulldog puppy?
The size of the dog bed you should get for your French Bulldog puppy depends on their size and weight. A bed that is 18-22 inches long and 14-16 inches wide is typically appropriate for a French Bulldog puppy.
What type of dog bed is best for French Bulldog puppies?
A dog bed with good support and cushioning is best for French Bulldog puppies, as they can develop joint problems if they sleep on hard surfaces. Look for beds with memory foam or orthopedic support.
What materials should I look for in a dog bed for my French Bulldog puppy?
Look for dog beds made with durable, high-quality materials that can withstand the wear and tear of a playful French Bulldog puppy. Some recommended materials include microfiber, fleece, and cotton.
Do French Bulldog puppies need a specific type of dog bed?
French Bulldog puppies don't necessarily need a specific type of dog bed, but it's important to choose a bed that provides good support and comfort for their growing bodies.
How often should I replace my French Bulldog puppy's dog bed?
It's recommended to replace your French Bulldog puppy's dog bed every 6-12 months, or sooner if it becomes worn or damaged. Regular cleaning and maintenance can also help extend the life of the bed.