When it comes to keeping a dog house warm, here are some of the best products to consider:
Homello Electric Waterproof Heating Mat
Riogoo Indoor Heating Pad for Dogs
Luciphia Store 3 Super Soft Blanket Set
Alessandro Store 350 GSM Microplush Fleece Throw Blanket
PetFusion Multiple Size Pet Blanket
Aiicio Store 60W Ceramic Heat Emitter Light
Zacro 100W Digital Ceramic Non-Light Lamp
Simple Deluxe Two-Pack 150W Ceramic No Light Heat Emitter
Since winters are fast approaching, it is time to prepare a warm and cozy resting place for your dog. Providing dogs with the right warmth is not only important for their comfort, but also for their overall wellbeing.
Merely having a dog house would not ensure a proper place in the winters. You need to add a few more things to make their house comfortable and warm.
How can you make sure that the dog house is warm, comfortable, and safe? I have listed some of the products that will certainly help you in keeping a dog house warm.
Heated Dog Mat
The kind of dog house you have for your dog is the first thing that determines how warm it will be. If your dog house does not come with a heating feature, you can add a heated dog mat to provide the necessary warmth.
We earn a commission if you click this link and make a purchase at no additional cost to you.
This high-efficiency heating mat is an excellent choice when looking to keep a dog house warm. You just need 10 minutes to heat the mat and keep your dog comfortable.
Moreover, it features high-low temperature control that allows you to control the temperature up to 104-degree Fahrenheit. So no matter what level of heating your dog needs, this mat would be able to cater to the same.
Along with heat efficiency, the manufacturer has also taken care of the safety feature. You can be rest assured of overheating protection as the mat automatically powers off once it reaches a certain temperature.
So this ensures that your pet stays protected from extreme heat and damage, which is associated with it. This mat is to be used indoors only, and make sure you do not fold it while it is powered on.
Moreover, the cord features an outer metal layering that offers protection from chewing. In fact, if your dog bites the cord and it breaks, the company claims to give a full refund or replacement for it.
If your dog is older, pregnant, newborn, suffers from arthritis, or is recovering from an injury or illness, this mat could be highly beneficial.
It is made from PVC fire-proof material, which offers maximum comfort, durability, water-resistance, dust-resistance, and flexibility. You can easily clean by hand.
Pros
Comes in different size options
Chew resistant cord for longer performance
Power-off protection to prevent overheating
Waterproof material for easy cleaning and maintenance
Cons
The material makes a squeaky noise
Comes with only two heat settings
---
We earn a commission if you click this link and make a purchase at no additional cost to you.
This fourth-generation heating pad by Riogoo is ideal for keeping a dog house warm and cozy. Other than providing adequate warmth during winters, this pad can be used in other situations as well.
If your dog is old, pregnant, a newborn, or recovering from an injury or illness, this product would significantly add to your pet's comfort. It features an auto power-off feature that will protect your dog from extreme heat.
You can set the timer between 1 and 12 hours, and the device will be powered off automatically. So even if you forget to shut off the product, your pet stays protected from the damages of overheating.
Moreover, it comes with seven layers of structure protection featuring a UL-certified heating wire. This will further ensure the protection of your pet while using this device.
Moreover, the mat comes with built-in sensors that further protect from overheating and provide protection to your dog.
It comes with a polyester cover that  can be removed and cleaned easily by hand.
The cord is resistant to chewing, therefore ensures the product lasts for a longer period of time. Additionally, this heating mat comes with a manufacturing warranty of one year.
Pros
One year warranty with the product
Features polyester cover for easy cleaning
Auto power-off function for better usability
UL certified heating wire for reinforced protection
Cons
The bank wire placed on top of the controller is loose.
The temperature setting is not accurate.
---
We earn a commission if you click this link and make a purchase at no additional cost to you.
This heating mat by Petnf is efficient as well as versatile. To begin with, you get six levels of temperature control ranging between 86-degree Fahrenheit to 131-degree Fahrenheit.
This product comes with a more temperature control setting than many other heating mats, which is quite impressive. Depending on the heating needs of your dog, you can easily choose the ideal temperature setting.
The mat comes with a timer that offers auto shut off whenever you want. The timer also features five levels. Moreover, you can set a timer and select the 'Always' option so that you do not have to change the setting regularly, thereby adding to the ease of use.
Along with being automatically shut down once the timer is out, the device will also indicate you every 4 hours to notify you of the time remaining.
Moreover, the inner layering of the product is made using soft PVC, which offers flame and waterproof protection. The dog mat comes with the highest-grade V-0 flame retardant ability.
The outer soft fleece cover can be easily washed in the machine.
Additionally, if the inner pad gets dirty, you can clean the pad using a slightly damp cloth.
Make sure you do not use a wet cloth on the pad as it has wires. In order to prevent overheating, the mat comes with a temperature control wire.
So if the mat temperature exceeds the preset temperature, then the thermostat will automatically stop the heating and lower the level of temperature.
The mat features an 83 inches cord, which is chew resistant. This adds to the safety of your dog and the durability of the product.
Pros
Six levels of the temperature regulator
Auto shut-down timer for more efficiency
The cord is chew resistant for safety and durability
 The outer material is flame and water resistance.
Cons
The mat is too thin, and the wires can be felt easily.
The mat material is sticky.
---
Dog Blankets
Blankets are other important factors that will keep your dog warm inside its house. You can layer the blanket over the bed surface to provide a soft and warm place for you pooch to rest on.
We earn a commission if you click this link and make a purchase at no additional cost to you.
With this product,  the brand brings you a great deal, combining a set of 2 blanket covers for your dogs. These blankets are made from 100% double-sided coral velvet texture.
The use of ultra-soft, extravagant fabric ensures that your dog stays cozy. Moreover, the material also makes it easier for your wash and dry. You can simply put it in your washer and dry normally.
It comes in 13 different color options so you can choose the one that complements the dog house the best. The blanket spread on the dog bed not only adds to the warmth but also makes sure that there are no scratches and hair on the surface of the bed.
This will make it easier to clean the bed and also ascertain its longevity. Lastly, these blankets are offered in different sizes. There is small size 23″ x 16″(60*40cm), Medium: 30″x20″(76*52cm), and Large: 41″x31"(104.14×78.74 cm).
Pros
Ultra-soft material to keep your dog comfortable
Easy to wash and dry
Comes in three different size options
Features 13 vibrant color options
Cons
---
We earn a commission if you click this link and make a purchase at no additional cost to you.
This is another popular blanket that will help in keeping a dog house warm. The product is made from 100% polyester. This blanket is sought-after because of its premium-quality 350 GSM environment-friendly microfleece throw form.
This lightweight material proves to be a perfect addition to the dog house for keeping your pooch comfy. Moreover, the hypoallergenic microfleece properties also ensure that your dog's skin remains protected.
It is also wrinkle-free, anti-pilling, non-shedding, so you can ensure the durability of the product. This product is not just great for your dog, but it also makes things easier for you. You can easily machine wash it in cold water using non-chlorine bleach.
While you can dry in low heat or line or air dry, you should not iron it. The blanket comes in three different colors, including brown, grey, and multicolor.
Additionally, you will also find the product in different size options that include small (32″ x 24″), medium (40″ x 32″), large (64″ x 40″) and extra-large (80″ x 64″). Make sure you measure the size of your dog bed before selecting the size.
Pros
Soft material for maximum comfort of your dog
A lightweight product for ease of use
Anti-pilling, hypoallergenic, and wrinkle-free properties add to the durability
 Allows machine washing and low heat drying
Cons
The material is thin for extreme low-temperature regions
---
We earn a commission if you click this link and make a purchase at no additional cost to you.
When it comes to keeping a dog house warm, you need to think about your dog's comfort. And this blanket by PetFusion is designed to provide optimum warmth and comfort.
It is manufactured using 100% polyester micro plush material, which is apt for all seasons. It is designed for medium to large dogs, and the product comes in different size options.
The premium material comes with dense fibers, shed resistance, and features stylish in-seam. The blanket comes with a double layer reversible feature with light or dark tone.
You can choose the color which best suits your dog's house. The blankets also offer protection from pet hair, clawing, scratching so you can ensure longevity.
Additionally, when it comes to taking care of the blanket, you do not have to do anything special. You can easily clean it in the machine. And the manufacturer offers a 12 months warranty on the manufacturer defect.
Pros
100% polyester material for maximum comfort
Resistance to shed, to scratch, and tearing
Easily washable in the machine
Double-layer reversible for better usability
Cons
The blanket size runs small
The material is too thin to hold extreme cold
---
Heated Lamps For Dogs
Heat lamps are referred to as infrared bulbs that are placed within a lamp casing. These are designed to keep your pet warm. It is installed within the dog house or kennel to keep the surrounding warm and comfortable.
We earn a commission if you click this link and make a purchase at no additional cost to you.
When it comes to keeping a dog house warm, a good heat lamp can be invaluable. This 60W heat emitter is one of the popular products in this category and for all the right reasons.
This ceramic heat emitter generates sunlike natural heat 24 hours. Moreover, you will get uniform beams, and this lamp can operate efficiently for up to 1000 hours.
It offers long-wave infrared light that will efficiently work to keep the entire dog house warm during the winter round the clock.
Additionally, this warm light gently penetrates the skin tissue, which widens the blood vessels and boosts blood circulation. So this bulb will add to the wellbeing of your dog.
The light of this lamp is warm enough to keep your pet cozy and soft enough to not disturb their sleeping pattern, so you can use it daily without any worry.
Additionally, this bulb is made using high-purity pottery clays that offer protection from the anti-crack. This feature makes it capable of functioning well in high-humid environments.
 Pros
Ceramic heat emitter offers uniform heat
Increases the ambient temperature of the dog house
Designed to function in the region with high humidity
Generate long light heat waves
Cons
The product does not come with the UL symbol.
It does not last very long.
---
We earn a commission if you click this link and make a purchase at no additional cost to you.
This is another product that would be a perfect addition while keeping a dog house warm. Zacro designed this product to offer a 24 hours heat source for your dog.
The device also comes with a digital thermometer, which helps you better control the temperature inside the house. With this, you receive thermal efficiency of up to 99%.
Additionally, the fact that its non-light lamp ensures that your dog is not disturbed by the light rays. These features allow you to maintain a healthy sleeping pattern for your dog.
The strong ceramics element features a solid heat radiation feature, which adds to the functionality of the product. Coming to the design, the lamp sports a flat-faced design, which is considered to be efficient and durable.
Make sure that you only use it with a ceramic E27 socket as the plastic E27 socket might melt the lamp holder and is also prone to lamp explosion.
Pros
 Great 24 hour heat source
Non-light heater to protect dog's sleeping pattern
Flat-faced signed for more efficiency and durability
Strong ceramics element offer a good heat radiation
Cons
 The thermometer fails to give an accurate reading
Heat is too scattered inside of being focused
---
No products found.
This no-light heat emitter by Simple Deluxe is efficient, durable, and versatile for keeping a dog house warm. It harnesses the standard E26 lamp base and claims to run up to 10,000 hours. It does not produce luminescence but generates infrared lights.
This ensures the sleep of your light pup is not disturbed due to the brightness of the light. It offers a voltage of AC110-120v and offers power of up to 150W. The product is made using high-quality ceramic metal and NiCrAl in order to avoid scald. It can prove to be a perfect heating source for your dog to keep it safe and warm.
Pros
No emission of light to protect the sleep cycle of your dog
Made from high-quality material
The lamp runs up to 10,000 hours
Two lamps are packed in one order
Cons
The lamp tends to burn out quickly
Light is not strong enough
Buying Guide for Things That Keep Dog House Warm

When it comes to keeping a dog house warm, there are multiple accessories that can be highly useful. But you have to be well-informed and careful while making these purchases.
Here I have shared some tips that will help you make the right purchase decision.
When Buying Heated Dog Mat
A majority of the heating mat features an electric heating system. They come with a wire that needs to be plugged into an outlet to function.
However, there are microwave heat mats, and self-warming mat options available as well. If you are looking for a convenient way to provide warmth to your pooch, then a good electric heating mat is the right choice. This is ideal for the region with extremely cold temperatures
When buying an electric heated mat, safety features are one of the most important things to consider.
You have to ensure that it keeps your canine safe and warm. Consider features like automatic power off, chew-proof cord casing, flame retardant covering, etc.
Electric heating mats for dogs allow you to control the temperature. Most products feature an LED control panel that shows the heat setting and allows you to change the settings accordingly.
You should always set the temperature to a safe point in order to avoid scalding or overheating.
Getting the right size of the heated pad ensures your dog is comfortable. Heated dog mats are available in small, medium, and large sizes.
If you are placing the mat over the dog bet, make sure you take the measurement prior to buying the product.
Your dog is going to lay on it for a considerable amount of time, and it is also heated, so you have to ascertain the ease of use.
Consider how easy it is to wash the mat. Go for a mat that comes with an outer covering that can be removed and washed in the machine.
When Buying Dog Blankets
One of the first factors to consider when buying a dog blanket for keeping a dog house warm is the size. It depends on the size of your dog and its habits.
Smaller dogs tend fluff and dig around a lot, so it might be better to get a size higher than small. Larger breeds, due to their larger build, would need a big blanket so that they are covered properly.
You invest in a dog blanket to ensure that they are comfortable and cozy. Therefore you must choose the right material, which is soft as well as warm.
Cotton, Polyester, sherpa, fleece, and flannel are among the most popular blanket materials. If you live in warmer climates, then a thinner blanket would do the job.
However, if you live in a colder region, opt for thicker material. And, also make sure your dog is not allergic to the material you choose.
Choosing double-sided blankets can offer a lot of benefits. To begin with, you get two colors in one product. Additionally, a reversible blanket can be used longer than the ones with only one side.
If one side gets dirty and you do not have the time to clean it up, just flip it over.
Ease of Cleaning and Maintenance
Getting a blanket that is easier to clean will make things a lot easier for you. Select a material that can be washed in the machine and tossed in the dryer. This will make sure that the material is cleaned and ready for use the same day.
If your little canine is teething or loves chewing stuff, then this factor becomes extremely important.
You do not want to invest money in a blanket only to use it for a couple of weeks before your dog chews it into shreds. The best kind of dog blankets offer to chew resistance, making them indestructible.
When Purchasing Heated Lamps
The main objective of investing in a heat lamp is to keep your dog warm, so the level of heating is the first factor to consider. The amount of heat generated by a lamp depends on the wattage the bulb and lamp operated on.
If your dog house has limited space, then a low wattage light would be sufficient to keep your pup comfortable. If you go for a high wattage lamp for a small dog house, then your dog might get too hot and stuffy. Choose a higher wattage lamp only if you have a large dog house or kennel.
Heat lamps inside a standard dog house should not go beyond 70-degrees. As mentioned above, higher wattage can significantly heat up small spaces. A standard 250-watt lamp can generate approximately 90-degree of heat.
Based on the insulation, you may need a lamp with a higher heating capacity, but for a basic dog house, this heat is more than sufficient.
You should make the dog house a safe and comfortable place for your pup to rest. The wrong heating products can hinder the safety of your little canine friend. When looking at heated lamps, consider the built-in safety features.
For instance, a lamp with a grid provides a protective shield so that your dog does not directly come in contact with the lamp and risk getting injured.
Automatic power-off settings are also a great feature to prevent overheating. You can set a temperature, and the lamp will automatically turn off after reaching the threshold.
This feature significantly lowers the risk of overheating, burning, and fire.
Why Can dogs Not Bear Cold Weather?
The main reason why dogs cannot tolerate cold temperatures well is due to their brachycephalic breed.
Their bodies tend to lose heat quicker than other breeds, and the prolonged soft palate can cause complications in breathing. Moreover, they lack coating as well, which does not offer much warmth or cold protection.
These dogs are extremely sensitive to cold and are highly prone to hypothermia and dehydration. So during winters, you need to give them extra care and attention, which starts with providing a comfortable place to rest.
If the temperature is around 40-degree Fahrenheit, then it is way too cold for your dog. If you have an older dog or the weather is wet, then there is a higher risk to their wellbeing.
At any point, if you notice your dog shivering or holding its paws off the floor, then it is a sign that the weather is too cold for them to tolerate. What other signs to look out for?
Following are some other signs that indicate your dog is cold:
Shivering
Being lethargic
Whining or barking
Constantly lifting paws off the floor
Refusing to go outside
Creating a nest
In some extreme cases, these dogs can develop frostbite and hypothermia. It is a serious condition, resulting in hindrance in blood circulation, stuffed muscled, reduced heartbeat, kidney failure, weakness, etc.
When it comes to detecting hypothermia, below are the signs to watch out for:
Trembling and shivering
Lack of movement or having trouble walking
Breathing difficulties
Pale or blue eyelids and gums
Dilated pupils
Slower heart rate
Cold fur and skin
Final Thoughts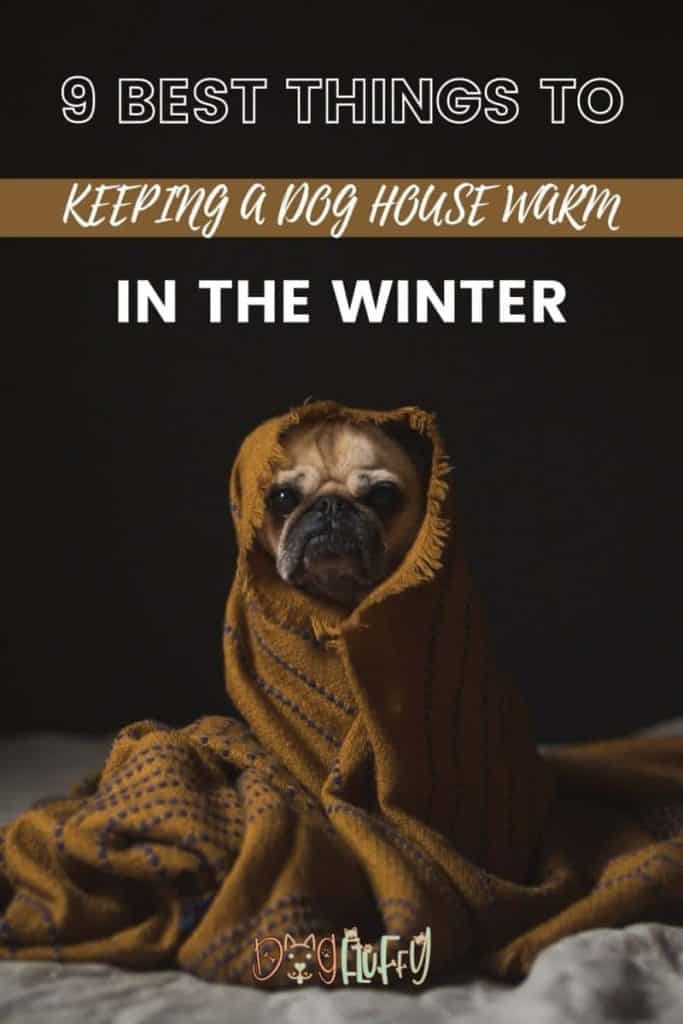 On the whole, dogs are not an outdoor breed. Whether it is winters or summers, they need special care and attention. But the safety precautions especially increase during the winters.
When it comes to protecting your dog from cold weather, you must start with the dog house. It needs to be warm and cozy for your pooch to stay away from any risk of the weather conditions.
Above I have mentioned some of the best products that can help you in keeping a dog house warm, cozy, and comfortable.
🐕 Articles you may like