Every Frenchie owner is familiar with the fact that these wonderful dogs have one very bad habit. And that habit is eating and drinking too fast!
It may or may not be possible to untrain this habit even when they are puppies, so if you want to know, Do French Bulldogs Need Special Bowls?
The answer is yes they do!
Below I have brought up a few points that address the question as to why do French bulldogs need special bowls.
Why Do French Bulldogs Need Special Bowls?
You will come to know after this list why Do French Bulldogs Need Special Bowls:
They eat and drink too fast: Bad habit as it is, this is a fact and it causes a lot of discomfort for the pooch later. Eating too fast causes bloating, which leads to a lot of pain for your pet.
The bowls help in keeping the right posture: These bowls help to maintain a healthy posture for your pooch as they eat.
Help to eat better: French bulldogs have flat faces and a very small snout which means they cannot eat the way other dogs do. They need bowls that are specially designed so that they can eat comfortably.
Frenchie's love for food: This alone is enough to convince me that my French bulldogs need special bowls. These amazing companions just love their food which is one of the reasons why they eat so fast.
They won't choke on their food: If you Frenchie inhales and chokes while eating then it is enough indication that you need to get your pooch a special feeding bowl.
Decreases strain on their neck: The special bowls will keep your Frenchie comfortable and in good posture while eating which will reduce the strain on their neck.
Improve the quality of life for the Frenchie: These special bowls will indirectly improve the quality of life for your French bulldog. When they eat from these bowls, their posture will be correct, they won't choke while they eat, they won't have any bloating problem and they won't gobble up their food.
Best Types Of Bowls For Your French Bulldogs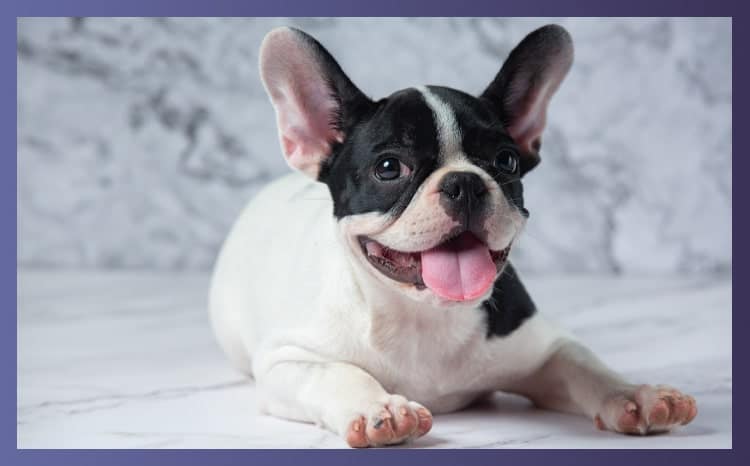 Do French Bulldogs Need Special Bowls the answer is, French bulldogs need special types of bowls and these are examples of the different types of these bowls you can pick:
The Basic Slow Feeding Bowl: The slow feeding bowl made of stainless steel with the obstructive hub in the center is one of the best options you can pick if you are looking for special bowls for your Frenchie. The hub in the center makes your fur baby eat slow and work for the food. This prevents indigestion and vomiting in these flat-faced babies and they can enjoy their food with no difficulties.

Slanted Dog Bowl: This particular model could be the best answer to your question if your French bulldogs need special bowls. These bowls are slanted at a 15-degree angle and make the food go down the bowl. This way your fur baby will not have to chase the food around the bowl and spill most of it. It is also slightly higher which means your Frenchie will not get neck pain when bending down to eat.

Elevated Feeding Bowl: As the name suggests, the elevated food bowls come with a special elevated stand that relaxes your French Bulldog's neck and body. They are available in all sizes and are sometimes adjustable.

Deep Stainless Steel Water Bowl: Water is as important as food and it is essential to keep a special bowl of water for your bully. The bowl should be slightly elevated, deep, and larger than the feeding bowl. Ensure fresh water is refilled every day for your flat-faced friend.

Enhanced Pet Bowl for French Bulldogs: As French Bulldogs are flat-faced dogs, they often have trouble eating food or drinking water from a normal shaped bowl. To avoid this, specially designed, enhanced food bowls are available in the market that will take care of your question if French bulldogs need special bowls.

Automatic Water bowl: This is a great invention to ensure your French bulldog gets enough water at all times especially if he is left home alone.
10 Reviews Of The Top Food Bowls For A French Bulldog
This slow feeding bowl from Neater comes in two sizes, one size is meant to hold one cup of food and the other can hold up to four cups of food, making it ideal for your puppy or adult French Bulldog.
It comes with an elevation in the center that slows down your dog's eating. It prevents choking, vomiting, and promotes good digestion of your dog.
This food bowl is made from premium quality stainless steel that is completely safe for your dog and causes no toxicity.
The size of the bowl fits the most commonly available feeders and is dishwasher safe.
This slow feeder from Peanuts has made my list of Top Food Bowl for A French Bulldog list due to its superior design that helps your bulldog to chase down its food till the last kibble.
It is made from stainless steel and is ultimately BPA free making it one of the safest bowls for your dog.
Its design encourages your dog to eat slowly and is suitable for both dry and wet pet food.
It prevents bloating and indigestion in your dog and the elevated border makes feeding your dog less messy.
The best part is that it is shatterproof and comes with a silicon bottom that prevents skidding.
This food bowl is made from heavyweight and durable stainless steel and comes with a permanently bonded ring that keeps the bowl in one place.
It has an elevation in the center that prevents fast eating in dogs that is effective in reducing your dog's digestive issues.
It comes in three different sizes, small, medium, and large.
This bowl has a rubber base that holds it in one place and prevents scratching of your floor due to movement.
It has a shiny effect and can be used both indoors and outdoors. It is dishwasher safe.
If you are looking for a food bowl for your dog that would keep them engaged yet to slow down their pace of eating, then this is the best choice.
This fun feeder comes with ridges and patterns that encourage your dog to forage for their food through them.
This bowl slows down your dog's speed of eating by ten times and comes in three different sizes to choose from.
The Outward Hound Fun Feeder Slo Bowl is made from food-safe material that is completely safe for your French Bulldog and is BPA and PVC free.
It has an anti-skid base and comes in six attractive colors to choose from.
This food bowl is conveniently designed with a tilt of 15 degrees that makes it easier for your Bulldog to eat.
It concentrates the food on the bottom and prevents fast eating and indigestion.
As most dogs tend to stack the food on the edges of the bowl, it often causes food spillage.
To prevent this, this bowl comes with a higher round arc that prevents overflow on the edge.
It comes with a melamine stand that keeps the bowl in one place, aided by a non-slip bottom.
It is a heavy-duty stand combined with a stainless steel bowl, both of which are dishwasher safe.
This bowl comes in multiple color options and is ideal for medium and small-sized French Bulldogs.
If you are bored with traditional steel bowls and looking for a smart and stylizing product for your French Bulldog then this is the perfect choice for you.
This extremely stylish food bowl comes with a short dining table on which the slanted bowl is placed. The table is made from eco-friendly, sturdy plastic, whereas the bowl is ceramic.
Both the table and the bowl have anti-slip mats below them that prevent movement while eating.
This product comes in a black and white combination that looks very sleek and is elevated at a height that does not put pressure on your dog's neck while eating. The anti-slip design makes eating comfortable.
Exclusively designed for short snout dogs like your French Bulldog, this feeder promotes slow eating.
It comes with narrow edges and smooth ridges that make eating fun and is smooth that makes sure your dog's face is protected while it forages food.
This food bowl is slightly slanted, making it the perfect food bowl for French Bulldogs.
It is made from environment-friendly plastic that is safe for your dog and comes with a non-slip grip that allows it to stay at a place while eating.
The interactive maze design keeps your dog engrossed in its food for a longer time, ensuring digestion.
This pet feeder stand comes with a stainless bowl and a polypropylene bowl.
The complete stand is made from strong polypropylene that makes it highly durable.
It houses two bowls and is thus a complete eating table for your French Bulldog.
The bowl is of slow feeder style that enables slow eating of your dog, thereby promoting better digestion.
The table comes with an anti-overturning frame that makes sure your dog does not flip the bowls and securely places the bowls at a fixed place.
The shelf has anti-slip silicone mats at the bottom of the four legs that ensure the table does not move while eating.
If you are looking for a premium elevated feeder stand then you should look into this product.
This stand is crafted from genuine bamboo wood and has a sleek W-shaped design.
It comes with two white ceramic bowls that are safe for your dog's eating and drinking habits.
The stand is adjustable according to your dog's height.
The table is anti-slip and has a grip that allows it to stay at a place while your dog is eating.
The bamboo wood used is water-resistant and very sturdy. The table is foldable and does not take up much space.
This elevated feeder comes with a sturdy iron stand that makes sure your dog does not slip the stand while eating.
The lovely design of the stand perfectly matches your home decor and adds to its beauty.
The elevated stand comes with two bowls that are made from high-quality stainless steel.
The feeder is extremely easy to clean and resists bacterial growth.
It is a hygienic product and prevents pressure on your dog's neck and body while eating.
The bowls are of superior texture and the slippery edges make sure your dog does not get hurt while eating.
What Food Bowls To Avoid For Your French Bulldogs?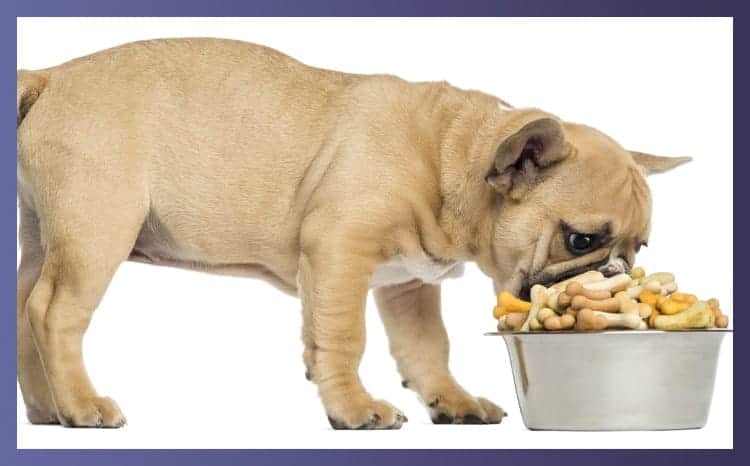 Now that you know your French bulldogs need special bowls you should also understand that some may not be suitable for their needs.
An overview of such bowls is given below:
Plastic Bowls: I do not recommend plastic bowls for your French bulldogs because these materials scratch easy.
There is a possibility of bacteria buildup in these scratches as it is not easy to clean.
This can result in allergies or other health concerns for your bulldogs.
French bulldogs are also great chewers hence there is another risk that your Frenchie could chew right through it and hurt themselves.
Another factor that makes me avoid plastic bowls is the potential hazard of leaking BPA into the food and water of your pooch.
Ceramic Bowls: Ceramic bowls look good and are not exactly bad.
But they do chip easily and can also break if your pooch suddenly pushes it over or plays with it.
Since they break easily you may need to keep on replacing them.
What Is The Most Convenient Material That Addresses The Question
The best material for the French bulldogs' special bowl is stainless steel. These bowls are scratch-resistant and easy to clean. Also because it has a rubber rim on the bottom, it makes it harder for your Frenchie to tip it over or slide it across the floor while eating.
What Size Bowl Should I Get For My French Bulldog?
The size of the bowl doesn't really matter when it comes to the French bulldogs needing special bowls. However, the one thing that becomes a concern is overfeeding if the bowls are too large. Big bowls lead to bigger quantities which may lead to obesity in your Frenchie.
How Do You Determine If You Have Bought The Right Feeding And Water Bowl For Your Bulldog?
Whenever you browse through feeding and water bowls, look at the reviews of the top food bowls for your French bulldog and find those that are easy to clean, those that are durable and lightweight.
The Ultimate Buying Guide For French Bulldog Food Bowls
French bulldogs need special food bowls and they cannot be just any container that you find around the house. The special bowls have some really crucial features that affect the overall health of your bulldogs.
Easy to Clean: Remember your Frenchie will create a mess while eating whether you like it or not. Since there is nothing you can do to stop that, you want to get them a feeding bowl that makes cleaning it a comparatively easy job. Most dog owners prefer stainless steel as it is scratch-resistant and easy to clean as compared to other materials.
Non-Slip Features: Frenchies are quite playful so you can expect yours to keep falling all over their food bowl. A non-slip base will reduce instances of food spills and messy surfaces.
Bowl Design: This entirely depends on your sense of style and preferences, and your Frenchie's special needs. However, be careful when doing this because the bowl may end up being more of a décor piece than a functional one. Hence, usability and aesthetics should go hand in hand.
Tricks to Make French Bulldog Eat Slower: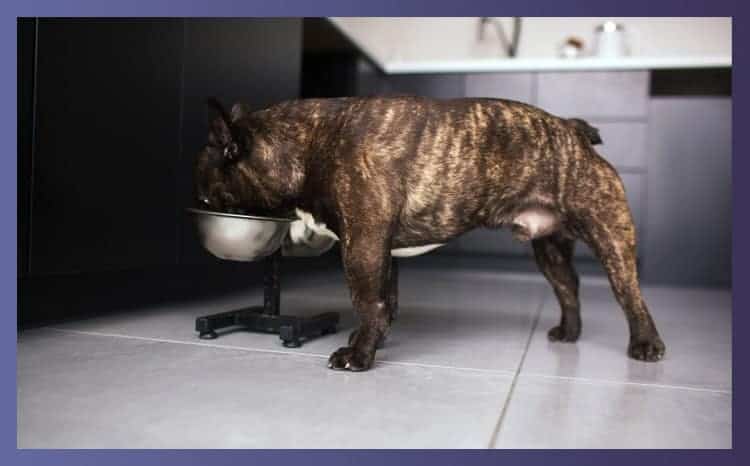 Here are some tricks that you should consider to trick your French bulldog into eating slowly
Use a Slow Feeder Bowl: There are several types of bowls for your Frenchie but the slow feeder bowl made from stainless steel can trick your dog into eating slowly. This kind of feeding bowl comes with pattern designs inside the bowl. These designs make it difficult for your French bulldog to gulp the food, which will lead him to slow down.
Muffin Tin style bowl: One of the easiest tricks to make your French bulldog eat slower is by using a muffin tin. You can put a small amount of food in every individual cup. This will help you French bulldog slow down his chompers.
Cookie sheet: Using a cookie sheet for your French bulldog is another useful trick to make him eat slower. Spreading the food on the sheet will lead your Frenchie to lick his food then gulp it down.
Turn it into an activity: Take the food outside and hide them in different places and let your pooch search by smelling the food. This trick will not only slow down the eating pace, but it will also give him a chance to exercise and enhance his sense of smell.
Use an Automatic French Bulldog Feeder: This type of dog feeder functions with an app that has scheduling features that you can adjust as required. This will ensure your pooch has a proper diet and slow down his pace.
Bowl in bowl method: For this trick, you will need to place a ball in the feeding bowl and let your pooch push the ball around digging for food. This will definitely slow your Frenchie down but do remember to have a designated ball just for this purpose. It should be clean and chemical free and used only for feeding.
Hand Feeding your Frenchie: This trick can be used as a last resort when nothing else works.
Frequently Asked Questions about French Bulldog Feeding Bowls
If you have any questions with respect to French bulldog's special food bowls, you may want to go through the ones below to see if they can be of help.
Final Words About Do French Bulldogs Need Special Bowls
Reading the reviews of the top food bowls for a French bulldog must have given you a clear understanding of why your French bulldogs need special bowls. The best way to give your Frenchie a quality life is by ensuring they do not fall sick unnecessarily. This wonderful breed already has enough to contend with because of its conformational issues. You can ease the other concerns by just getting them the right kind of feeding bowl and water bowl.
📢 Articles you may like