Table of Contents
After reviewing numerous travel food bowls for dogs, I have made a list of the top 11 travel food bowls for your dog. I have taken into account various features like durability, value for money, collapsible features, and honest customer reviews.
While traveling with your dog, especially for long journeys, the most important thing to pack is his food bowl and water bottle. The travel food bowls for dogs are generally different from their regular feeding bowls.
They are extremely light-weight, easy to carry, do not take up much space, and some bowls have additional features that promote collapsibility and reducing spillage.
Before I start with the list of top travel food bowls for dogs, it is important to first understand the features that must be taken into consideration. It will help you in choosing the right bowl for your dog.
Features to consider
There are numerous food bowls available in the market that can be considered fit for use while traveling. But to differentiate between the right and wrong ones, it is essential to consider the following features.
1. Weight
As traveling in itself is heavy work that requires extensive packing, it is essential that your dog's travel food bowl is lightweight. It would make carrying the bowl easier, without adding additional weight to your luggage.
Certain metal and melamine food bowls are present that are more of a burden and are not fit as travel food bowls for dogs.
2. Collapsible
I have come across several travel food bowls for dogs that come with a collapsible feature that makes storage of these bowls far easier while traveling.
These bowls do not take up too much space, and when needed, they expand as a food bowl for your dog; thus, doing its job perfectly.
3. Low Spillage
If you are worried about spills then you can consider some food bowls that  come with a rounded or specialized border which reduces spillage. This feature becomes really helpful when you are traveling with your dog in a car or eating outside. It reduces the mess and is super easy to clean.
4. Safe
Of course, safety is always a top priority for your fur baby. After going through several options I have realized that there is no dearth of options for travel food bowls for dogs in the market.
However, I also understand that not all are safe for your pooch to be eating from. Chemicals like BPA etc can have quite an adverse effect on your dog.  It is important to choose a bowl that is extremely safe yet serves its purpose.
5. Durability
If you have a dog who likes to play or chew the bowl then durability of the bowl will also be an important factor to consider while purchasing your travel food bowls for your dogs.
Best 11 travel food bowls for dogs
We earn a commission if you click this link and make a purchase at no additional cost to you.
The first in my list is this food bowl from COMSUN, which you will find incredibly convenient and safe. To start with, it comes in a combo pack of two bowls that can be used as a water bowl and food bowl.
Crafted from high-quality silicon, it is completely safe for your dog. I love that the bowls are extremely durable and can be reused. This makes feeding your dog while traveling very easy.
The bowls come with matching carabiners that make them easy to attach with your backpacks. And being collapsible, they can easily fit inside your bag or purse.
You can adjust the height of the bowls according to the height of your Bulldog, making it a perfect fit for puppies or adult dogs. They are BPA free and budget-friendly.
Pros
Collapsible bowls that can be easily carried and stored.
Comes with carabiners.
Height of the bowl can be adjusted accordingly.
Safe silicon makes it sturdy.
Combo pack for serving food and water to your dog.
Cons
Has no lid.
Not spill-proof.
---
We earn a commission if you click this link and make a purchase at no additional cost to you.
The next bowl I have for you has been specially designed for traveling and is very convenient to use. The folding and stretching feature in the bowl makes it very easy to carry and use whenever needed.
It is also lightweight and the buckles can be used to attach the bowl to your bag, belt or pocket.  One more feature that made me add this bowl to the top best is its odorless high quality silicon material.
There is no smell and it is perfect for your pooch to eat from whenever you are travelling.
Each bowl can hold up to one-and-a-half cups of your dog food. The bowl comes in attractive bright colors and can be used both indoors and outdoors. It is easy to wash and even dishwasher safe.
Pros
Comes in a set of two that can be used for two pets or one for water and the other for food.
Dishwasher safe bowl.
Made of durable silicone and easy to carry
Pet safe.
The height of the bowl can be adjusted.
Carabiner ensures the bowl is securely held to your belt or bag.
Collapsible bowl.
Cons
Chewable material.
Has no lid.
---
We earn a commission if you click this link and make a purchase at no additional cost to you.
I found this one to be one of the most unique travel food bowls for dogs and it comes in a set of two. They are made from superior quality waterproof nylon that can hold your Bulldog's food safely.
The bowls are collapsible and when not in use, you can keep them in your pocket or bag without any problem. I also find them extremely easy to clean and they dishwasher safe too.
A sturdy clip attaches the bowl to your bag making it ideal for traveling, hiking, or car rides. It is one of my favorite travel food bowls for dogs and comes in a bright red color.
Pros
Environment-friendly material, safe for your dog.
Easily folds up to store water or food for your dog.
Easy to wash.
Waterproof nylon ensures cleanliness.
Easy to carry and store.
Cons
Sometimes it smells like chemicals.
Has no lid.
---
We earn a commission if you click this link and make a purchase at no additional cost to you.
These portable travel food bowls for dogs are very easy to fold and can be carried in your pocket. They dry very fast which makes them hassle-free travel bowls for your dogs.
It is made from rugged nylon that ensures its durability and at the same time makes it waterproof. What I like best is that this travel food bowl is leak-proof and is BPA free.
You can use it for water as well as food without worrying about spilling or cleaning it. It can hold up to 48 oz of water and, thus; makes sure your dog is properly fed and hydrated even when you're traveling.
Pros
Safe and durable food bowl.
Collapsible design and can be folded flat to store easily in any bag.
Comes in a unique color combination of green and grey.
Has a band to carry it easily.
Cons
Has no anti-spill feature.
---
We earn a commission if you click this link and make a purchase at no additional cost to you.
If you are looking for something more rugged, sturdy and safe travel food bowls for your dog then I would consider this as one of the best choices for you.
Made from highly durable, tear-resistant, BPA-free silicon, this robust food bowl is a great choice for your Bulldog. Adding to its features, it is also microwave safe as well as dishwasher safe along with being 100% environment-friendly.
This travel food bowl is ideal for hiking or any kind of adventure travelling. A collapsible design and adjustable height makes this bowl a really good contender in this list.
You can choose from five different bright colors and the carabiner makes it really easy to carry it around with you. It is also very easy to clean and makes feeding your dog outdoors a hassle-free task. 
Pros
Durable food bowl.
Easily foldable and takes up very little space.
Attractive colors.
Safe for dogs.
Environment-friendly.
Cons
---
We earn a commission if you click this link and make a purchase at no additional cost to you.
If you have a dog who spills while eating then this collapsible bowl with mat is the best choice for you. It has two bowls so you can use it for food and water or to feed two dogs at the same time.
Whatever spills, will be collected on the mat itself. So you no longer have to worry about  your car getting dirty or your surroundings. It is made of silicon and the bowls are safe and durable as well. 
And to add to it all the silicon mat ensures the bowls do not move or slide while your fur baby is eating.
Another feature added to these travel food bowls for dogs that has caught my attention is the frisbee that comes with it. You can use it to give your dog some exercise after eating.
It is also quite convenient to carry due to the sturdy carabiners attached to it which can be latched on to any bag.
Pros
Safe, food-grade silicone makes it completely safe for food.
Dual bowls.
Frisbee toy make it fun to carry it outdoors.
The spill-proof mat makes feeding dogs hassle-free.
Dishwasher safe.
Cons
Silicon is not chew-resistant.
expensive.
---
We earn a commission if you click this link and make a purchase at no additional cost to you.
If you have large dogs then you will need an equally sturdy travel bowl. This portable food bowl is non-slip and does not collapse even when dropped from a height.
It is extremely tough and made ideally for heavy dogs, including Bulldogs. It can store it easily and the height can be adjusted according to your dog's comfort. It also comes with a hook so that you can attach it easily to your bag or belt.
The size, the non-slip base and light weight feature makes this travel food bowl for dogs a perfect choice if you have a large breed dog. Besides all these it is also dishwasher safe
Pros
Adjustable size.
Sturdy and durable silicon.
The anti-slip base makes sure the bowl stays firm.
Heavy-duty and robust.
Cons
---
We earn a commission if you click this link and make a purchase at no additional cost to you.
If you plan to do most of your traveling by car then you will definitely need travel food bowls for dogs that do not spill. The one I have added in this list is one of the best in this particular category.
Kurgo no spill dog travel bowl is made from food-grade silicone which ensures your dog's safety. It has a tapered lip that prevents spillage of food. Most importantly, the wedge angled seat keeps the bowl balanced on the car seat and is anti-slip.
So now you can feed your dog in your car without worrying about spills and getting your car dirty. You also have a happy and well-fed pooch with you. 
This bowl has a one-size-fits-all design, making it perfect for dogs of different breeds and sizes. It has a capacity of 710 milliliters and is collapsible to fit in your bag or the glove compartment of your car.
You can choose from two attractive colors and can also be washed in the dishwasher.
Pros
Collapsible features make it very easy to carry.
Tapered lip ensures minimum food or water spillage.
The angled base keeps the bowl steady on car seats.
Durable, lightweight, and leak-proof.
Cons
One size
Has no hook or carabiner.
---
We earn a commission if you click this link and make a purchase at no additional cost to you.
Do you have a dog that can literally make food disappear then this slow feeder bowl should definitely be in your shopping list. It has obstacle pillars inside the bowl that are specially designed to slow down the eating speed of your pooch.
This ensures proper eating habits, good digestion and prevents vomiting and other stomach issues. Adding to its features, it is made from superior grade thermoplastic elastomer material making it extremely sturdy, and resistant to daily wear and tear.
With that said, this food bowl is designed to withstand rough environments. It is 100% BPA free and is completely safe for your dog.
This collapsible food bowl can hold up to 4.2 cups of food. It also comes with a carabiner that eases carrying and it takes up no space when completely folded.
Pros
A slow feeder that enhances digestive health, healthy eating, and slow feeding.
A collapsible bowl that is fit for any size of your dog.
Sturdy and durable material.
BPA free safe food bowl.
Cons
---
We earn a commission if you click this link and make a purchase at no additional cost to you.
I love these simple travel food bowls for dogs because it serves its purpose just right. Made from waterproof, durable material, it holds on your pet's food and water without any leakage.
You will love the cute blue color it comes in and most importantly, it comes in a pack of two. One is a larger size than the other. So you can use it for food and water or if you have two dogs then you can feed them simultaneously.
It is a great food bowl for your dog while traveling, hiking, going to the park, or any outdoor activities for that matter. You can easily fold it into a flat shape and fit into a purse, bag, or pocket.
The bowl is very easy to clean and dries fast. It can be attached to any hook through the loop it comes with.
Pros
Simple yet ergonomic design that serves the purpose.
Safe for your Bulldog.
Easy to clean and dries fast.
As it comes in two sizes, it is fit for puppies as well as adult dogs.
Cons
Has no carabiner.
The height is not adjustable.
---
We earn a commission if you click this link and make a purchase at no additional cost to you.
Last on my list is this super-compact bowl, which is extremely lightweight and can be folded up to be flat. It comes in a set of two and are spacious and perfect for long tours.
Moreover, the bowl comes with a drawstring cover that can be used as a lid. The drawstrings are strong and you can also carry your dog's food in the bowl itself.
After feeding your dog, you can easily fold the bowl and attach it to your bag or belt with the metal carabiner it comes with. What I like the most about this bowl is that it can hold up to 8 cups of food or water.
Additionally, the bowl is leak-proof and is very easy to dry. The interior lining is made with an odor-proof fabric, so it won't smell bad. Lastly, you will find the reflective strip to be extremely convenient, as it makes the bowl visible in the dark.
Pros
Durable bowl made from waterproof material.
Has a compartment to carry food.
Odor-free.
Spacious.
Simple design.
Reflective strip.
Cons
It is very essential to know about the various types of bowls that are available in the market.
While some are just regular food bowls that differ only in the material they are made of, some are customized according to the breeds and requirements of your dogs.
Is raised bowl bad for dogs?
Raised bowls have gained huge popularity in recent years. But its usage is entirely dependent on the feeding requirements of your dogs. This is not a size one fits all kind of a solution.
Raised bowls serve a particular purpose such as treating digestive issues, especially in small and medium-sized dogs.
These raised bowls are also ideal for flat-faced dogs like pugs and French bulldogs.
However, studies have shown that raised bowls may cause bloating in large breed dogs.
So, deciding whether raised bowls are good or bad for dogs is entirely dependent on the kind of fur baby you have.
The best advice in such a situation can be given by your vet.
What have raised bowls?
Raised or elevated bowls are feeding bowls for animals, especially dogs, that are big or tall or fast eaters.
Commonly, elevated or raised bowls come with a table or stand that allows placing the bowls on them.
The right size of the table or the stand depends on the height of your dog. While some stands have ridges to place the bowl, some are adjustable.
However, the main purpose of these feeding stands is to keep the food and water bowl at a raised height from the ground.
Benefits of raised bowls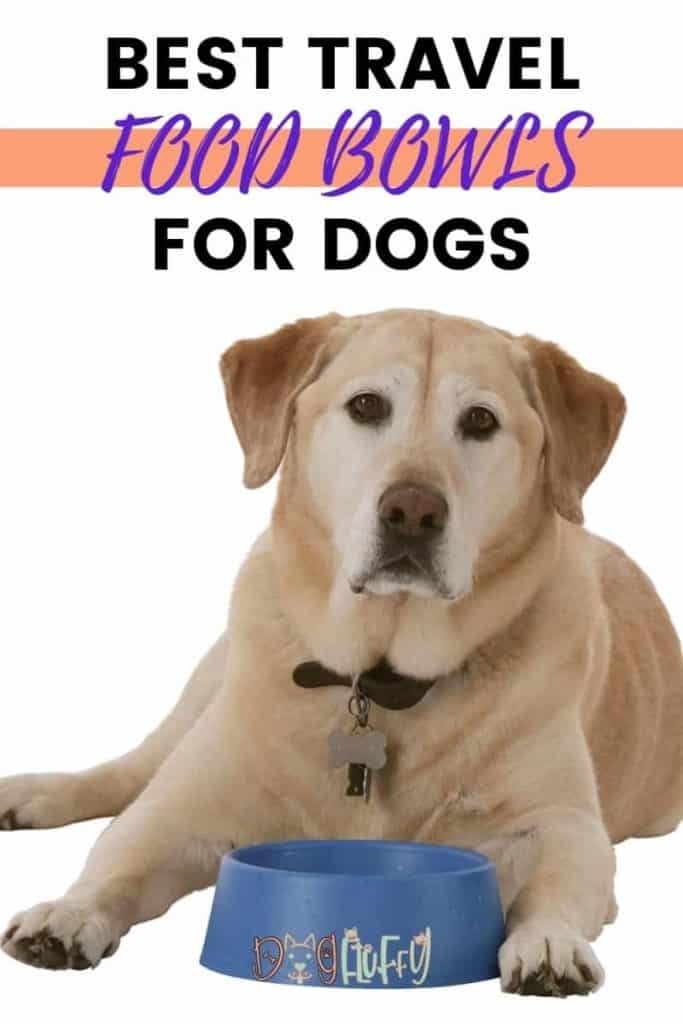 Raised bowls have been found beneficial in several cases and are a potentially good buy if your dog needs it. Here are some of the benefits of feeding your dog from a raised bowl:
1. Healthy Posture
Regular food bowls are placed on the ground which makes eating hard for your dog. He has to apply force on his neck so that he can get the food out of the bowl.
It creates pressure on the neck region, legs, and posterior part of your dog. Constant bending of the neck can lead to mobility issues and strain. In this case, raised bowls can be a boon for your dog.
2. Bone Problems
There are numerous reports where dogs have developed certain bone problems due to prolonged strain on their legs, back, and neck while eating.
As the dog's mouth is placed above the ground level, it would be helpful to place the bowl at a certain level where his mouth reaches easily.
3. Better Digestion
Some reports suggest that eating from an elevated bowl can lead to comfortable feeding that might make digestion better in dogs. This is true in flat-faced dogs as they have trouble eating because of their short snouts.
4. Cleanliness
Being a pet parent, I know how messy it can get after dogs finish off their food. Not only do they spill their food all over the floor but also nearby corners and walls.
As most raised bowls come with mats or platforms, they catch all the bits that are spilled and prevent them from messing the floor. Thus, it makes eating less messy than normal feeding bowls.
5. Keeping in place
Sometimes food bowls slide across the floor while your dogs are eating. This can lead to spilling and a very difficult cleaning job. To prevent this, elevated food bowls come with stands that have rubber bases.
This helps to keep the stands still and the bowls along with it. So your pooch can eat comfortably without chasing his bowl all over the house.
6. Megaesophagus
Certain dogs suffer from a condition called megaesophagus, which causes nerve problems in their esophageal muscles. It results in blockage of movement of the esophageal muscles.
Due to this condition, these muscles can no longer push the food into the dog's belly for digestion. Some may even have trouble swallowing. To overcome this condition, vets often recommend raised bowls.
So if your dog has this problem a raised bowl would definitely be a great boon. 
7. Arthritis
Vets often prescribe raised bowls for dogs who have joint and bone conditions like arthritis and find stressing on neck or joints painful.
Drawbacks of raised bowls
Though raised bowls are very useful and have numerous benefits, they have a single drawback.
Bloating in large breeds:
It has been seen in a study, conducted about 20 years ago, that elevated or raised bowls increased the chances of bloating in dogs belonging to larger breeds.
Bloating is a very dangerous disease in dogs that occur when food and gas get stuck in the stomach. This creates a pressure that increases with time and may cause life-threatening diseases like stomach rupture.
Though there is not much evidence supporting this, it must be kept in mind while using raised bowls for larger breeds.
Dog breeds that need to be raised bowls
Raised bowls are actually beneficial for dogs belonging to smaller or medium size breeds. They make eating healthy and promotes bone and digestive health in dogs.
It is also seen that older dogs and the ones with bone issues, like joint problems, arthritis, or similar conditions need raised bowls.
How to choose the right size of the raised bowl?
After careful considerations or if your vet has recommended raised bowls for you dogs do remember to choose the right size as well. The general thumb rule for buying the right size of raised bowl is that the elevated bowl must be square of the size of your dog's chest.
Following this rule ensures your dog doesn't have to lift his neck up or down every time he gulps food or water. It ensures correct posture is maintained while eating. This also helps in avoiding bone and neck pain in dogs.
Final words
I hope, after keeping in mind the considerations I have listed here and your fur baby's requirements, you can choose the best travel food bowls for your dogs that would ensure you enjoy your travel time with your pet.
🐕 Articles you may like