Table of Contents
Nothing does the job better than a convenient travel water bottle for dogs when they are thirsty. With a higher capacity to hold water and an area to easily drink the water from, these are a good choice for your furry friend.
With flexible characteristics and a durable build, these travel water bottles for dogs are good for both you and your pet.
Key Takeaways
When traveling with dogs, especially Bulldogs who can overheat easily, it's important to have easy access to fresh water. A travel water bottle allows you to keep water close for hydration breaks on the go.
Look for bottles with wide mouths that are easy for dogs to drink from. Collapsible designs that pack small make it simple to bring water anywhere. Insulated bottles help keep water cool on hot days.
Consider bottles with clips, carabiners, or handles so they can be easily attached to leashes, backpacks, or crates for convenience. Also, check that the material is BPA-free and leakproof for mess-free transport. Well-hydrated dogs are happier campers!
Aside from knowing which bottles to buy, you have to make sure that you know how to take care of them as well. The buying guide following this would surely put a rest to all your doubts regarding that, too.
I have listed ten water bottles of high-quality materials that are easy to carry and are completely toxin-free. Not to mention, your bulldog can easily drink from them too, owing to good built-in features.
Best Travel Water Bottles For Dogs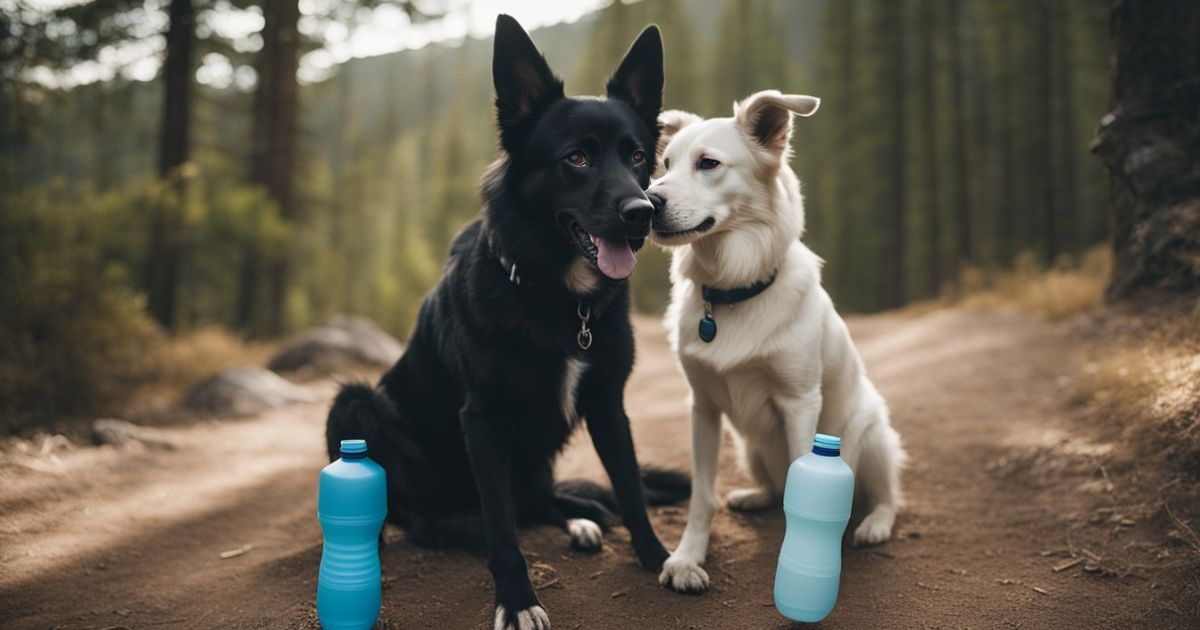 Now, without further ado, here are the best travel water bottles for dogs you should consider while shopping for the same
We earn a commission if you click this link and make a purchase at no additional cost to you.
In essence, the water bottle from Tuff Pupper can, indeed, be one of the best options for your dog. But why am I saying so?
Well, for starters, the model comes with a body of non-toxic stainless steel. Hence, if you do take proper care of it, it will last for a prolonged period.
Besides, the water bottle does not weigh much at all. Thus, it will be easier for you to carry it in your bag.
The initial variant of the product has a capacity of 27 ounces. However, if you want something bigger, then you can choose the 40-ounce model as well.
Like many other best travel water bottles for dogs, this model is quite easy to open and use as well. In this case, all you have to do is flip the silicon-made cup and tap on the quick-release button.
After that, the bottle will automatically start dispensing the water.
The bottle is also dishwasher-safe. Hence, the headache of maintaining it would not be too much for you.
It is FDA-approved
Comes with two sizing options
Portable and lightweight
It is dishwasher-safe
It is considerably expensive
We earn a commission if you click this link and make a purchase at no additional cost to you.
This product from MalsiPree is surely one that I had to mention in this list. This premier water bottle for dogs is easy to use and comes with a trough-shaped mouth.
When you press the button near it, the water from the bottle fills up the area. Thereafter, your dog can drink easily from this section and quench their thirst.
Of course, the fact that you do not have to worry about wasting any of it also helps.
Wondering how? All you need to do is place your finger directly on the water key and tilt it back. The remaining would automatically enter the bottle again, ready for the next use.
Of course, the strong build of the bottle and the silica gel-made seal ring add to its safety aspect. With the help of the latter, you can roam around anywhere with your bottle fastened to your bag.
And the seal would ensure that not even a single water droplet falls out.
This is definitely one product that you can use for a long period. And for your traveling fun, it is a wonderful and safe choice to behold.
The strap keeps it in place
The compact size works well to fit anywhere
A button to press on and off at will
Holds 12 oz of water in its body
Made of material that is well-tested and food-grade certified
Slightly bulky design
Some models need more pressing the water key button
We earn a commission if you click this link and make a purchase at no additional cost to you.
In a list full of the best water bottles for dogs, it is impossible not to mention this particular option. With a gorgeous design, it comes in two parts- the water bowl and the bottle.
The cap that folds on top turns into the bowl later, which means that no dust particles would accumulate. You can simply open it, and squeeze water into it when needed.
Plus, this also doubles as a food bowl, so you can use it in both ways when traveling.
The top has a buckle system that works to keep the water well within the bottle. It is fitted with a silicone gasket that keeps the water safely inside, and your outer clothing protected.
No amount of moving or shaking would open it unless you do so intentionally.
It is very light as well, which is another way this bottle is perfect as a traveling companion. The water pipe is built-in, giving you easier control over the spill too.
Thus, with a strong body, secure fastening, and lightweight material build, this is a wonderful recommendation for the group.
The space holds around 8 oz of healthy water
Two bowls come as a package for multipurpose usage
Made of safe HDPE and silicone material
Good for the environment and easy to recycle
BPA-safe
Secure cap that you can rotate to open
Water is not easy to put back in when excess comes out
Costlier than other alternatives
We earn a commission if you click this link and make a purchase at no additional cost to you.
In terms of travel water bottles for dogs, this lightweight option is another good-quality product I would recommend. It is great for going out with your dog for a trip, and you can use the cap area as a cup.
When they get thirsty, as they would, all you have to do is press the hand key. The water would automatically come out for your little dog to enjoy.
It is extremely easy to carry around whenever you go for a walk or outdoor trip. The dispenser locks well into the surface ensuring that only the water you need would come out.
And when you put it inside your bag with other things, the rubber sealing ring would hold the cup in place.
You can clean it just as easily later, as each part of it is detachable. In terms of both usability and long-lasting potential, this is a wonderful innovation, for sure!
The cup holds 15 oz of water
The water key has a single-press feature
Slim design
Made of reliable material
Easy to hold and move around with
Not best for bigger dogs
Cannot stand upright
We earn a commission if you click this link and make a purchase at no additional cost to you.
This particular TIOVERY product is made of durable plastic and silicon base. And they are 100% food-grade certified, Lead-free, and BPA-free. But what you would appreciate more, for sure, is how easy it is to use.
When your pup needs water, turn the leaf-like bowl over quickly and pour some water out.
Your pet would drink from it efficiently, and after they are done, you can seal the top again. And, the water would safely stay in, which is always a plus.
The leaf bowl is easy to drink from
The top is easy to open and close
Completely leakage-free
Made of safe and healthy tested materials
Simple to carry and use
Fluorescent rope present for carrying
If the outside part is wet, you need to clean it again
We earn a commission if you click this link and make a purchase at no additional cost to you.
Again, when you are contemplating buying a water bottle to carry for your bulldog, give this one from QQPETS a shot. It is absolutely durable and the surface and interiors are made of safe plastic fiber.
Plus, it is entirely BPA-free too, which is something you would find very valuable.
When you are moving or camping, your dog can often feel very thirsty. Instead of carrying a bowl around, simply press the button on this bottle. The water would come out from the mouth and fill up the dispenser.
Your dog would drink from there. And, if there is any excess, you can let it flow back in too.
Therefore, you would not have to worry about any mess, while using it and when keeping it in your backpack. If you are concerned about leakage, the silica gel-made seal ring works wonders here.
Thus, you can easily run around with your pet and the water bottle would still stay tightly closed. What's more, you can use the sling rope to fasten it to your pocket if you do not carry a bag. Win-win!
Completely leak-proof
Stable and long-lasting build
Easy to press and use
Comes in different styles
The structure is compact and easy to hold and carry
It can hold around 13 oz of water in the cup
Cannot hold anything (even other liquids) other than just water
Cannot stand well when placed on the ground
We earn a commission if you click this link and make a purchase at no additional cost to you.
In terms of good travel water bottles for dogs, this option is one that you should seriously consider. It is extremely simple in its structure and usability and is made using eco-friendly materials – durable plastic fiber.
Thus, this is a wonderful option to consider when you are out with your pet bulldog and they feel thirsty 
Simply press the water key with one hand and water would come out effortlessly. The mouth of the bottle is sealed with a silicon ring.
Thus, when you release the key to stop the water flow and keep it in your bag, water will not leak. This is especially helpful in the matter of cleaning and drying. Simply open all the parts and then wash them easily.
You can, thus, use it for a long time as well.
As for the portability factor, there is an anti-lost rope fitted with the bottle. You can attach it to your bag, and take it off only when necessary.
Certainly, when you and your pup are busy enjoying the outdoors, you would worry less about losing the bottle or it falling off.
BPA-proof material
Very easy to hold in hand, comfortable fit
Durable and entirely lightweight structure
Easy to switch on and off when you need to pour the water
Can hold 15 oz of water in its body
The dispenser system allows to pour the excess water back; no water gets wasted
Can used with a single-hand
We earn a commission if you click this link and make a purchase at no additional cost to you.
When you are traveling with your bulldog, one of the main things you want in bottles is good usability. In that case, this water bottle for dogs is easy to utilize, owing to the cap system and collapsible bowl attachment.
Simply push the 'leaf' cap open, tilt, and then press, and water will drain out to the bowl. From there, your pup can drink water and you can fold it away when they are done.
In fact, you can even put food in the bowl!
So, this multi-functional feature would work great while traveling, camping, or hiking. You can fold it away and place it safely in your bag.
Additionally, there is a waste bag dispenser present, which is wonderful for waste management. The removable buckle and hand band help you carry it around.
There is a double-leakage-proof element in this bottle, making it immensely safe to keep in your bag. With these features and its durable structure, this is one you should seriously consider.
Can hold 1.5 cups of food and 12 oz of water in the bowl
Leak-proof thanks to the double rubber ring
Made of durable PET plastic and silicone material and tested free of BPA and lead
Easy to use with the leaf cap style opening
It has a stainless steel carabiner which is removable; easy to carry
Hand rope is reflective for easier visibility at night
Cannot keep any liquid over 70 degrees in temperature
Cannot wash in the dishwasher; hand-wash only
We earn a commission if you click this link and make a purchase at no additional cost to you.
The reason why I chose to include this particular water bottle in this list is simple.
It has a strong filtration system that filters out impurities and residual chlorine. It is also made of durable and lightweight material, making it easy to carry around. You can detach it quickly as well, and clean it without issues.
Plus, there is a wide cap that opens near the head and acts as a water bowl. This way, your bulldog can comfortably drink water and no water would fall off.
And if they have not finished drinking the entire water from the bowl, simply tilt back. The excess would enter the bottle again!
In fact, the leakage protection feature is present, especially for this problem. Overall, this is one product that you would get to use for a long, and in an effective manner.
The bottle holds 13.5 oz space for fresh drinking water
The materials are tested and have a BPA-less approval
The lock-key design and sealed gasket made of silicon ensure no spillage
Easy to clean
The sling rope makes it easy to carry it around
Button system to pour the water easily; press to start and stop pressing to stop the water from coming out
Need to change the filtration system a few months
We earn a commission if you click this link and make a purchase at no additional cost to you.
Are you looking for travel water bottles for dogs that you can operate easily and take with you wherever you go? Certainly, I would recommend this particular option from M&MKPET for that.
It is completely BPA and lead-free, and the bottle itself is very durable. Not only is the material of the highest quality but also you can open and clean it whenever required.
As for how to make your bulldog drink from here, you have to simply press a button. It is present near the cup-like top area, and the water fills it up when switched on.
From there, your pet can lap up the water and go back to their running around. Then, press the lock off to switch it off, and put it in your backpack.
The seal ring made of silica gel would ensure no water drops out without your permission.
As a carry-on for traveling, this particular water bottle is definitely worth the consideration.
The design is easy to use and convenient for both your buddy and you
It is made with lead-proof and BPA-proof considering your puppy's safety
The lock key is very easy to press and effective
The compact design makes it easy to carry
Holds 12 oz of water
Parts of it, like the top cap, are easy to dismantle; cleaning is not an issue
Small in size and good for smaller dogs; bulldog puppies can drink well from it
The bottle would not work well if you put in anything other than water, like milk or chocolate
Buying Guide and Important Factors To Look For
When you are buying travel water bottles for dogs, simply thinking about the budget would not work. There are some specific features that you need to look into to make the correct buying decision.
These are based on the build itself and the requirements you need. I have listed the main factors that you should assess to buy the best travel water bottle below.
Material
The material of the water bottles is possibly the first thing you should study. Most of the time, the choices are between stainless steel bottles and plastic bottles.
Both are good in their own way, and you should choose which you need more.
The former option has good durability and keeps the water cool. But it is heavy to carry, which is not a problem in the case of the latter.
Plastic travel water bottles for dogs are less costly and light, but easy to damage.
Leak-proof
In case of leaks, you would have better luck with costlier options as they have leakage protection. However, the cost is not too high compared to their cheaper non-leak-proof counterparts though.
Seeing as how the leak-proof ones would safeguard your clothes or bag from getting wet, it is an acceptable bargain.
Dispenser
Having a bowl-like portion near the mouth would work wonders for your bulldog as they can easily drink through that. Most travel water bottles for dogs have a dispenser available.
But you still should check the size. Some are too small for bigger dogs, like bulldogs. Check to see which is comfortable for your pet before placing the order.
Capacity
Another important feature to think about before buying is how much water it can hold. Some travel water bottles for dogs may look big from the outside, but inside, it is small.
This is especially important if you are buying online as you cannot see the size of the bottle. So, I would suggest checking the bottles in a normal pet store first or reading the reviews.
It would give you a better idea of how much the bottle can actually hold.
Portability
When you are buying travel water bottles for dogs, the keyword to focus on is 'travel'. In such a situation, it is obvious that you would want something you can carry easily.
Plus, it is best if it does not increase the baggage weight with the other things you are carrying. Ergo, you should check how easily you can lift the bottle you like first.
I would say you should reflect on the ones with an attachable clip or strap as well.
Type
Of course, how well you use one also depends on what its main aim and structure are. Or, more specifically, what each type of travel water bottle for dogs is like. There are three particular differences I have noticed here.
Attached- Usually, you can attach some water bottles to the kennels and crates with the help of velcro or hooks. However, it is neither the best choice for big bulldogs nor for traveling.
Standing- You can put it on the ground and your bulldog can drink easily while you focus on other duties. You can bring it along with you when you travel too. But not best for rough campsites.
Handheld- While you do have to keep on holding the bottle while they drink, it is still usable. These excellent travel water bottles for dogs are cheaper too.
Steps To Clean Travel Water Bottles for Dogs
Luckily, most travel water bottles for dogs are exceptionally easy to clean. They come in detachable forms, which means you can easily disassemble them to clean each section. The steps are as follows.
Pour any water that is present in the sink and remove the cap.
Detach every other part you need to clean.
Fill the water bottle with two-thirds warm water and a small bit of liquid detergent.
Wash the detached parts separately with a sponge and soap. If the opening is tiny, use a  bottle brush.
Repeat with the detergent-water combo solution and shake well.
Wash away all the solution down the sink and use a brush to remove any of the stubborn residues.
Use soapy water and a sponge to scrub the outer part.
Use a soft sponge to clean out the sipper tube.
If the instructions say you can wash the dispenser in the dishwasher, do so. 
After completing all the steps, wash these travel water bottles for dogs with warm water. Rinse well.
Leave it to dry and then refill it with healthy drinking water for your pet.
Before You Go
Portable travel water bottles for dogs are a must-have for staying hydrated on the go with your dog. Look for bottles with non-spill dispensing valves, bite-proof lids, and leak-proof designs.
Sizes should match your dog's needs – from small for toy breeds to extra large for working dogs. Flexible silicone bowls are ideal for easy folding and packing.
Consider bottles with carrying straps or clips for hands-free walks and hikes. Most importantly, choose bottles your dog can use independently for stress-free access to water wherever your adventures take you.
With the right travel water bottle, keeping your canine companion hydrated will be simple, convenient, and spill-proof during all of your outdoor excursions together.
FAQs
What material should the bottle be made of?
Look for BPA-free, durable plastic that won't leak or break easily. Some owners prefer stainless steel for its insulation properties.
What size bottle is suitable for my dog?
Consider your dog's weight – smaller 8-12 oz bottles for toy dogs, larger 16-32 oz bottles for large breeds. Adjust based on travel duration.
How do you get the dog to drink from the bottle?
Normally, dogs cannot drink from regular bottles, and carrying around a bowl is not always an option. But, the travel water bottles for dogs have dispensers shaped like bowls. Water will start dripping once you turn on the dispenser. Your dog can drink it from there.
Why is looking for a BPA-free tag in water bottles important?
I would definitely suggest you go for BPA-free travel water bottles for dogs. This means that they are not made of Bisphenol A, which is an industrially produced organic compound. It is not good for dogs and is important to avoid.
How do I keep the water fresh?
Look for bottles with insulation or add ice packs/ice to help keep water cool longer between refills. Shake bottles periodically to oxygenate the water.
How do I clean the bottle easily?
Bottles that are dishwasher safe make cleaning easiest. Check for parts that can be taken apart and that any nooks and crannies can be reached.
What other features are important?
Consider a wide opening for easy filling/cleaning, carry straps or clips to attach to leashes or bags, and leak-proof lids.