What kind of toys do Bulldogs like?
In order to maintain the health of your Bulldog, it is essential to give them moderate workouts and exercises.
Toys are a perfect tool for your fur baby to enjoy a workout at home especially when it is raining or you are unable to take him out.
Also, these dogs tend to get weight-related problems, it is imperative that they are engaged in some physical activity even when they are home.
There are various types of toys that you can choose from.
Here I have listed the top 9 toys that I have found best for my Bulldog.
Before checking out the list, it is important to understand the right way to play with a Bulldog.
How to Play With a Bulldog?
Bulldogs have a narrower nasal passage that sometimes leads to respiratory problems. Additionally, they tend to suffer from overweight problems leading to shortness of breath and getting overheated.
To avoid this, it is essential that Bulldogs get healthy exercises. This can be done by engaging them in various games including the following:
Playing Fetch
This is one of the most common yet effective games to make your dog exercise.  To play this game, all you have to do is throw a toy away from you and make your Bulldog go and fetch it.
It is very convenient as you can sit or stand in one place and your dog will bring the toy. However, before starting this game, make sure you choose the right toy.
If you choose a toy that is too small then it can get stuck inside your dog's mouth which might lead to death by asphyxiation. Pick a toy that is sturdy and is also your dog's favourite.
It can be a ball or a bone or any other toy that is easy to carry. Keep a bowl of water for your dog so that he stays hydrated throughout the game. Remember to have breaks in between the fetching sessions and encourage your dog with treats.
Hide and Seek
This game is loved by humans and dogs equally. It is easy yet it can keep your Bulldog engaged for hours. All you need to do is take your dog's favourite toy and make him take a good sniff at it.
Then take the toy and hide it somewhere easy so that your Bully can find it. Don't give up if they don't succeed. Keep on repeating the process until he finds the toy. Make sure to treat him once he does.
Tug of War
This is another game that your Bulldog loves to play. As these dogs have powerful jaws and a muscular body, they can get really good at this game. It also acts as an exercise for their facial muscles.
All you have to do is choose a tug toy that is sturdy and give it to your bulldog. Once he grips it in his mouth try to take it away. Tug at it when he does.
It requires a lot of physical exertion and this will help to tone his muscles. Give him his favourite treat once he gets the toy from you.
Other Toys
If you are looking at ways to keep your Bulldog engaged in other activities that does not include you, then get toys that he can play on his own.
These types of toys can keep them engaged for a long time and sometimes require a certain level of cognitive abilities. You can try the following types of toys for your beloved Bulldog:-
Plush Toys
Plush toys are stuffed toys that are made sturdy keeping in mind your dog's sharp teeth. They come in attractive colours, shapes and forms.
Additionally, to keep them engaged, these toys take playing to another level by adding a bone toy inside the stuffed toy. This way when the outer layer is torn from overuse they can find a new toy inside it.
Puzzle Toys
If you want to give your Bulldog a toy that would involve both mental and physical stimulation then a puzzle toy is the way to go. These kinds of puzzles can keep him engaged while you are away or busy with your own work.
The toy puzzle can have his favourite treat that is hidden within its compartments. The smell of the treat will keep him motivated to try and get to it by punching and hitting on the movable parts.
Their efforts are then rewarded with the treats once they figure out how to get to them.
Chewing Toys
Chewing Toys are very integral members of the Bulldog's toybox. A proper chew-toy is necessary if you do not want your things and furniture to be chewed on.
They can sink their strong teeth into almost anything if they are not able to get their type of chew toys. These toys for Bulldogs are very sturdy and come in various flavours, that you can choose from.  They are usually made of strong rubber or nylon.
Things to Consider Before Choosing the Right Toy for Your Bulldog
Choosing the toys for your Bulldog will require some serious considerations and factors that keep their health and abilities in mind. Such factors include:-
Age
Age is an important factor when it comes to your dog. You must choose the appropriate toy depending on the age of your dog. While puppies have tender teeth adult dogs have strong ones.
Puppies must be given soft toys that can be chewed all day. Giving hard toys to puppies can cause breaking of their teeth and they can reject the toy.
After they have gone through teething, you can give them stronger toys that won't break for a longer period of time.
Puzzle games are also inappropriate for puppies as they are still very young to understand how the toy works. It must be given to adult dogs, initially, under supervision.
Habits
As you know each dog is different and their habits are different too. While some dogs just love to chew anything they find 'chewable', some have the habit to hold on to a toy with care and enjoy them for years.
Some dogs give special attention to toys that move. Choose the toy depending upon the habit of your dog, what they like and the level of chewing they do.
Size
Choosing the right size of the toy is also an important aspect of the toy buying process. If a toy is too big you Bulldog may not be interested in it.
Similarly, if you choose a toy that is too small when compared to the jaw size of your dog, it may turn out to be a potential threat and cause choking hazards.
So, to choose the toy that would be perfect for your dog, always go with the one that would be easy for him to pick up but big enough that they can't swallow.
Toys That Bulldogs Love
After reading through numerous reviews, features about the toys available for these dogs, here is a list of the top 10 toys that bulldogs love and will actually make them happy. Take a look and choose the one you find perfect for your fur baby.
We earn a commission if you click this link and make a purchase at no additional cost to you.
Here is the first one in the list as an answer to what kind of toys do bulldogs like? Kong classic toys are one of the most common toys that are preferred by pet parents.
It comes in various colours and sizes and is made from natural rubber. It helps in satisfying your dog's instinctive needs as well as provides mental stimulation.
This toy helps in solving various problems associated with a Bulldog's growth like chewing, separation anxieties, teething, digging, barking as well as manages its weight.
This toy is multi-purpose and can be used in various games. As it is super bouncy, it can be used as a fetch toy for your Bulldog. It's tensile rubber quality satisfies the chewing needs of your pet.
The KONG classic toy comes with an internal void structure, that can be filled with any treats like snacks, peanut butter, dog treats or anything your dog loves to eat and then frozen to give an ultimate nibbling challenge.
The constant chewing of the toy is very good for your dog's dental health and gums. It is recommended highly by trainers and veterinarian doctors from all over the world.
Product Features
Can be used as a fetch toy for your Bulldog as it is bouncy.
The toy can be used as an engagement to treat your dog's anxiety issues, chewing habits and teething.
The toy comes from the trusted brand which is a world-renowned pet-friendly brand. Thus, you can be sure of the quality.
Durable rubber makes it a good investment.
---
We earn a commission if you click this link and make a purchase at no additional cost to you.
If your Bulldog is an extensive chewer and has destroyed multiple toys and household objects then this is the perfect toy for him.
The Nylabone Power Chew is made from durable Nylon that challenges extensive chewing and discourages destructive chewing.
It comes with multiple ridges and nubs that promotes dental health by removing plaque and tartar.
This toy is specially made keeping in mind the needs of a heavy dog-like Bulldog. It comes in a tasty Bacon and Chicken flavour that lasts throughout the toy and keeps your dog engaged. 
It can be given as a reward to your dog or as a measure to various issues like stress, anxiety, teething, weight management.
These toys are very strong and durable, thus ensuring your dogs are away from your precious stuff and are safe for a long time.
Product Features
Comes in chicken and bacon flavour that dogs find irresistible.

Extremely durable and sturdy toy.

Keeps your dog engaged for a long time.
---
We earn a commission if you click this link and make a purchase at no additional cost to you.
What kind of toys do bulldogs like? Here is the next one. If you are looking for an indestructible toy for your Bulldog who is a heavy chewer and chews off nearly everything then the Goughnuts Maxx Pro 50 Ring is the perfect toy for you.
Build from the same rubber that is used to build spaceships, these ring-shaped toys come in various sizes depending upon the weight of your dog.
This toy has been made after years of research on dog toys and made to reduce the leverage in the jaw of the dog by forcing their jaws to stay open for a longer period of time while chewing the toy.
Specially made for the toughest chewers, the manufacturers ask for exchange once the red safety indicator core is reached by your dog. It comes with a guarantee and in two different sizes.
The superior quality of rubber makes sure it is safe for your dog and is perfect for your Bulldog.
Product Features
An extremely sturdy toy that claims to be indestructible.
Safe for dogs and comes with a safety indicator.
Hypo-allergenic toy for your dogs.
---
We earn a commission if you click this link and make a purchase at no additional cost to you.
What kind of toys do bulldogs like? Consider this one. This chew toy is multi-textured and satisfies your dog's natural instinct of chewing.
They are made from heavy-duty nylon that makes it long-lasting. These sturdy chewing toys discourage destructive chewing by keeping your dog engaged.
The toy comes with different textures and grooves, that makes sure your dog's dental health is good and removes tartar and plaque from the mouth.
Specially designed for heavyweight dogs like your Bulldog, these toys come in a delicious flavour that your dog will love.
You can keep your dog engaged with this toy for a really long time and do your work in the meantime. It would protect your belongings from the sharp teeth of your dog and being a premium quality product will give you peace of mind.
It can be used as a fetch toy, a positive reinforcement and also as a tug of war toy for your little fur baby.
Product Features
Unique shape that attracts your dog towards it.
Keeps your dog engrossed due to its delicious maple wood flavour.
Patented branch-like design and composition.
A very safe and extremely durable toy that can be used for fetching, playing or chewing.
---
We earn a commission if you click this link and make a purchase at no additional cost to you.
This ball is made of superior rubber that is extremely safe for your dog. The ball comes with spikes inside it that aids at keeping your dog's mouth clean and plaques away.
There are spikes present inside the ball which can be used to attach treats and make chewing more interesting for your dog. This ball is approved and recommended by veterinarians and is bite resistant.
Designed for medium-sized dogs, this ball can be used for multiple activities. Be it chewing, teething, treating stress or anxiety, etc.
As the ball is lightweight it floats on water and thus can be used to play when you are visiting the beach or lake with your dog. As the material is rubber it is bouncy and thus can be used to play fetching.
It is economical in price and comes in three attractive colours, red, blue and green.
Product Features
Natural rubber makes sure the ball bounces enough and is thus safe for fetching.
The size of the ball is perfect for medium-sized dogs like Bulldogs.
The superior quality material makes sure the ball is bite resistant and durable.
---
We earn a commission if you click this link and make a purchase at no additional cost to you.
What kind of toys do bulldogs like? Do read about this one. Named after the Bulldogs, these spinning dog bones are perfect for heavy and aggressive chewers.
They are interactive toys and help in releasing anxiety and boredom of your dogs. They naturally fulfil your dog's chewing instincts and thus restricts chewing of your necessary household things.
These toys keep your dog engaged and are extremely long-lasting.
They come with multiple chew heads that are attached on an elevated spinning base that makes chewing fun for your dog.
It helps in triggering the natural instincts of the dogs and helps in controlling their anger, stress and separation issues. Superior quality material makes sure the dental health of your dog is assured by cleaning of gums and teeth.
Additionally, this spin-a-bone toy comes in a meat flavour that stays with the toy from the first bite to the last.
Product Features
Interactive toy that makes sure your dog stays engaged for a longer period of time.
Meat flavoured toy enhancing maximum attraction.
Long-lasting chewing toy for your Bulldog that is extremely safe.
Promotes dental hygiene of your dog.
---
We earn a commission if you click this link and make a purchase at no additional cost to you.
Do not miss this while checking what kind of toys do bulldogs like. This set of rope toys consists of 15 pieces of toys that are very different from the above-discussed toys.
Unlike them, these toys are made of premium quality cotton fabric and ropes. They are perfect for teething puppies as well as aggressive chewers like Bulldogs. The set includes interactive rope toys, chew bars, frisbee, puncture-resistant balls and tennis balls.
As they are made from a superior quality natural material, they are extremely safe.
These toys can be used to play multiple games with your buddy.  You can give a chew bar to satisfy your dog's chewing needs or take the ball to play fetch with your dog, these toys satisfy all playing needs of your Bulldog.
However, these toys work best when played tug of war with your Bulldogs. Their firm jaws get enough exercise when they try pulling the rope t
oy out of your hand. Your Bulldog will surely love these rope toys from UPSKY.
Product Details
Made from safe, natural cotton material that makes sure your dog is safe.
It comes in 15 different pieces and thus can be played in different forms.
Enhances your dog's oral hygiene and jaw strength.
Can be used for tug of war, fetching, chewing and other engaging activities.
---
We earn a commission if you click this link and make a purchase at no additional cost to you.
This toy from Outward Hound is designed to enhance your dog's mind and cognitive ability. This puzzle game is stimulating and at the same time gives a physical mental challenge.
The toy is extremely easy to set up and needs just a few minutes. It acts as a treat dispenser and needs solving of the puzzle by the dogs to get the treats.
This toy comes with compartments where the treats are to be hidden by the owner. The dog would smell the treats and try to open up the compartments by spinning up the toy in three levels by using his paw, teeth or snout.
The toy comes with 12 compartments, which is enough to keep your dog engaged for hours. The treats found within would definitely make this puzzle one of the best toys that bulldogs love.
Product Features
Mental stimulating game that improves your dog's intelligence.
Made from top graded material that makes sure your puppy loves it.
Has compartments to hide its treats and the smell provokes your dog to search for it, gradually succeeding the game.
It will boost your Bulldog's intelligence and thinking skills.
---
We earn a commission if you click this link and make a purchase at no additional cost to you.
What kind of toys do Bulldogs like? Consider this last but not the least in the list. These unique squeaky toys come in attractive forms of parody of popular drinks and in soft toy versions.
These toys are extremely fun and are extremely effective training tools for dogs. They make the puppy understand the value of things and teach them not to chew them.
You must train your dog using this Plush toy that it is not okay to tear it or bite it. Any attempt of biting or being rough will end the play session then.
These toys come in various forms and sizes and you can choose it according to your favorite character, drink or beverage.
These toys are extremely cute and come in soft fabric that calms your dog. Make sure that your dog understands the function of this toy and use it gently.
This Plush toy comes in various sizes that you can choose from according to the age and size of your Bulldog. It has a squeaker inside that keeps your dog entertained for a longer period of time.
Product Description
Squeaky toy that keeps your dog engaged.
Plush toys that come in various forms and are extremely soft.
Teaches your Bulldog the importance of gentle behaviour and softness.
Tips For Choosing The Right Toy For Your Bulldog
Make sure the toy fits your dog's size and age, otherwise it can go in vain.
If you have previously faced a problem with a certain type of toy, try to avoid that as it might still be affecting your dog.
Introduce your dog slowly to the new toy.
If you find your dog ignoring a certain toy, take it away from her and introduce it later in a different way.
Do not force your dog to play with a toy unless she shows interest.
FAQ
1. Should My Bulldog Have Access to Toys All The Time?
A- If your Bulldog loves a certain toy then you must make sure she has access to it all the time. Other toys like puzzles, treats involving toys and interactive games must be shown as a special reward for your dog. Also, make sure that you play for a certain amount of time every day with your dog.
2. Why do Dogs Rip off Stuff Toys?
A- Ripping apart a soft toy gives dogs the similar sense of satisfaction that their instinct has of hunting. As a result, most Bulldogs tend to tear off soft toys. However, you must train them out of it.
3. What do English Bulldogs like to play with?
A- English Bulldogs are extremely family oriented dogs and love playing with toys that involves chewing and cuddling. Tugging toys, chewing toys and interactive games are some of their favourite toys.
4. What are The Safest Things for Bulldogs to Chew On?
Bully sticks are the most safest types of tendons that can be given as chewable alternatives to your Bulldog. However, there are numerous chew toys available that are extremely safe for your Bulldog to chew upon.
Conclusion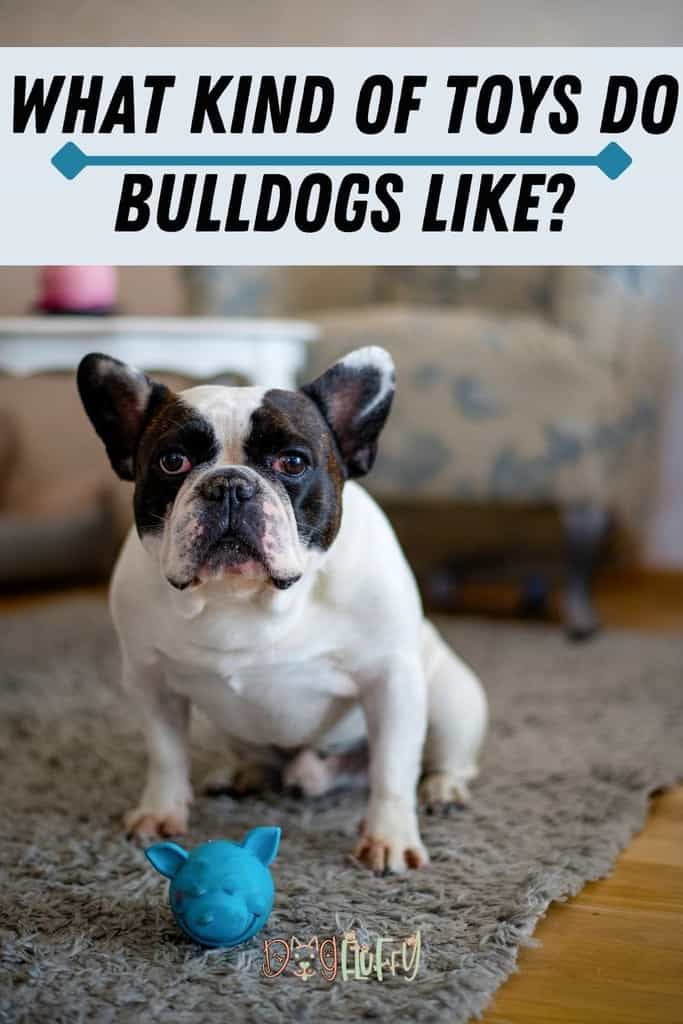 Bulldogs are extremely friendly dogs and often need constant care. Toys can be the easiest replacement of human contact and thus come very handy.
Based on the given recommendations, you can choose the perfect toy for your Bulldog.