Table of Contents
What do Bulldog puppies eat? High-quality food is one of the most important parts of a Bulldog puppy's care. These puppies need adequate quality protein to build healthy muscles and a proportionate amount of fat for healthy growth.
But fat intake should be controlled to prevent overgrowth in puppies, leading to obesity in adulthood.
Carbohydrates are another important nutrient in your Bulldog puppy's diet as it provides them with the necessary energy.
But I always stress that it should come from sources that are easily digestible for your puppy.
Such sources include whole grains, vegetables, or legumes. However, if your puppy suffers from allergies, it is better to choose a grain-free diet.
Fibers are also an important component of your bulldog puppy's diet, and they should form about 5% of their diet.
A puppy bulldog diet should ideally have more protein than an adult because it needs the building blocks for growth.
Vitamins and minerals are equally essential to maintain good health in your bulldog puppy.
And, of course, water is an essential component in the diet to keep your puppy hydrated and keep all bodily functions running smoothly.
Key Takeaways
Bulldog puppies require a balanced diet that is high in protein and fat to support their growth and development. Look for puppy-specific dog food that is formulated to meet their nutritional needs.
Avoid feeding your Bulldog puppy table scraps or human food, as this can lead to digestive issues and obesity. Stick to feeding them their designated puppy food and healthy treats.
Top 10 foods that are good for Bulldog puppies include chicken, turkey, salmon, sweet potatoes, carrots, green beans, pumpkin, blueberries, apples, and bananas. These foods are high in essential nutrients and can be incorporated into your puppy's diet as treats or added to their regular meals.
How to Begin the Process of feeding Your Bulldog Puppy?
Ever wondered what do Bulldog puppies eat?
A Bulldog puppy has a very sensitive digestive system, and any sudden changes in the diet can cause serious digestive issues.
For the first few days in its new home, feed the Bulldog puppy the same food given at the breeders for about two to three weeks.
This will give the puppy time to get accustomed to the new surroundings. Then gradually make the shift to the recommended puppy food over 7 to 10 days.
This will ensure that your puppy gets habituated to the new food without upsetting the digestive system.
First, start off by giving one-quarter of the new food mixed with three-quarters of the old food.
After a couple of days, make it fifty-fifty, then one-quarter old food and three-quarter new food.
This should get your puppy's digestive system acclimatized to the new food and maintain its growth and health. 
How to Choose The Right Food For Your Bulldog Puppy?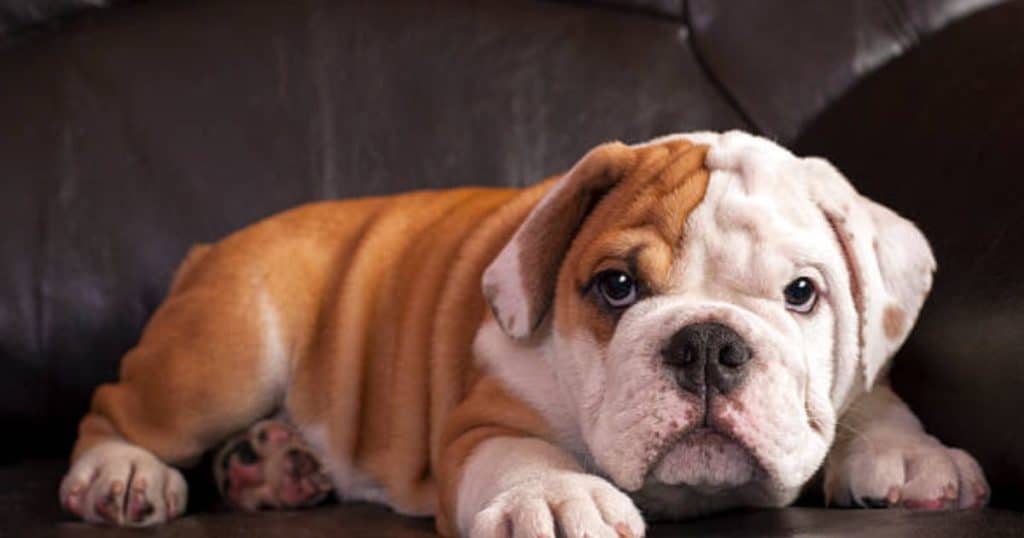 A Bulldog puppy has some special and distinctive feeding requirements.
This is due to its build and conformation. One of the most distinctive features of the Bulldog is its short muzzle and this is also the reason for its special feeding requirements.
The short muzzle causes chewing and swallowing problems as the palate, tongue, and teeth are the same length as other dog breeds with longer muzzles. 
For this reason, giving your Bulldog puppy food that is triangular shaped or any other unique shape will make it easier for them to pick and eat.
Combining dry and wet food will also make eating a lot easier for your puppy. This ensures that your puppy's food is more nutrient-dense and also keeps it hydrated. 
How Many Cups of Food Should I Feed My Bulldog Puppy?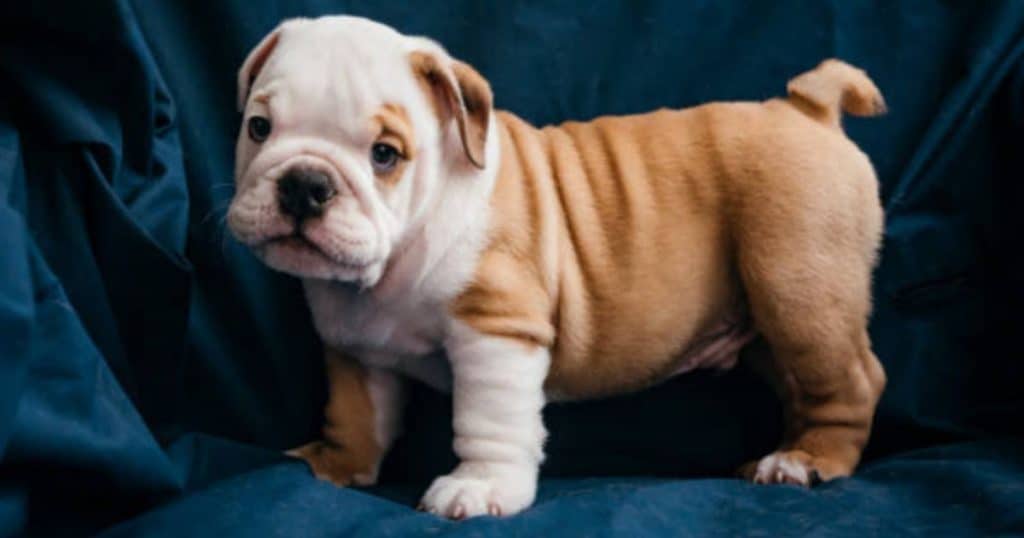 Young puppies should be fed in small quantities, multiple times a day. English bulldog puppies are typically fed three times a day, with around one-third of a cup per portion of dry kibble.
Quantity requirements also differ in terms of growth rate and activities. Consult your vet for the best-recommended feeding quantities based on your puppy's personal growth and development. 
Other important factors to keep in mind while feeding your English bulldog puppy are the current weight gain ratio, stomach, and digestive issues, skin problems or allergies, flatulence, etc.
All these factors will determine the kind of food and the quantity to be maintained for overall health.
A Basic Feeding Chart For English Bulldog Puppies Is Given Below
Here is what do Bulldog puppies eat and in how much amount and frequency according to their age:
| Age | Amount | Frequency |
| --- | --- | --- |
| 2 months | One-third cup | 3 times daily |
| 3 months | One-third cup | 3 times daily |
| 4 months | One-third cup | 3 times daily |
| 5 months | Half cup | Twice daily |
| 6 months | half-cup | Twice daily |
| 7 to 12 months | Half cup | Twice daily |
Different Types Of Dog Food Available For The Bulldog Puppy
Dry Kibble
This is one of the most popular dog foods available in the market.
This kind of food has low moisture content making it easier to store, and the crunch helps in keeping the puppy's dental healthy.
Most dry food also comes in the form of treats and biscuits, which can be part of a reward system for good behavior while training your puppy. 
Wet Food
This is a great option for Bulldog puppies as it keeps them hydrated and is freshly made at very high temperatures.
However, this kind of food does have a very short shelf life once it is opened.
For over-eager puppies, it can also be a very messy feeding time.
However, it is good to use this kind of food in combination with dry kibble to enhance the nutrition level of your puppy. 
Semi-Moist
This kind of food is a lifesaver for those who can't decide whether dry or wet food is better.
Semi-moist dog food combines the chewy component of dry kibble with the hydration that is found in wet dog food.
What Do Bulldog Puppies Eat? – Top 10
The main advantage of Royal Canin is that it has tailored recipes that are breed-specific.
This particular dry dog food is put together, keeping in mind the nutritional needs of a Bulldog puppy.
The rounded S-Shaped kibble also makes it easier for the puppy to pick and eat. 
It is ideal for Bulldog puppies between the age of 8 weeks to 15 months old.
The nutritional content such as Vitamin E helps to develop the immune system of your puppy.
High-quality protein and prebiotics in it enhance the digestive system.
The calcium and phosphorus in the recipe help in building strong bones.
Tailor-made recipe to meet the nutritional needs of a Bulldog puppy.
S-shaped kibble makes it easier for the puppy to pick and chew.
High-quality protein and other nutrients ensure healthy growth in a Bulldog puppy.
Supports the immune system.
Improves digestion.
The package comes with a feeding table.
Comes in chicken and vegetable flavors.
IAMS has been one of the most highly recommended puppies and dog food in the market.
Depending on the expected growth of your Bulldog puppy, you can choose from the medium to the large breed version of dry food. 
IAMS proactive puppy food contains high-quality proteins, anti-oxidants, whole grains, essential vitamins and minerals, Omega-3 fatty acids, and other superfood ingredients.
Omega-3 fatty acids are useful for developing the immune system, supporting brain development, and protecting against heart diseases.
Highly recommended by veterinarians.
Farm-raised chicken is the primary ingredient.
Includes nutrients that are available in the mother's milk.
Omega-3 DHA for brain and immune system development.
High-quality protein for healthy bone and muscle development.
Wholesome ingredients.
This limited-ingredient, premium dry dog food contains real food that is best for your Bulldog puppy's growth and overall development.
It is ideal for puppies with sensitive stomachs as it is a grain-free formula.
There are no filler ingredients that could hamper your puppy's digestive system or affect its health. 
Added are probiotics for a healthy digestive system, anti-oxidants to develop and strengthen its immune system, and omega 3 and 6 fatty acids to enhance skin and coat texture and health. 
Protein from real meat such as lamb, chicken, duck, salmon, and boar.
No filler ingredients.
No corn or soy or wheat or by-products.
No additives.
Probiotics for healthy digestion.
Formulations for all stages of life.
Flaxseed protein.
This triangle-shaped dry kibble with pieces of real chicken interspersed is one of my preferred Bulldog puppy dry foods.
It is a protein-packed recipe that is ideal for your growing pooch.
It includes DHA for healthy cognitive development and essential vitamins that are beneficial for developing healthy bones, teeth, joints, and immune systems.
The formulation mainly includes chicken and rice, which supports a steady growth rate for your puppy.
Chicken gives a healthy dose of high-quality protein. It is fortified with probiotics for a strong digestive system and immunity.
Triangle-shaped kibble, making it easy for your Bulldog puppy to pick and chew.
Has chicken as the first ingredient.
High-quality protein.
Fortified with vitamins and minerals to promote healthy skin, coat, and digestive system.
Chicken and rice formula.
Blue is a protein-rich grain-free puppy wet food that contains real turkey and chicken.
The product does not contain any meat by-products that could hamper your puppy's growth.
It contains essential amino acids that are also found in the mother's milk which help in cognitive development.
Natural wet food ensures that your puppy gets wholesome food, keeping the digestive system healthy and strong.
There is no wheat, no corn, no soy, and no artificial flavors. These uniquely formulated wet food recipes support good health, healthy coats, and strong immune systems. 
Grain-free natural wet food.
High protein sourced from real meat and wholesome ingredients.
Contains DHA for cognitive development.
Contains important vitamins and minerals.
Purina Pro Plan has a high protein content and high moisture content to ensure your puppy stays hydrated as well as enjoys a wholesome and healthy meal.
Purina's wet food is nutrient-dense and offers and well-rounded, balanced diet. 
This wet puppy food has chicken as its main ingredient and is loaded with omega fatty acids for a healthy coat.
It contains wholesome ingredients such as chicken, liver, brown rice, and salmon.
The ingredients are packed with vitamin E, zinc, potassium, and other important vitamins and minerals that ensure healthy growth in puppies.
Real chicken and brown rice.
Nutrient-dense.
Wholesome ingredients for great taste and healthy digestion.
Balanced nutrition for puppies' healthy growth.
Omega fatty acids for a healthy and shiny coat.
This is one of the best dry food for bulldog puppies with sensitive stomachs.
It has limited ingredients and comes in two formulas:
Chicken and Oats
Lamb and Rice
This recipe offers a balanced diet rich in vitamins and minerals to support the growth of healthy bones and strengthen the immune system.
It is also a good source of calcium and phosphorus. 
This formula has DHA from fish oil for strong bones, teeth, and cognitive development.
High-quality protein from chicken and lamb ensures strong muscle and bone growth.
It has healthy antioxidants for healthy skin and coat. Added to excellent taste, this dry dog food makes for one of the best food for your Bulldog puppy.
No added artificial flavors or coloring.
Wholesome chicken and lamb.
DHA formula for strong bones and teeth.
Essential vitamins and minerals for healthy skin and coat.
If your Bulldog puppy has skin allergies, then this limited-ingredient dry food from Merrick is one of the best options.
A grain-free diet is always my first choice for those puppies who have food allergies.
Merrick Puppy Grain Free with Real Meat has real deboned beef as the main ingredient.
The added sweet potato makes for an ideal combination of protein and healthy fats. 
Omega-3 fatty acids support healthy skin and a shiny coat. This puppy food not only delivers on the nutrition front but also offers a great taste to ensure a happy puppy. 
Real deboned beef and chicken as the main ingredient.
Healthy omega fatty acids for healthy skin and coat.
No grain formula.
Healthy protein and fat.
Has essential fibers.
Fortified with minerals and vitamins.
Wellness is a healthy blend of top-quality proteins, healthy fats, essential vitamins, minerals, and fibers.
This is a grain-free packaged food that offers a balanced diet that is essential for your Bulldog puppy's overall growth.
Wellness Complete Health Natural Food is exactly what its name suggests – it is a complete and nutrient-dense food for your Bulldog puppy.
The protein comes from real deboned chicken, Omega-3 fatty acids from salmon oil and flaxseeds, and antioxidants from blueberries and spinach.
Essential minerals and vitamins present in the food promote skin and coat health. 
High-quality protein.
Develops a strong immune system.
Real Deboned chicken is the main ingredient.
DHA from Salmon oil supports cognitive development.
Wellness has a range of complete puppy food with natural recipes that are wholesome.
This canned wet food for a puppy has ground chicken and beef for a great-tasting experience. My Bulldog pup loves the taste.
It has all the ingredients to make your pup grow up healthy and strong.
It contains DHA for excellent brain development, minerals, vitamins for a healthy immune system, and a shiny coat.
Real ground chicken and beef.
Can be mixed with dry kibble for a tasty and more filling meal.
DHA for cognitive development.
Vitamins and minerals for a healthy immune system.
Extra Nutrition For Your Bulldog Puppy
Besides the fortified canned food and kibble, I also recommend you include other food groups to increase the nutritional content in your puppy's food.
Here is a list of food that can be added to your puppy's meals:
#1 Yogurt With Probiotics
Add one tablespoon of probiotic yogurt to your puppy's food for healthy bone development and strengthen the digestive system.
Make sure it is plain yogurt and with low or no sugar.
#2 Hard-Boiled Eggs
Eggs are a great source of protein for Bulldog puppies, and you can include one hard-boiled egg per day.
You can either divide it into two meals, with half an egg in each meal or you can also give it as a snack.
Eggs help in building strong muscles, repairing tissues, and improving coat texture.
#3 Vegetables
Vegetables are a good source of dietary fiber and should be part of your Bulldog puppy's diet as they grow older.
Pumpkin
Sweet potato
Cucumber
Carrots
Green beans
Spinach
Peas
Broccoli
Brussels sprouts
Zucchini
#4 Fruits
Fruits are a good source of dietary fiber as well as antioxidants.
Good fruits for your Bulldog puppy include:
Bananas
Strawberries
Blueberries
Apples
Pears
Watermelon
Make sure you remove the seeds of apples, pears, and watermelon before feeding them to your puppy.
Apple and pear seeds have a small amount of cyanide, which can prove hazardous for your pooch. 
#5 Peanut Butter
This is one of the favorite treats for most dogs, including Bulldog puppies. Just make sure the peanut butter is natural, unsalted, and has no added sugar or artificial sweeteners. 
#6 Dairy Products
Dairy products should be given but in small quantities. But should be avoided for puppies who are lactose intolerant. 
#7 Fish
Salmon, shrimp, and tuna are great sources of omega-3 fatty acids, which help to enhance your puppy's immune system and also promote a healthy and glossy coat. 
#8 Home-Cooked Chicken
Home-cooked chicken is another protein food that can be added to your puppy's diet. It also makes a good meal for the puppy if mixed with white or brown rice.
Human Food That Is Actually Harmful To Your Bulldog Puppy
#1 Chocolate
It is a well-known fact that chocolate is harmful to dogs, and the same goes for bulldog puppies.
The toxicity level depends on the type of chocolate your pooch has consumed.
It is a good thing to remember that the darker the chocolate, the more harm it would do to your little furball. 
#2 Caffeine
Although it is an ongoing debate on whether caffeine can be consumed by dogs or not, in general, it is better to avoid it.
The occasional one or two laps are okay, but not all the time.
Caffeine can result in restlessness, hyperactivity, abnormal heart rhythm, vomiting, hypertension, etc.
#3 Grapes and Raisins
Most Bulldog puppies love grapes and raisins, and usually, one or two grapes won't hurt them.
But grapes and raisins can be quite harmful to these puppies and result in vomiting, diarrhea, dehydration, abdominal pain, seizures, kidney failure, etc.
#4 Raw Bread Dough
If you love baking bread at home, make sure your Bulldog puppy is not around to gobble any fallen raw bread dough.
Generally, these puppies will gobble anything that comes into their sight.
So it is better to practice some safety measures while baking.
Raw bread dough can be poisonous to your puppy and cause extremely harmful effects.
#5 Alcohol
Alcohol is another extremely dangerous substance that your Bulldog puppy should never ingest.
It can result in excessive panting, muscle tremors, seizure, organ failures, and even death. 
#6 Onions and Garlic
Garlic, onion, scallions, shallots, chives, etc. are all toxic to Bulldog puppies as well as other dogs.
It causes anemia and can damage their red blood cells.
The effects of onion and garlic are not immediately visible, making it even more dangerous for your puppy.
#7 Other Harmful Foods For Your Bulldog Puppy
Milk products can cause a lot of trouble for young puppies such as diarrhea, sink allergies, and upset stomachs.
Avocados are also harmful as they contain persin, which causes upset stomach and vomiting.
You should also make sure that your bulldog puppy doesn't ingest even a few macadamia nuts as it causes paralysis, lack of coordination, and weakness.
The least expected harmful food is little bones stuck between meat chunks, which may cut your puppy's lips or even harm his intestines.
What Are Filler Ingredients In Packaged Dog Food And How Do They Harm The Bulldog Puppy?
While buying packaged food for your Bulldog puppy, I always check for filler ingredients that can cause more harm than good to your puppy.
These ingredients are present to give more bulk to the product.
Check out my list of filler ingredients and ensure that these are not present in your puppy's food.
#1 Corn Syrup
Corn syrup spikes blood pressure and also causes weight gain, obesity, and diabetes, and is very addictive – it may get your bulldog desperate for sugary treats.
Any type of refined sugar can harm your puppy.
#2 Soy
Soy is a very useful ingredient in our diet as it contains so much protein, but it may not be the same for your bulldog.
Allergen soy should be kept away from your puppy's diet.
#3 Meat Meal
If you ever come across the term 'Meat Meal' when looking for ingredients in your Bulldog puppy's food, don't even give it a second look.
Meat Meal is leftover parts of dead and diseased animals and is heated to kill the pathogens present in it which also kills the leftover goodness in the meat.
#4 Artificial Flavours and Artificial Coloring
You won't find artificial flavors or coloring in respectable packaged pet foods, as they are only added when the product itself isn't appetizing for your dogs.
These ingredients will only harm your dogs as they are not exactly edible for humans, let alone your Bulldog puppy's sensitive digestive system.
#5 Chemical Preservatives
Chemical Preservatives are added so that they have a longer shelf life, but chemicals like BHA and BHT are known carcinogenic chemicals that cause organ failure and are usually found in low-quality pet food.
You should especially ignore ingredients that sound like chemicals and end with numbers (Red 10).
The Challenges Of Feeding The Right Amount Of Food To Your Bulldog Puppy
Bulldogs are prone to several genetic and conformational issues, and feeding them the right way is one of the biggest challenges initially.
They are prone to skin infections, digestive issues, flatulence, weight gain, joint problems, allergies, dental problems, etc.
The first step to understanding how much to feed your new Bulldog puppy could take some serious trial and error time.
Every puppy is different, and it will take a while to understand how to feed your new baby.
It is also important to understand that half a cup of one brand of food may not have the same amount of nutrition as another.
Make sure you consult your vet regularly for the right dietary advice to ensure your puppy grows up healthy and strong.
Before You Go
Bulldog puppies have specific nutritional needs that are important for their growth and development. When choosing food for your Bulldog puppy, look for high-quality puppy food that is specifically formulated for their breed and age.
Bulldog puppies require a diet that is high in protein and fat to support their growing muscles and energy needs. Additionally, look for puppy food that contains essential vitamins and minerals like calcium, which is important for strong bones and teeth.
Avoid feeding your Bulldog puppy table scraps or human food, as this can cause digestive issues and lead to obesity. It's also important to feed your Bulldog puppy several small meals throughout the day, rather than one large meal, to prevent bloating and other digestive issues.
Always provide your Bulldog puppy with fresh, clean water, and monitor their weight and overall health to ensure they are getting the proper nutrition they need to grow into healthy adults.
FAQs
What should I feed my bulldog puppy?
You should feed your bulldog puppy a high-quality, age-appropriate puppy food that is specifically formulated for bulldog breeds.
How much should I feed my bulldog puppy?
The amount you should feed your bulldog puppy depends on their age, weight, and activity level. Generally, you should follow the feeding guidelines on the puppy food package and adjust as needed.
Can I feed my bulldog puppy human food?
While it is possible to feed your bulldog puppy some human food, it is generally not recommended as it may not provide all the necessary nutrients and may cause digestive issues.
When should I switch my bulldog puppy to adult dog food?
You should switch your bulldog puppy to adult dog food when they reach their full adult size, which is typically around 12 months of age.
What foods should I avoid feeding my bulldog puppy?
You should avoid feeding your bulldog puppy foods that are toxic to dogs, such as chocolate, grapes, onions, and garlic. You should also avoid feeding them foods that are high in fat or sugar, as well as foods that are difficult for them to digest.