Sharing is caring!
Do Bulldogs Have Fleas? Best Flea Treatment For Bulldogs
All dog owners should be fully aware of the exposure to the parasite, which can be a real pain for you and your dog and the entire house.
Nuisance, as its peak, flea, ticks, and worms, if not treated on time, can turn into a severe skin disease for the dog, and it can be life-threatening as well.
Fleas may be of a size of a pea but can give them significant itching, red spots all over the skin, and skin infection.
Any Bulldog dog that has encountered a flea infestation understands what their poor dog has to go through.
From being a lovely and playful dog, they can become restless, cranky, scratching their bodies.
Remember that fleas are present everywhere you go, from your house to parks. They so tiny and can't be seen.
Fleas commonly live in hot and humid weather, and the question comes how to get rid of them or if flea treatment for bulldogs is available or not? Well, the answer is yes.
There are almost 2000 kinds of fleas. They are very tiny creatures that can live in your dog's fur, making him uncomfortable and restless. They are approximately 1/6 or 1/8 inches.
Because of their size, it's nearly impossible for a human eye to see it on the dog's skin; you can know they are there when your dog gets infected.
This doesn't end here. Apart from skin allergies and irritation, flea infection can also cause tapeworm infection in your dog's stomach.
These eggs get active inside our dog's digestive tract and feed on his food, taking away all the nutrients.
How To I Know My Dog Has Fleas?
Your pet will scratch himself, even bite himself persistently. Check your dog's neck, ears, the base of the tail, and fur on his tummy for black or red dots.
Usually, the flea dirt is left in these areas. Place your dog on a white paper or cloth and comb his fur with a flea comb.
If you see a red speck on the white paper, that is flea dirt, which has changed its color.
From Where Do Bulldogs Take In Fleas?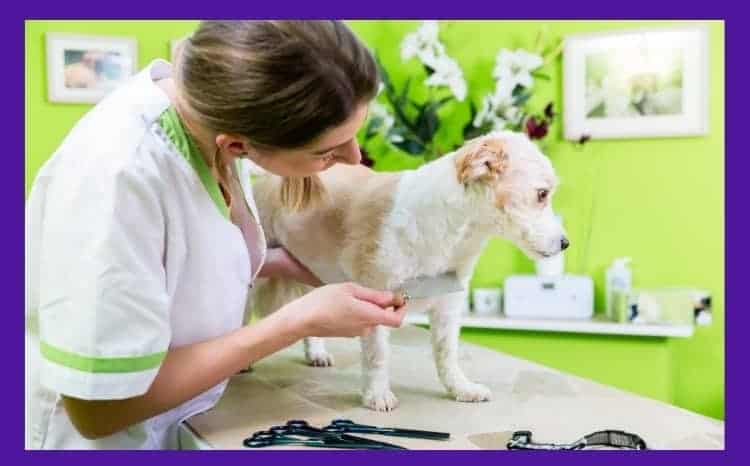 As mentioned earlier, fleas are everywhere, and you can't save your bulldog from them. But you can expect to find fleas in the following places.
Your backyard: Fleas can hide anywhere; it can be in the grass, scrubs, and even plants. When your Bulldog plays near it, they pick fleas from there.
Dog parks, Boarding kennel, or literally from whenever: you won't know if the bulldog you playing with has fleas or not. Bulldogs can catch fleas from parks, boarding kennel, or even from other dogs around them.
Everywhere: fleas can be anywhere at any time and won't be visible. Fleas can be lurking around in parks, plants, or even in other dogs around. Fleas can stay hungry for a longer time; they don't have food to live. This means they can be present in your blankets, curtains, furniture, and carpet.
How To Get Rid Of Fleas?
Flea treatment for bulldogs is available? The answer is yes. There are many products available in the market to get rid of fleas forever, but before that, you need to make sure your dog is clean.
Cleaning Up Your and Dog's Bedding
Fleas can live on carpets, curtains, and furniture forever. Their average life span is 100 days without food, which means if you don't clean your dog's house or bedding space, you won't completely get rid of fleas even after using products available in the market.
So it is highly recommended to vacuum your house's carpet, furniture, and curtains, so if any fleas are lurking on them can be removed.
Washing your bedding is essential; soak it in hot in warm water; this kills the germs and fleas.
Last but not least, bath your bulldog, and he is ready for medication.
What To Look For Before Going For Flea Medication?
We won't recommend you rush to the nearest store to get flea treatment for a bulldog; you should do the needful.
The following are some of the points that might be p buy the right flea treatment for a bulldog.
Consider the size and age of your bulldog:
Dog's size and age play a vital role in getting the right flea treatment for a bulldog.
Every bulldog's weight may vary, and with the variation of the value comes the variation in the treatment.
Look for the weight restrictions on the back of medicine and then weigh your to be sure you are using the right medication.
In case of uncertainty, ask your veterinarian.
Not all dogs are made for the same medication:
You may need to switch the flea treatment for each dog; one might benefit from oral medication, while others will be fine with sprays.
Your bulldog might have some kind of skin disease that might get worse with the fleas treatment you use. You may be recommended to switch to different flea treatment for a bulldog.
Keep the house clean:
Keep the house environment clean, especially the place where your dog rests or plays. Otherwise, the whole plan to get rid of fleas and ticks will go in vain. Keep your house and bulldog clean.
Natural flea treatment for bulldogs:
Next time you take your bulldogs for a shower, add a few drops of lemon juice in the mild shampoo.
Make sure you bath your dog once in a week, wash their neck first. Another natural way is to add 2-3 drops of tea tree, lavender, or cedar oil mixed in 2-3 tablespoon of water.
Spray this mixture once a week on the collar or at the base of the tail. You can also put a bandana around his neck to absorb the excessive smell.
Please note that don't use these methods with a cat as their skin is more sensitive.
If these natural remedies don't work out, check out for flea treatment for bulldogs mentioned below.
Best Flea Treatment for Bulldogs Products
We have picked some of the highly recommended flea treatment for bulldogs in the market.
Suitability, effectiveness, and suitability are kept in mind while making this list.
Fluffy PIck
We earn a commission if you click this link and make a purchase at no additional cost to you.
Bayer has introduced something strong and powerful to fight against ticks and flea.
The only downside of having such this treatment is the strong chemicals used in it, which can have adverse effects.
This flea treatment for bulldogs is designed to last longer.
It works within 10 minutes and won't come off even after a bath.
This treatment can be done once and can last for 30 days minimum. This is how strong and fast this product works.
Your bulldog's size wouldn't be a problem if you used it as it works fine with all sized dogs.
Just read the instructions given on the back carefully and follow the steps accordingly, you won't find any problem.
Vet-recommended K9 fights against fleas, ticks, and mosquitoes that can occur amid deadly diseases.
Just apply it once a month, and that would do the job. Medium and large-sized dogs of 21-55 pounds are suitable for this treatment.
Bayer K9 Advandix works through contact, so fleas and ticks can't bite your dog to death.
Bayer k9 is easy to apply the formula, which doesn't need professional help.
Bayer k9 starts to work after 12 hours; you may see results after that. Your dog might stop itching and scratching his back more often.
This treatment is effective until 30 days.
| Pros | Cons |
| --- | --- |
| Convenient and easy to use, won't come off in wet. | May endure skin allergies. |
| Kill lice, mosquitoes, fleas, and repel flies. | |
Fluffy PIck
We earn a commission if you click this link and make a purchase at no additional cost to you.
Frontline is one of the pet-recommended products and is considered to be one of the most famous products in the market.
Frontline plus is a bit more expensive than all the products on the list, but you are paying for something worth it and not just the brand name.
What you get is a powerful flea application that requires the use only once in a month and results are going to be long-lasting.
Simply apply it at the back of your dog in between the shoulder blades. You will see ticks and fleas dying after some hours. Frontline plays a role of protection to fight against adult fleas.
You may need to use another dose after a month once again to ensure that there are no fleas or tick in your bulldog. The product comes in three doses.
The product includes two powerful ingredients that guard up, one is the fipronil which attacks and kills adult fleas and ticks.
The second ingredient is methoprene which kills the eggs and larvae from the roots.
These two ingredients when combined can fight against fleas and tick for a month.
Frontline breakdown the reproduction process, it kills the fleas and ticks in all the stages (eggs, larvae, pupae).
Kill the ticks that may tiger and harm your dog by transmitting diseases. It has a waterproof substance which means the application won't wash away after bath.
A fast-acting and long-lasting product that is tried and tested on dogs of 22lbs.
Trusted flea treatment for dogs and is recommended by veterinarians for 20 years.
Frontline plus long-lasting formula absorbs in the oil glands of bulldog to protect it from fleas and ticks. It comes with 3 doses which lasts 3 months.
| Pros | Cons |
| --- | --- |
| Easy to use and apply. | May induce skin irritation. |
| Worth the price. | |
| Kills the flea life cycle effectively. | |
Fluffy PIck
We earn a commission if you click this link and make a purchase at no additional cost to you.
The spray doesn't aim to only kill the fleas but also kills the eggs before they lay more eggs and cause another outbreak.
Most of the flea and ticks spray leave stains behind, but that's not the case with Vet's Natural flea and tick spray.
This spray can be used indoor as well as outdoor because it doesn't have a harsh chemical smell.
The spray contains certified essential oils and is made up of plant-based extracts.
Which means this Vet's natural flea and tick spray is chemical-free and can be used inside the house.
It has been tried and tested in the lab with proven effective formula. Vet's natural flea and tick spray don't have artificial fragrance because no harsh ingredients are added to make it smell good.
With its no staining formula, the formula can be washed off easily.
Vet's best natural flea and tick home spray is suitable for senior dogs and not recommended for cats at all.
It is rated as the number one seller in the market.
| Pros | Cons |
| --- | --- |
| Instructions are easy to read and use. | May provoke skin irritation. |
| The process of lice removal takes hardly 10 minutes. | A bit high in price. |
| Safe and environmentally friendly as it doesn't contain harsh chemicals or pesticides. | |
Fluffy PIck
We earn a commission if you click this link and make a purchase at no additional cost to you.
Sentry cap guard for bulldogs can kill huge amounts of parasites, adult fleas, lice, and ticks.
All American ticks, brown ticks, and star ticks can be removed by the use of Sentry guard oral flea control medication.
It is easy to use; you may expect to see the results in a day only. They work as a protection shield against fleas and ticks and can last longer up to six weeks. After six weeks, you will need to reapply it.
The active ingredient works by bombarding the nervous system of fleas and leaving them paralyzed and dead.
This Flea treatment for dogs works faster than any other product; you will see results within a day.
Sentry cap guard oral flea control medication is available for the counter for everyone, so it can be consumed by anyone. These are already tested and approved products by the vet.
It is easy to dose medicine which works exactly the way you expect it to be, kill fleas and ticks in 30 minutes.
Treat flea with just one easily soluble tablet which will put your bulldog at ease.
It's easy to swallow and digest; the results are amazing and rapid. It won't create any mess and don't need a wash or a rub off after the use.
| Pros | Cons |
| --- | --- |
| Highly recommended by vets. | Limited effectiveness period. |
| Cheaper price compared to other products. | |
| Minimal to no side effects. | |
Fluffy PIck
We earn a commission if you click this link and make a purchase at no additional cost to you.
Flea collars are one of the best tried and tested methods to prevent flea and ticks.
With Seresto 8 month flea and tick prevention collar, kill fleas and tick through contact.
This collar is non-greasy and odorless, it is said to be one of the most effective medications to fight against fleas and ticks.

It starts showing results within 24 hours and lasts longer than any other treatment. This saves you from the need to remember at what time you used it.
Dogs that are seven months old weighing 18 pounds are more suitable for this treatment. But other large dogs like bulldogs can also use it.
After a survey customers told that they didn't find a single tick or flea on their dog ever since they started using seresto 8 months flea and tick prevention collar for the bulldog.
If your dog likes oral treatments and gives you a tough time with swallowing a tablet, then this seresto collar is a lifesaver for you.

Seresto provides 8 months of continuous protection against fleas and ticks. No need for messy monthly treatments, save your time and invest in seresto 8 months flea tick prevention collar for bulldogs. If your dog gets infected again after 8 months you can buy another seresto collar.
The best thing about this collar is it's easy to use, your dog won't feel anything around their neck.
They are reasonable and long-lasting, so no need to invest again and again in different flea and tick treatments.
Pros
No chemicals.
Easy to use.
Cheap on the pocket.
Concluding Flea Treatment For Bulldogs
When you bring in a bulldog it comes with many other problems that need to be registered as soon as possible.
This is why pet needs more attention than humans because pets can't speak up on their behalf.
The least could be done is to keep a check on your dog's activity, if you find him behaving weird and scratching his back then it's high time to see a vet or get a treatment to kill fleas and ticks.
We have gathered some products mentioned above, they all are tested in laborites and are manufactured under licensed companies, but it's a good decision to see a vet before going to buy these products.
All the products mentioned above are easily available on Amazon.com.
Recap on Flea Treatment For Bulldogs
📣Articles you may like
Sharing is caring!